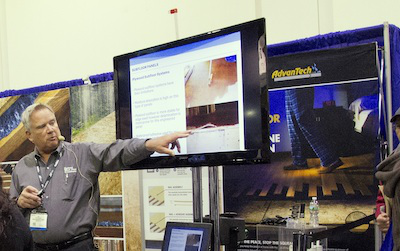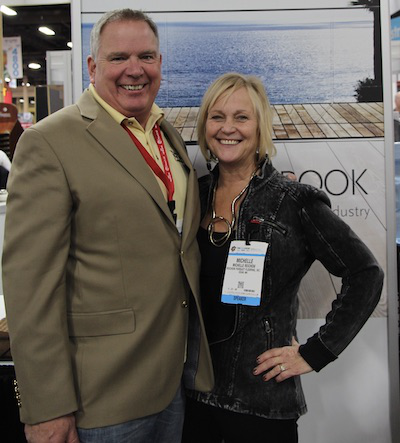 Roy Reichow and his wife and business partner, Michelle Reichow, at Surfaces in 2016.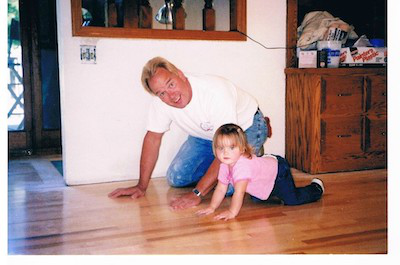 Roy Reichow and his granddaughter Mackenzie during Reichow's contracting days.Wood flooring industry leader and longtime pro Roy Reichow died on September 13, 2021, after living with cancer.
Reichow began learning wood flooring while in high school, and in 1974, he started his own company, Reichow Parquet Flooring, with his wife, Michelle, which they ran for more than 40 years, servicing the Twin Cities area.
Reichow started National Wood Flooring Consultants in 2000 to provide pre-construction consultations to contractors, as well as flooring inspections to homeowners, home builders, wood floor professionals, flooring manufacturers, attorneys and insurance companies.
"One thing led to another, and inspections became overwhelming," Reichow told listeners in WFB's "All Things Wood Floor" podcast. He began doing inspections around the country and was frequently an expert witness in litigation. Eventually he stopped his own contracting to focus solely on inspections and education.
"I started seeing a lot of these mistakes and looking at how can we prevent them … I started doing a lot of the seminars; going with installers and trying to have them understand the importance of standards," Reichow said.
With a focus on education in the industry, Reichow served as a board member and president of NWFA Certified Professionals, was a frequent speaker at industry conferences and was also an instructor for the IICRC Wood Floor Maintenance Technician training. He was also a regular author and blogger for Wood Floor Business magazine.
"Roy was not only my friend, he was so much more than that; he was a brother wood flooring contractor, inspector, mentor and devoted teacher. He was a leader! Roy's knowledge of the wood flooring industry was second to none. As an inspector he was second to none," Steve Marley, technical director of Johnson Hardwood, told WFB.
Jenny Riddle, president of Synergy Procurement Corp., worked extensively with Reichow on the NWFACP board of directors. "We have a Swedish saying about 'fire-souls' (eldsjäl); it is a driving spirit—someone with burning enthusiasm and engagement in making the world a better place. Roy burned for technical education, mentoring, sharing knowledge and inspiring others in coming together to synergize, interdependently do better and make great things happen," she told WFB.
"I considered Roy a mentor and a friend," fellow inspector Scott Taylor told WFB. "His vast knowledge was only a call/text/email away. His loss is immeasurable to his family and our wood flooring industry."
A celebration of life service will be held at Harriet Island Pavilion at 4pm on Sunday, Oct. 17, 2021, with a reception following the service. The family suggests that in lieu of flowers, a tree can be planted in memory via this tribute site, or memorial donations can be made to Our Saviour's Lutheran Church, M Health - University of Minnesota Foundation or The Trevor Project. Reichow's obituary can be found at www.royreichow.com.
See WFB Editor Kim Wahlgren's column "A Final Message From Roy Reichow," with his final wisdom he wanted to share with the industry, here.
Reichow's "All Things Wood Floor" podcast episode can be heard here:

Roy's blogs and articles in WFB can be read here, and his many columns co-written with construction attorney Blake Nelson can be read here.