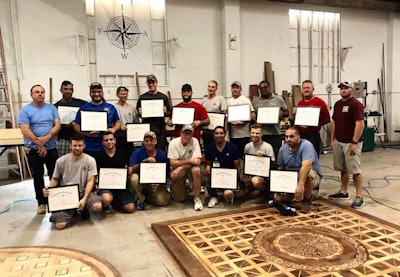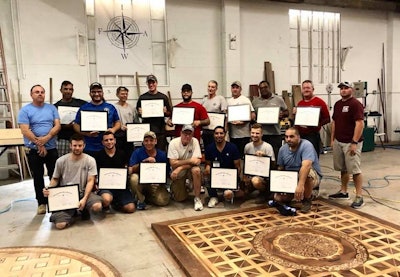 The newly formed International Wood Flooring Association hosted an Extreme Wood Floors course Aug. 27–31. Custom wood flooring manufacturer Castlewood Corporation hosted the school at its facility in Tell City, Ind., where students learned all aspects of custom wood flooring from cutting custom parquet to creating their own medallions to bending wood.
Lead instructors included Dave Marzalek of DM Hardwood Designs; Toby Merrill, DuraSeal, and Howard Brickman, Brickman Consulting. Additional instructors included Sam Biondo, MAPEI; Bill Cavey, Loba-Wakol LLC; Mark Dittmer, American Sanders; Randy Harris, Hardwood Industry Products; and Trevor Larsen, BNS Hardwood Floors.
Additional school sponsors included 3M Corporation, Allegheny Mountain Hardwood Flooring, Festool, Padco, ProCoat, Titebond, Woodwise and Wood Floor Business.
The IWFA plans to host more schools in 2019, including everything from basic to advanced wood flooring skills at the dedicated Technical Education area at the Castlewood facility, said IWFA representative Jenny Riddle.
Some additional video and photos from the school: