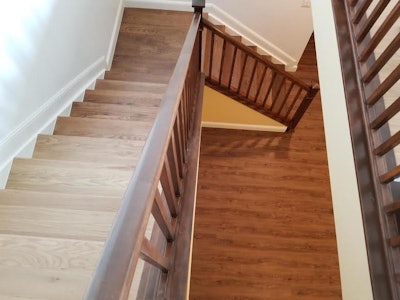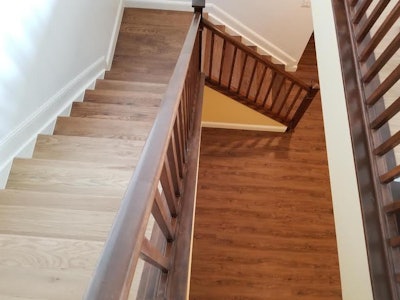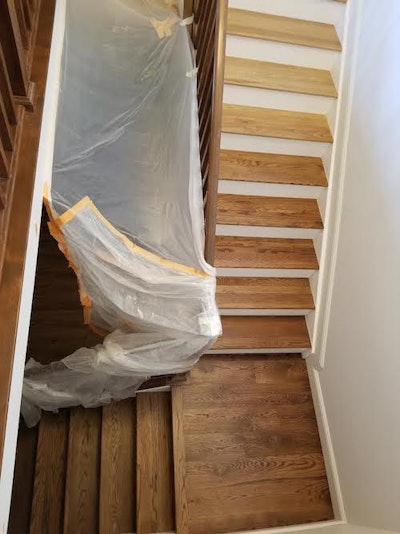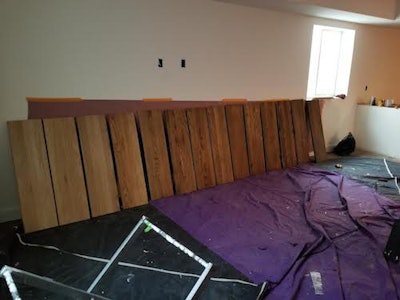 They say faith is taking the first step when you can't see the whole staircase. But for this color-transitioning staircase, Mike Wong of Denver-based Calabrese Flooring Co. instead chose to rely on skill.
The basement staircase is part of a new home with white oak on the main level and LVT in the basement. The stairs had been covered with carpeting before Wong, working with JNJ Construction, suggested wood might look better. The homeowner agreed, and she and Wong began brainstorming. After hashing out several ideas, they landed on a staircase that gradually transitions from a light stain at the top, matching the white oak, to a darker stain at the bottom, complementing the darker LVT.
As for exactly which shades to use and in what order, the fourth sample board featuring all of the different stain colors was the charm.
"She was like, 'Oh my god, that's it,'" recalls Wong, who had arranged the stains in their gradually transitioning order using the manufacturer's color fan as a reference. He then demo'd the carpeting, threw a tarp over the LVT and got to work on staining the uninstalled white oak treads in the basement. He used a palm sander on each tread with 120-grit and water-popped all except the top one, which was left its natural color.
After the treads were prepped, he used five stains and one clear coat to produce the gradual color transition on the treads.
"It actually was a bit of a challenge because when you stain something and you don't let it dry all the way, it's not its full potential color," Wong says. "So I was just taking it very easy, very gradual."
The stain he used has a two-hour dry-time, but Wong let the treads dry overnight to be safe. He then lined them up in order against the wall and had the homeowner approve them again before applying two coats of water-based finish and gluing and nailing the treads in place. Once they were installed, he gave them a final coat of water-based finish.
---
RELATED: Wood Floor of the Week: Hickory Install in Mansion Mirrors the Ceiling
---
"It definitely made the staircase stand out," he says of the transitioning stains. "That was my goal."
Faith did end up playing a role in the staircase after all, as Wong continued to build a faithful customer base after the unique staircase was completed.
"We were so involved with this, me and her together," Wong says of the client. "She came back the next day, and she called me before I ever got to the job site and was just screaming and hooting and said, 'It's better than I even imagined it would be, Mike! When are you going to come do our rails?'"
Suppliers:
Adhesive: Titebond | Nailer: Senco | Palm Sander: Milwaukee | Stain: DuraSeal | Finish: Pallmann | Vacuum: Oneida