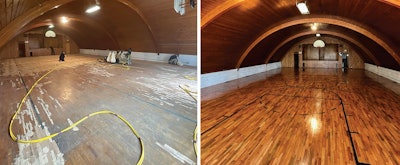 The MFMA (Maple Flooring Manufacturers Association) says that a 25/32-inch (¾-inch) maple gymnasium floor should last 75 years. Their website states: "In 1997, MFMA statistics showed that less than 1 percent of replacement floors were necessitated by depleted wear surface on the existing floor. Floors are far more commonly replaced due to flooding, improper facility maintenance and even building demolition/replacement than are replaced due to the 'wearing out' of the surface."
This has been my experience as well; gym floors are torn out and replaced for reasons other than just having a depleted wear layer. Dead spots and broken boards are much more likely to cause owners to replace their gym floors. There are many examples in this country of 100-plus-year-old gym floors, but they are the exception, not the rule. Like any other product, the longevity of a gym floor will depend on several factors:
1) How well is it cared for?
Log in to view the full article