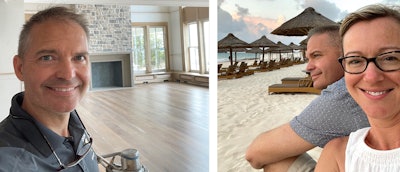 Like many people, I ended up in the wood flooring business by accident. I was a regular kid in a Midwestern town who was a little bit aimless, and after graduating with an English degree from a local college, my only real options were to get a job at Subway, rent Enterprise cars or teach. So I opted to stay an extra year to aim for teaching. But student teaching didn't pay, and I was newly married, so I took a second-shift factory job building overhead consoles for GMC Jimmys. Three months later I wanted out of the factory. I picked up hours at my father's piano store and installed a couple of very small wood floors for a builder he knew. I muddled through those first jobs not knowing a thing about carpentry or floors. Flooring did not feel like a real option.
Within a couple of months, though, I attended a wood floor training in Chicago. I felt enlightened and thought, "I could really do this." We picked up a couple more local builders doing small homes, and to keep the fledgling business afloat, we rented sanding equipment and loaded it in the trunk of a 1973 Buick Electra—not very professional looking, but the floors were getting better.
From there the business grew: We got a truck and trailer, and my dad decided he was going to manage the business and I would do all the work. And I worked and worked. My family was growing, and I saw the potential for really making money, so I bought the equipment from him, and my brother and I started our business. We grew to have a couple vans for a couple crews plus me. Business seemed to be booming, and I could afford to remodel my house, sign up my kids for expensive activities like ice skating club and travel to places like Greece, Egypt and Italy.
Then the financial crisis hit in 2007 and 2008. I laid off my employees, paid off my lines of credit and was basically broke again. My brother and I kept going with just the two of us, but then he developed a chronic illness, and I couldn't keep up with the workload by myself. I thought the solution was to merge with a local flooring company. I brought over my equipment and all my high-profile jobs that were in the works. But it didn't take long to realize that company wasn't a fit for me. They had a vision for flooring, and I didn't see how I was going to fit in that vision.
At that point, I was in my mid-40s and I thought, "Maybe wood flooring is the problem, and maybe I'm just too old." I had a real estate license and decided to sell real estate instead. When you're in real estate, you have lots of time, and I ended up volunteering for lots of things: I began running a Civil Air Patrol program for kids, and I also was running the West Michigan chapter of the Buick Club, all while trying my hand at copywriting. As time went on, between the volunteering, all of my kids' activities and doing all the paperwork required in real estate, I felt like I was in worse shape than I had been when I quit wood flooring. I felt like I was failing—not with my family, but as a working person, I was very discouraged and pulled in too many directions.
My real estate agency had a secretary who was very kind, and in a conversation with her one day, I told her I felt like the wheels were falling off the bus. She told me her father was a life coach and would meet with me for free if I want to see how to put it all back together. I thought it sounded cheesy, but I said, "Sure, I'll do anything."
I met with him, and he was a super guy. I paid his fee and met with him for about 10 sessions. Life coaches do what they do, and eventually you start answering your own questions. He told me, "Tim, every time we get together and we talk about all the things swirling around in your life, the only thing besides your family that lights you up is when you talk about all the good times in wood flooring. Maybe you should do flooring better—do it the way it should be done for you."
That was the moment I realized: "I don't have to be everything to everyone in this business." There were a few clients I really loved working for. It wasn't the hard work or the sweat or the dust that was the problem, it was people who were hard to work for. I decided I could do the work by myself and work for only a limited number of people I enjoyed.
I discovered I could focus on only five high-end builder clients and have all the work I needed and be successful all year long. I had lost my phone number in the business merger, but that turned out to be a good thing, because it's hard for me to say no to people who need a floor done. I didn't have to say "no" now, I just had to say "yes" to people I liked, and it took all the pressure off.
I started by myself but found it was too hard to get all the work done, so I hired a helper. With just two people, I've found we can do awesome, efficient work. I've concluded there are two ways to do this business: One way is to make it really big and have lots of workers and vans and manage the chaos. Or, you can do it by yourself and one helper, and do really, really nice work for a few people. I had already tried the first way, with all the vans and crews and payroll and managing all the little pieces and parts that make it big, but that didn't make it better for me.
I enjoy doing the work—it's satisfying because if it's done well, you get a great result, the clients are happy and it all comes together beautifully. The work speaks for itself and more always follows. I don't have business cards, and I don't advertise, and I'm currently trying to erase myself from the internet so everything is word of mouth. My builders vet their clients, and they are wonderful people. I'm more profitable now than I ever was.
I didn't just shrink the number of people in my business life, I also changed my personal life. When you're running your own business you have to develop some kind of balance; you move too far to one side and you don't make money, and too far to the other and you hate your life. I had been a workaholic, giving time to everybody in the world except people who mattered most—my wife and three kids. Now I limit people's access to me and say no to the extracurriculars.
My life coach taught me to gravitate toward things that are pulling me into the future, and so today I plan a vacation every quarter to have something to look forward to. Twice a year my wife and I go to an all-inclusive resort that is prepaid, and it is so relaxing and rejuvenating. I also treat my house as my sanctuary—we don't bring troubles here, so it's lovely to be at home as well as on vacation. Every morning I make time before work to have coffee on the deck with my wife.
I've found that when you devote your time to really taking care of yourself and to the people who matter in your life, then suddenly your health gets better and there's a lot of peace in your life. I don't have anxiety about the future because I've realized that life is short—too short for chaos and trouble. Our aim is for quality experiences rather than accumulating things.
Wood flooring has become much more pleasant with better priorities. With a new focus provided by a chance encounter with a life coach, it's become more successful than ever before. I'd highly recommend a life coach to anyone who feels like they need to think about their priorities. A few small changes can quickly turn all that hard work into a career that pays dividends.