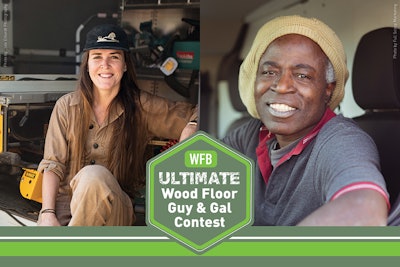 SPONSORED BY:
WFB is proud to introduce you to the winners of the second annual Ultimate Wood Floor Guy & Gal Contest: Clinton Duff and Elizabeth Imlach.
As with last year, the contest was designed to highlight a guy and a gal in the hardwood flooring industry who inspire others by going above and beyond in their craft.
Competition was stiff this year, as it was the year before, but our 2022 recipients won due to the positive impact they've had on their peers, friends and clients, as well as their continuing commitment to improve in their craft. We are honored to introduce them to you and share their unique stories.
Both winners will receive a trip to contest sponsor Lägler's headquarters in Germany for a Lägler Fly + Sand training.
Did you nominate yourself or someone else this year and not get chosen? As mentioned earlier, there were many impressive entries this year and we want to encourage you to please try again. To enter next year's contest, follow this link.
And to meet the 2022 Ultimate Wood Floor Guy and Ultimate Wood Floor Gal, scroll down.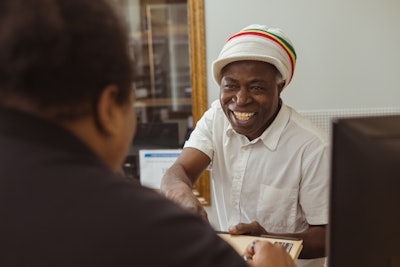 Ultimate Wood Floor Guy: Clinton Duff
COMPANY: Woodchuck Flooring Inc. | Toronto
YEARS IN THE INDUSTRY: 36
Clinton Duff takes positivity as seriously as he takes his craft, and with 36 years in the wood flooring industry, he's a revered expert in both. For proof, just ask his coworkers and his clients. "Clinton takes on every job with a smile and never backs down from a challenge," wrote Tim Nassis, owner/operator of Woodchuck Flooring Inc., who nominated Duff for Ultimate Wood Floor Guy this year.
Woodchuck put together a video of Duff's coworkers each sharing three words to describe Duff; "knowledgeable," "friendly, "amazing," "humble" and "rock star" were just a small sample of the many accolades from his colleagues.
Along with being a rock star among his coworkers, Duff, who immigrated with his family from St. Thomas, Jamaica, to Toronto in 1975 when he was nine years old, makes a habit of going above and beyond in every wood flooring project he takes on. It's evident not only in the floors Duff installs and restores, but also in the customer reviews the company receives: "Everyone likes Clinton!" "Shoutouts to Clinton for helping me out!" "Came in at the last minute as the store was closing, Clinton went overtime to explain what I needed to correct work that wasn't done properly in my home by my contractor." "A special shout out to Clinton … one of the nicest guys you'll ever meet!" "Very professional service at my mom's condo. Thanks to Clinton." "Clinton is professional and knows all about sanding and staining. Highly recommend!"
Ultimately, Nassis sums up Duff's personality with a story about a client who called to thank Woodchuck for their work and gave a special shoutout to Clinton for feeding her birds while she was away. Nassis asked Duff afterwards if he had indeed taken on the task of feeding the client's birds during the job. "He sure did," Nassis says, "and that's the kind of flooring guy Clinton is."
Tell us a little bit about your origin story—you grew up in Jamaica? When did you move to Canada and what was that like?
I was born in Jamaica in 1966 on the south side of the island in an area called Saint Thomas. I lived there until I was nine years old and my family immigrated to Canada. Living in Jamaica was a little interesting. My family is quite large in our community, so we were well-known and we excelled in our community. We arrived in Canada on November 30, 1975, and there was myself, my two older brothers and my older sister, and of course my parents, and we lived in a small one-bedroom apartment for about a year. So that was a little bit of a shocker, as even in Jamaica I had a bigger home! The first morning we woke up was the first time I ever saw snow. It had fallen overnight. And then taking transit around Toronto was another thing that we did that was new. Within the first couple weeks we were shopping for winter clothes in a store that's not there anymore called Honest Ed's in Toronto, which just closed down in the last five years or so. It was a big spot that most immigrants would go to. So we were like kids in a candy store.
When did you get involved in hardwood flooring?
I got into hardwood flooring around 1985 or '86. I was working part-time at a restaurant and still in high school. My neighbor, who had a small hardwood flooring business, needed somebody to help them. So he came to me and said, "Hey, forget this restaurant thing! I have something for you." So I started doing hardwood flooring after school. I would go and meet him at the sites and we'd work from 4 until 8 p.m. It wasn't really a choice. It just fell in my lap and I kind of enjoyed it, and so I stuck with it.
Do you remember the first project you ever worked on?
The first job I did was in an apartment building in the Hyde Park area in Toronto. My neighbor dropped me off at the job site with an edger and some 16-grit and 24-grit and he gave me a five-minute lesson on how to use the edger, and he left. I sanded off some parquet flooring and a little bit of glue-down tiles. Honestly, I thought, if I had bus fare in my pocket, I would have gone home. But being that my neighbor dropped me off at the job site, I couldn't walk home. I just stayed there all day. But within a month or so I started to come around that this was good. I had actually done well in shop classes in school, so it was really interesting for me to get into it because it actually turned out to be, to my feeling, where I belonged. Because I like shop class, I like woodworking, I like those things. So sanding floors just went along with it, and I got used to it and I'm still here.
What year did you join your current company, Woodchuck Flooring?
In 2009. But I've actually known the family for my whole career. When I started with Star Flooring, my first employer, Thomas, used to purchase material from Woodchuck, so I'd always be with him at their shop. So I actually worked with the owner's father, and I've known them for the whole 30-odd years of my career.
What's your philosophy for dealing with clients?
I like to listen to them and get the feeling of what they're trying to achieve. Once I know what they're trying to achieve, I can either lead them or give them some ideas of how to achieve that. And I find that I'm able to work with clients in that sense because just having the experience of all this time really helps me, as does having some patience. I find that these days, clients are—I'm not going to use the word "picky"—but they expect a lot. They expect a great deal from their job and from the money that they're putting out there. So that, in turn, makes me have to listen to what they, in turn, want. So that's my philosophy, to listen to my clients and figure out what they want and what we can deliver, and make that clear in the first place.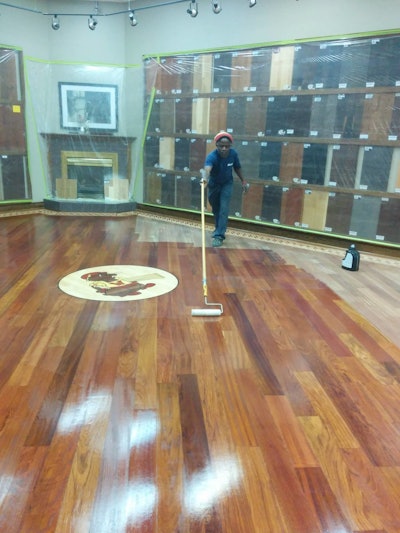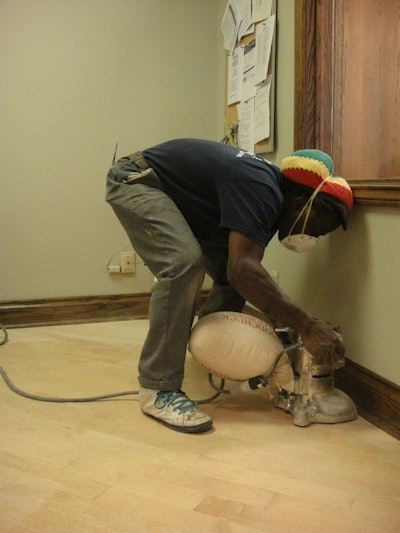 Can you tell us about the time you fed a client's birds?
A couple years ago we went in to sand the main floor of this home. The homeowner was not going to have any access, and she made arrangements to be out of town. As she was leaving, she gave me a bunch of instructions and at the bottom of it, it said, "If you don't mind, I'm asking you, can you please put out bird feed?" These weren't even domesticated birds; they were wild birds in the backyard, where she had a bunch of bird feeders. So every morning when I got to the job site, I watered the plants that were on the porch and I filled up all the bird feeders and put fresh water in the bird bath in the backyard. I did that for almost two weeks that we were on site there. It wasn't a one-time thing, it was a schedule.
What made you go above and beyond for a client like that?
It's just in my nature. We were going to be there anyway. She did it all the time and, you know, it wasn't going to take away from anything that we were doing on the job site. For the most part, I think it even made the client more comfortable. So if it's not going to hurt us, then why not just go along with it and make them happy? To me, it's not hurting anybody and not taking any time, so why not just help out?
What's your philosophy for teaching the trade?
I like to let them observe what I'm doing for a bit, and then once they feel comfortable with trying those things, then I'll initiate that. I like them to pretty much watch for a while and see how things are done. There's just certain ways people do things; I have a certain way myself. So it's a visualization and the pace of the person. I don't like to scare them off by throwing them the hardest part, like scraping corners and stuff like that. I'll get down and scrape the corners and show them how we do it, rather than just throw them a scraper and say, "Go over in that corner and scrape it." I teach by letting you go at your own pace, pretty much. But once I see that you're capable, then I'll accelerate it.
For the most part, my current role involves managing. We have several crews and I'm the shop foreman. So I do management where I'll assign jobs to guys and I'll make sure that the proper material and equipment is available to them to complete their tasks. I tend to do a lot of small repairs and sometimes I even get on the machines and do small jobs myself; if we're busy and I've got a 500-square-foot job to sand, I'll hop on a machine. I find that makes the guys a little easier to work with, because they see me doing the same thing they're doing as their supervisor.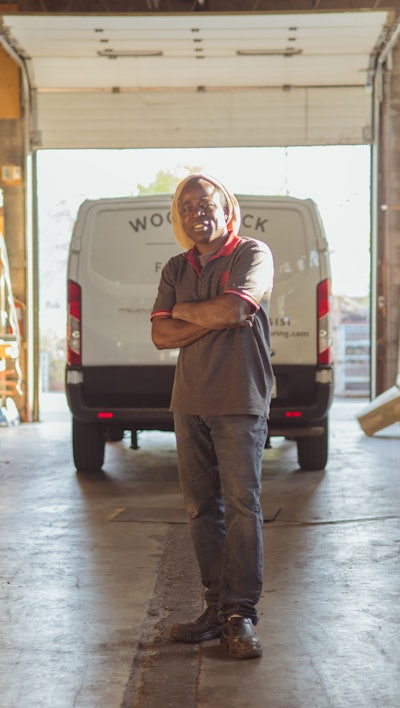 What's your favorite kind of wood flooring project to undertake?
There are several things I like to do. I like to actually do a lot of finishing myself. I pride myself on applying stains and finishing. I think the preparation makes it really nice. A couple years ago we did this really nice flooring down in the city of Toronto. We did a 6-inch border around some 2-inch herringbone, which we installed, sanded, stained and finished. The whole project was really nice to do because we got to see it all the way from start to finish. There were some curved pieces in the borders that we had to install, as well, and we had to cut everything and have everything prepped. It's a really nice project when you do something like that; that's a memorable thing. That was almost 2,000 square feet of flooring that we did in this home. It's rewarding to be a part of that process.
What's your biggest tip for finishing a floor?
To make sure that your preparation is the absolute best it can be. It might not be 100%, but the best it can be. Because once you start to do the finishing, if the preparation is not proper, then you're starting over. Rolling the finish on or applying the stain is easy, it's simple; but the preparation, the different sanding grits, whether you water-pop or not, and knowing what you're trying to achieve before you apply the finishing is the most important part for me.
You've been in the industry for 36 years—what have been the biggest changes?
Actually, the finishing! When I first started finishing, we used a lot of oil-based sealers and stuff like that. Nowadays, everything is predominantly water-based, so the application is different, as is the smell and the health issues. So the finishing itself has changed, and the evolution of the finish and the product that you're able to achieve today is enormous. I remember when I first did water-based finish, it came in a three-part component and you'd add this powder to a 5-gallon bucket, and then you'd add water to it and you'd mix it on site. That doesn't happen today! The evolution of finishes is awesome. Along with that, you now have all the different belts, like the ceramic sandpaper, they make a difference, as well. So there have been a lot of improvements in the finishing process of flooring.
What is your biggest wood flooring pet peeve?
My pet peeve on flooring is if the sanding is not done properly. I don't like to see marks across the grain and stuff like that. To me, that's just careless and it ruins the whole project. So sanding lines in a project is a huge pet peeve to me. Once I see that, then I start to nitpick around, looking for other stuff done wrong.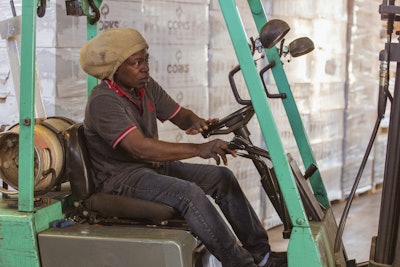 What sort of qualities do you need to succeed as a wood floor pro?
You need to know your product, first of all. Educating yourself on your product is one thing, and the proper procedures that are involved. Knowing my material and its applications is extremely important for me to be able to succeed in doing flooring.
Your clients and coworkers have spoken about how infectious your positive attitude can be—where does that positivity come from?
I think it's a lot of my upbringing. My dad was involved in a lot of construction and stuff like that when I was a child, and my mom being in the medical field, as well. So they basically stressed having a lot of education and values that were going to take you places in life. Having that kind of mentorship as part of my normal upbringing, it wasn't difficult for me to extend that to the people around me. It's just my nature now, how I've lived. Showing up every day with a positive attitude, that makes a huge difference, I think.
What advice would you give to someone considering joining the trade?
If somebody's interested in joining this business, just be prepared to put in the time and effort. It's not a fly-by-night, overnight thing. If I'm going to do this, I'm going to put 100% of my time that is allowed for a job when I'm there. You have to do that. If you think that you can pass by just doing half the job and making it look half-decent, that's not going to work. I think that for me, I always do the best I can. I go above and beyond to make sure that if a client says, "Oh I don't like that," I'm going to say, "What would you like to try and do to see if we can make that the way you like it?" I think you end up in a better position if you start with a good attitude.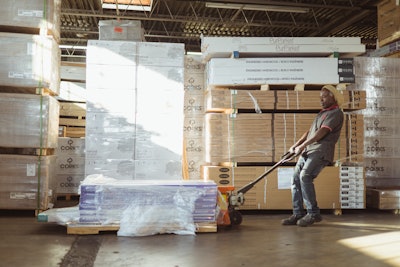 What's your favorite tool to use?
Probably a scraper, honestly! I have 20 of them. I have a scraper in my pocket at all times, especially when I'm sanding a floor, because there's always little things that I might have to scrape to take out, right? It's my go-to. I can fix just about everything with a scraper and a little bit of sandpaper. I actually did samples for a client the other day; the home is lived in, so I didn't want to pull out any sanding machines yet because we weren't starting for another week. So I pulled out my scraper and my file and I found a 4-square-foot area on the prefinished floor, which I hand-scraped and did some samples. The client and I got the general idea of where we wanted to be. My scraper is a great little tool.
What are your passions outside of hardwood flooring?
I'm a big soccer fan. I've been playing soccer since I was probably nine years old when I came to Canada, and I still play today. At my age, I play most of the time twice a week. It helps me in my line of work, 100%. It's a very physical job. There's a lot of bending and twisting and stuff like that. Being athletic helps you with that. I find that I'm more flexible, whether I'm bending or troweling on some filler and stuff like that, I don't have an issue with that.
Anything else you'd like to add?
My career has actually helped me in my family life, as well. The whole industry has helped me be able to have my family. I feel like I'm doing something positive with my abilities, and I'm able to earn a good, honest living to support my children. In my young age, that was one of the things: I had to be able to maintain them. So hardwood flooring has done a lot for me in that sense. I love it for my family, and my family loves what I do. They just go hand-in-hand.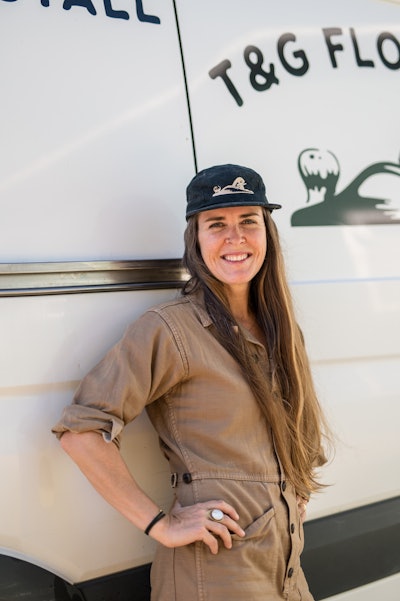 Ultimate Wood Floor Gal: Elizabeth Imlach
COMPANY: T&G Flooring | Chico, Calif.
YEARS IN THE INDUSTRY: 13
Elizabeth Imlach is a one-woman show who sees every job as an opportunity to perfect her craft. "Her attention to every little detail on every job is inspirational," wrote her fiancé, Paul Price, who nominated her as the 2022 Ultimate Wood Floor Gal. "She prefers doing every step ensuring the quality is the very best possible."
Like many who wind up in the trade, Imlach didn't expect to have a career in wood flooring. She began by studying architecture and construction management but started working for a hardwood flooring company after being laid off during the Great Recession. The work turned out to be a perfect match for her skills and attention to detail.
Imlach obtained her contractor's license in 2016, and made the leap to start her own company last year after 12 years in the trade. She works by herself and is quickly making her mark on homes in and around her community, many of them impacted by California fires over the past few years. "My greatest enjoyment is creating beautiful floors for clients that will last them a lifetime and then some," Imlach said in her application. "I feel so fortunate to be knowledgeable in this trade and love evolving with it. I wouldn't change my career path if I could."
Imlach is also using her platform to inspire other women to take an interest in the trade by sharing her craftsmanship, knowledge and the behind-the-scenes of the trade on her Instagram. Her overall message is simple: "Do what you love." "Every job she tackles," added Price, "she wants to do the very best job."
What drew you to the construction industry initially?
I think it was mainly due to my dad. He worked for the fire department for the state and he was a fire investigator for his career. But he had an art background and he had an interest in that kind of stuff, and he actually built the home we grew up in.
Right out of college, after getting a degree in construction management, I worked for a general contractor and we were going to start up an energy retrofitting company. That was during the financial crisis in 2008, so I was only with him for a few months before I got laid off. Also, the office work part didn't excite me as much. It was a lot of that. So when I got laid off, I was actually a little bit relieved. My first boss shared an office with Tony Chavez of Tony's Hardwood Floors, who gave me a temporary job until I figured out what I wanted to do. That's how I got into it. It wasn't like I was seeking out this career, but I just kind of fell into it and I just really, really loved it.
Do you remember the first wood flooring job you ever did?
I did a lot of little things for Tony on site. There was a pretty big job that we did early on and he had me just plastic off. That was before we had vacuums set up for our sanders. So I plastic-ed off the job site. It took eight hours. The first most significant floor was actually for Aaron Rodgers, the quarterback for the Green Bay Packers. He's from Chico; his family had a house built, and we did their floors. I remember it was either 4- or 5-inch solid Brazilian cherry. It was in the whole house, and they had a huge radius staircase. I remember trying to carry those bundles of flooring up the stairs, and I really questioned what I was doing. It was really hard; I was sore for like a week after. But that was probably the best way to break into the trade. So it was definitely a memorable one and I learned a lot. For a long time I was kind of a shadow behind Tony and he gave me little, simple tasks, but at the same time he threw me into doing a little bit of everything.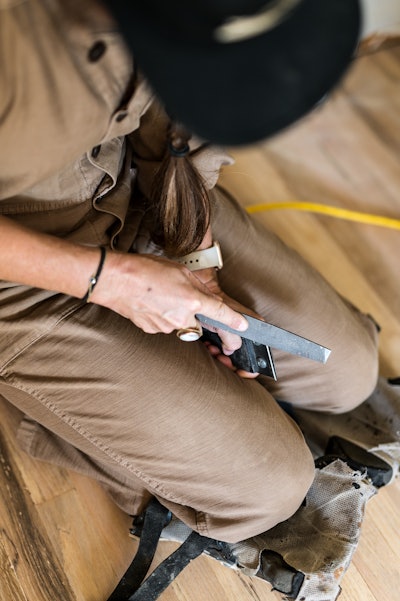 When did you decide to start your own business?
I got my contractor's license in 2016, and I continued to work for Tony. He was the most established and the best-known in the area. So I did little side jobs when I had time and we got to the point where I got a little busier and we kind of worked around each other's schedules. He was really supportive of me getting my feet on the ground. And then it got to the point where it seemed I was getting more jobs on my own than working for him. Last year, I decided it was time. I had started to buy my own tools, and I got my own woodshop. All the steps were happening, and it just seemed to work out perfectly.
Do you do mainly residential or commercial jobs?
It's mostly residential. I feel like the majority of my jobs tend to be additions to existing floors and then re-sands. I've done some new construction. Paradise is a town that is just up the hill from where I live, and in 2018 there was a huge fire that came through and actually burned the whole town down. I've done some jobs up there for previous clients. And for the most part it just seems to be existing floors and repairs and things like that.
What is your philosophy for dealing with clients?
I actually really love the relationship that I've developed with homeowners. I try to communicate as well as possible, giving them an idea of how long it's going to take and what to expect, when they can walk on the floor and when they can't. And everyone seems to be very accommodating to me coming in and basically tearing their house apart. Communication tends to be the most beneficial thing!
What's your philosophy for running a business?
I get a lot of bids that I do and, when I first started, I tended to come in, look at the floor, send them a bid, and then give them an idea of when I'm available. I realized early on that I wasted a lot of time doing that. So when homeowners or contractors call me, I usually tell them when I'm available right from the get-go before I even look at the job. I try to really stay true to my schedule to avoid headaches. I know that with jobs where you need a GC, things get jumbled around and schedules don't stay on schedule. But I try to keep my schedule as consistent and true as possible just to avoid all the juggling.
Explaining things to people is also very important. Typically I want to be the last trade that comes in on a job, and sometimes it doesn't work out that way. So I've done my best to communicate with appliance guys on how to properly move a refrigerator, because there tend to be a lot of callbacks when things are moved and the floor is dented and I need to come back and fix it. I also offer the option to come back when all the trades are out and do the final coat then. So that's been good for me and for the homeowner.
What's your favorite kind of wood flooring project to do?
I really enjoy the old Douglas fir floors in my area. There are a lot of old ranch houses around us that have the oak in the common areas and then they put Douglas fir in the bedrooms. The before-and-after is just spectacular. They're all at least 100 years old, if not more. But any solid hardwood floor is my favorite.
There were actually a few remodels and demolitions when I worked for Tony where we used to go in and actually take up the old floors and save them. So I have a pretty good stock of old-growth Douglas fir and am able to properly repair them. When refinishing them, I also explain to the homeowner or contractor that this is an old floor and you could keep it natural and have a nice rustic look to it. Another option I give people is to stain it dark to hide imperfections. I like to give them options and give them an idea of what to expect: "This isn't a brand new floor, it's not going to look brand new, but it's going to be beautiful."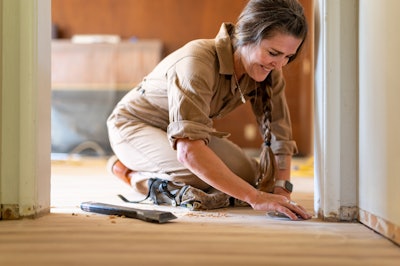 Do you work on your own or do you have a crew?
I currently work on my own. I've really enjoyed working on my own. I can just hold myself accountable. I have had a few apprentices come in that are interested in the trade, but it's also difficult incorporating someone new with trying to get work done and training them at the same time. There's kind of a financial risk you take with hiring someone. I hope that they'll want to stick around so that it'll become beneficial for both of us.
What's your favorite tool to use?
I love all the tools that I use! The tools that I've gotten in the past two years are all new, so it's hard to favor one. This sounds silly and really simple, but I just love using a hand-scraper. It's such a simple tool, but it can fix a lot. I would also say the multi-head attachment for the buffer. Because in the past, we were just using screens after we ran the big machine, and it never seemed to get out cut lines or chatter. It also left pretty big scratches. But that multi-head, it just saves so much time and you're not feeling the floor or staining it wondering what's going to happen.
What are your biggest wood flooring pet peeves?
A lot of things! If I have to do a repair and someone, for some reason, switched directions in one room, or there's a border and they didn't router out the field to connect to the border. Improper installation. Also, other trades that come in and treat the floor like it's not finished. It's not ideal, but sometimes I have to come in early, and the trades that come in after seem to not really care that I put all that time and energy into the floor.
The other one I would say, like I mentioned earlier, is when appliances get put in and I tell them, "Make sure you put a ram board or something down so you don't dent the floor." And sometimes I'll even supply them with it. And then I'll get a phone call that says they dented the floor, so that's really frustrating.
Another pet peeve is when I feel like I'm sparring with a homeowner over what they want versus my professional opinion. I could do something for someone because it would save them money, but I'm going to have to come back and fix it at some point, so I try to avoid that. I don't want to be too aggressive, but I also want to stay true to what I think is right. So that's a challenging one!
What qualities does a wood floor pro need to succeed?
There are parts of the trade that aren't really "grunt work," but they're physically demanding work. You have to have that work ethic to work hard and possibly sweat through the day. But then there's also a really graceful finesse with it, and I like that I have the ability to combine the two into one thing.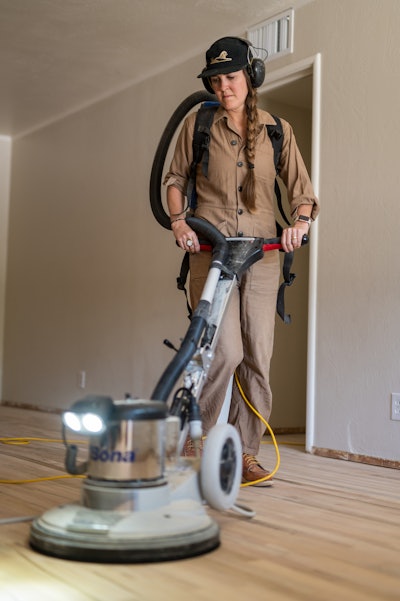 What advice would you give to someone interested in joining the trade?
Be open to things going wrong. You're going to mess up when you're first training and that's OK—that's how you figure it out. You just have to throw yourself in there. It can be hard, but it pays off in the long run. I used to follow my old boss around to listen to how he deals with questions, how he communicates with contractors and homeowners. Sometimes I'd even turn off my machines to listen. Now that I'm completely on my own, I wish I'd done a little more of that listening. I feel so thankful that I had that opportunity to have a mentor who could teach me so much, especially with the communication aspect, because I emphasize that that is very important.
For example, on some of the jobs that I've done, I really don't know exactly how long it's going to take me to complete it, and I've not been super confident about communicating with the client about that; I feel like if I'm not 100% sure, then I don't know enough. But that's not always the case. I used to hear Tony say, "There's no way of knowing that. I can get underneath the floor and I can get the repairs done, but I don't know what's going on under the floor." Just having the confidence to say that has been helpful.
What's your advice for women interested in joining the trade?
For me, it feels like doing what I love has attracted a lot of women who have approached me and asked, "Would you be willing to let me work on one of your jobs and see if I like it?" I put things on social media as a way of advertising the trade, but also to encourage people to get into something they love. That's one thing I tell them: Even if it's not hardwood floors, if it's another trade, if you find something that you enjoy doing, then share it with the world! That's motivating. I've had so many women approach me saying, "I wish I knew how to do what you do," or, "I would love to learn a trade or how to do hardwood floors."
There is so much opportunity and, with a lack of tradespeople, having little to no experience isn't necessarily an issue. It's hard to find reliable workers who have an eagerness to learn. Think about it like a college degree, but instead of paying someone to teach you something you may or may not use in a career, you can get paid to learn, and the payoff can be greater than that of a four-year degree. It's really more than a free education… and women have a lot of traits that work well in hardwood floors. Women have a great attention to detail, and even though it may seem intimidating to step into a male-dominated field, women are starting to prove themselves in the construction world, and there's nothing about this trade that women can't do. I hope my motivation and passion will encourage women, and I'm happy to help women who have an interest in hardwood flooring.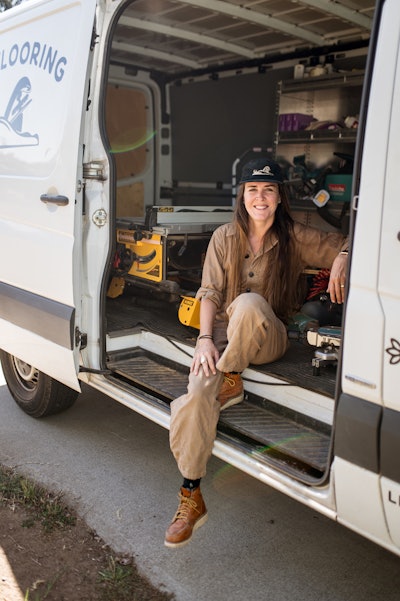 What are your passions outside of hardwood flooring?
Most relevant to my trade, I like to save the scrap pieces of wood, or leftover pieces that maybe don't match the rest of the floor, and I've done a lot of woodworking projects as gifts for people, making anything from framed mirrors to hope chests and a few headboards. I also just really enjoy being out in nature. I've taken a small break, but I've been a runner my whole life. I've run four marathons. I really enjoy doing that and going on road trips, cycling, anything outdoors. People used to ask, "How do you do a manual job and run after work?" It seems like so much work, but I've noticed that running really helps with my core strength, which helps with my back. I've never had knee problems doing floors, they have such great kneepads now so it's not really an issue. I feel like when I run I've got that strength and I'm using other muscles in my body to give other muscles that I use in work a break. It's good to just do a little bit of everything.