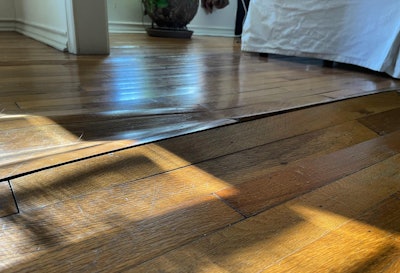 Unfortunately, there are a lot of wood floors out there that look like the one above. Fortunately, there are homeowners and business insurance policies that usually help cover some repair costs associated with water damage.
An unhelpful aspect of this for us as contractors is that sometimes folks need a contractor to write a quote for them to get insurance money—but they have no intention of actually hiring the contractor for their services. I could make a whole career of providing this estimating service to folks for free, but that would be a short-lived career since oftentimes I wouldn't end up doing any work.
Instead, I now charge $250 for any insurance-related estimate. This compensates me for the time and effort spent on providing estimates, and then, if I'm lucky enough to be hired for the job, I apply that $250 they already spent as a credit toward the invoice for the work. This limits the amount of insurance jobs I deal with in the first place, and then there's a stake in the game for all parties involved.
I started charging for these estimates about two years ago. I noticed that I had done a few estimates that clients had followed up on asking for more detailed descriptions, photos, moisture measurements, and other things that typical people do not ask for. I realized then that the thing they all had in common was water damage. I got none of these jobs and had to work about twice as hard on the estimates as I usually do.
My years of experience dealing with floors and people have given me the ability to know if it's an insurance estimate—whether I'm told it is or not. This is basically like playing poker to me—although I don't gamble or play cards! I listen very closely to the client's description of the job, taking in the visual cues from the job site (i.e., recent plumbing repairs, new appliances, new drywall, other contractors on site, etc.). And I ask questions like, "Will there be an adjuster to contact?" and "Have you already accepted a settlement for the damages?" etc.
While this approach may not be suitable for every wood flooring contractor, it's worth considering as a way to streamline your estimating process and ensure that both parties are invested in the outcome of the repair job.