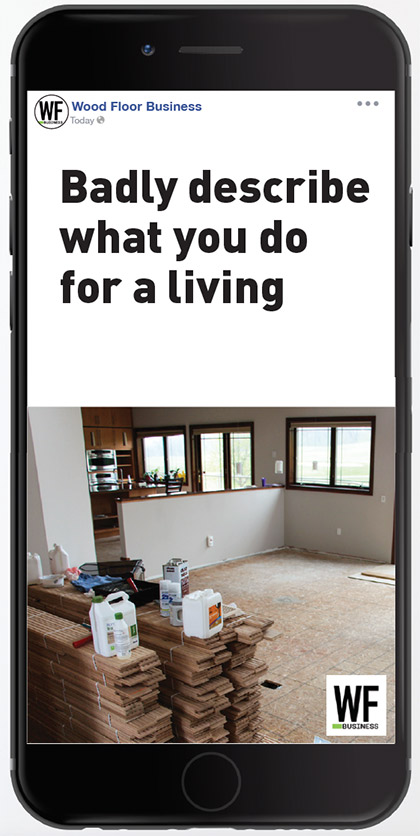 Here are our favorite responses shared by our readers on the WFB Facebook and Instagram pages.
---
John W. Saunders I make toothpicks out of logs.
---
Casey Eubanks I take cut-up trees and put them on the ground in different patterns inside buildings. Then I scratch it a lot with rocks to make it look good before I cover it all with invisible armor.
---
thechancetucker I lay a lotta wood.
---
Michael Velli I erase big scratches with little scratches.
---
Jim Sours I curse framers and site superintendents and advocate for homeowners to get their house set straight.
---
Zane Lee Metz III I babysit grown men from 8-5.
---
plankd_flooring We plank … a lot!
---
Chuck Kutchera I'm going to come in, make lots of noise, be messy, stink up your house, and you'll be happy and pay me for it!
---
mscsinc I'm flooring Cinderella.
---
Derek Swegle Rocks on paper. Paper on wood. Make it look good.
---
ds_hardwood_flooring I make a lot of tiny scratches on wood.
---
ovi_treadline_hardwood I'm a marriage counselor.
---
Blair Rayfield I'm a "horizontal surfaces technician."
---
glendorahardwoodflooring I unroll and roll up extension cords.
---
Chris Schmidt I staple giant puzzles together.
---
diamondstatehardwoodfloors I splash chemicals on dead trees.
---
skyrofloors I stick things to other things.
---
scuba_steve911 People I've never met call me and I go in their house and then I leave with money.
---
angushardwoodflooring I do floor makeup and pray to get paid for it after I finish.
---
Alex Frey I make dust.
---
James Cortright I massage wood with rocks, then color it with minerals.
---
Daniel Frederick Reddy I take living organisms and slice them into thin layers, then I drive nails through them, grind them with rocks and seal them in clear caskets for everyone to enjoy.
---
natureshardwoods I sweep up after sheetrockers, electricians and finish workers.
---
isandnewyork I'm the guy that comes to fix your problem because your friend knew someone "cheaper."
---
Josh Hansman I make man glitter.
---
Sean James I mentally and physically abuse myself for money.
---
RELATED: Talk Back: Finish This Sentence: You Know You're a Wood Floor Pro When...
---