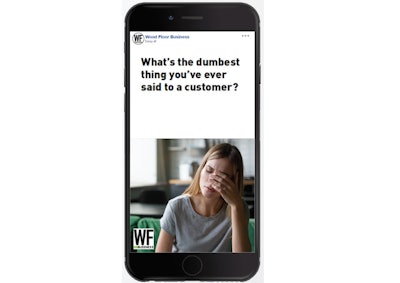 Here are our favorite responses shared by our readers on the WFB Facebook and Instagram pages.
---
Barry Oliver Customer: Do you take credit cards? Me: (without thinking) The only place I have to swipe a card through, you don't want to see. Did I just tell them to swipe my butt?
---
Trevor White Eleven years ago I was standing in a woman's house, maybe a 300K dollar house, and she asked me if I could do the job. I replied, "I normally just do million-dollar homes, but since the economy crashed I suppose I could do yours."
---
Eric Olejkowski "What moron installed this floor?" The owner goes, "Yeah, that was me!"
---
Ken Ballin "Sure, I can get over there Christmas Eve. No problem."
---
Mitchell Canter "Yeah, I can move your curio cabinets and all the crap in them."
---
Lou Buono Jr. A woman asked me if the process was dust-free. I enthusiastically said, "Yes! The dust comes free with the job."
---
Ross Hansman "Have your interior designer come over and give their opinion on the color."
---
Brad Fultz "Piano? No problem!"
---
Gary Kuchinsky "When are you due?" … to a non-pregnant woman.
---
Jeff Haddick "I promise…"
---
Micheal Seeley "Pink with white overtone? That will look great."
---
Bob Patterson (In the early days) "Whatever his price is, I will match it."
---
Keith Christopherson After picking out a stain color the customer asked if I could stain a small sample piece of wood she can take to pick out kitchen stools. Without skipping a beat, I replied, "Or you can always bring a stool sample here!" Thankfully she had a sense of humor and laughed.
---
Jake Schlichte "Here's all 50+ color options."
---
Jorge Perez "While moving furniture we found your dildo." Should've just left that one alone.
---
Jarrod Wellmann I told a bald lady, "No worries, today we'll try to stay outta your hair!" I felt terrible and I didn't mean it like that.
---
Gregory Dozorec Years ago I asked a blind guy if he was happy with the stain color his wife picked out. He threw me off when he asked if I could get it any darker.
---
RELATED: Talk Back: What's the Craziest Thing a Customer Has Said to You?
---