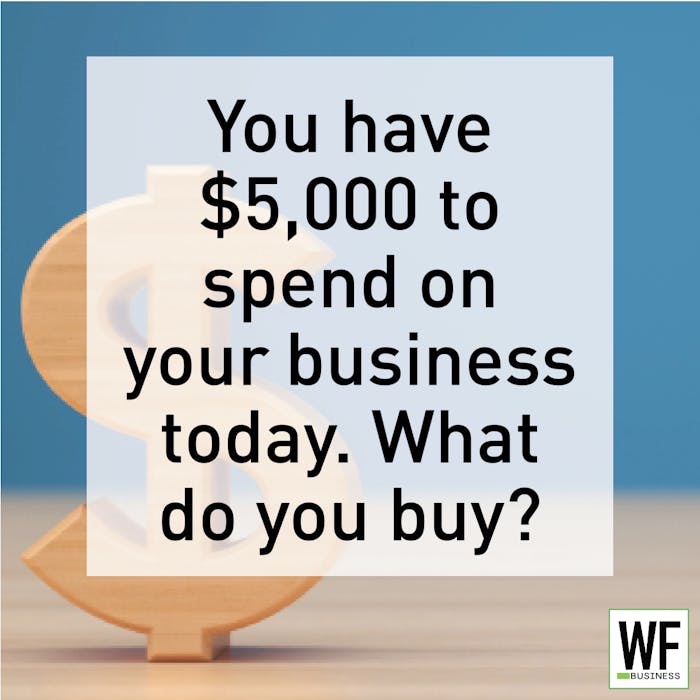 WFB asked wood floor pros on Facebook and Instagram how they would spend $5,000 on their businesses on Black Friday. Here's what they said:
Ron Teljeur
A better table saw for the shop.
Shawn Myers
Buy me a buffer please!! Lol
Rene Munoz
Bitcoin.
Charles Carroll
I'm a tightwad, so I'm not buying anything until it smokes or breaks.
Nicholas C Maxson
I'd pay part of last year's taxes.
Corarinna Ketcham
Three SawStops.
Ron Begg Jr.
All the Norton sandpaper I could get.
Randy Golaszewski Sr.
A plane ticket to Key West … for, ummmm, business purposes … for self-motivational healing and to preserve my sanity to keep grinding.
Michael Schuetz
Down payment on a wood stretcher.
Douglas Wood
A vacation.
Alvaro Santos
Another work van.
Bob Jewell
Bona Power Scrubber.
John Austin
Two or three months of ads.
Roger Lancaster
Red oak, because it'll double in price tomorrow.
Dan Hill
New BM.
Matheus Leonel
A Trio.
epichardwoodfloors
Education.
ovi_treadline_hardwood
Advertising.
plankd_flooring
Just more toys.
morning_wood_flooring_
Another Galaxy.
limitless_hardwood_co
A down payment on a Ford transit for my guy who's earning his stripes!
nextlevelhardwood
Crypto.
hardwoodman_
$1,000 bonus for each of my employees
proelitefloors
A couple of Robotic installers that knock out jobs with no issues.
darin_dupree
An old van.
ryebread75
Trio.
soulbrotha09
A Bona Power Scrubber.
floor_west
Lagler Trio. My dream.
americashijo
Index funds.
moraisconst
Nice vacation for myself.
woodyshardwoodflooring
Google ads.
dmhrdwd
Dental work, ugg.
cutandroll
Payroll so I can relax a few days.
joeshardwoodfloors
Bona Power Drive!
ryanswhistlin
Newer Hummel. My second-hand girl from the '80s had a rough life, she deserves a retirement party.
ftwoodfloors
The Spider.
woodworkprojex
Festool vacuum pump.
onestopfloorsanding.co.uk
A month off.
decadesflooring
Advertising.
curtisbenge
More shop equipment to streamline our shop.