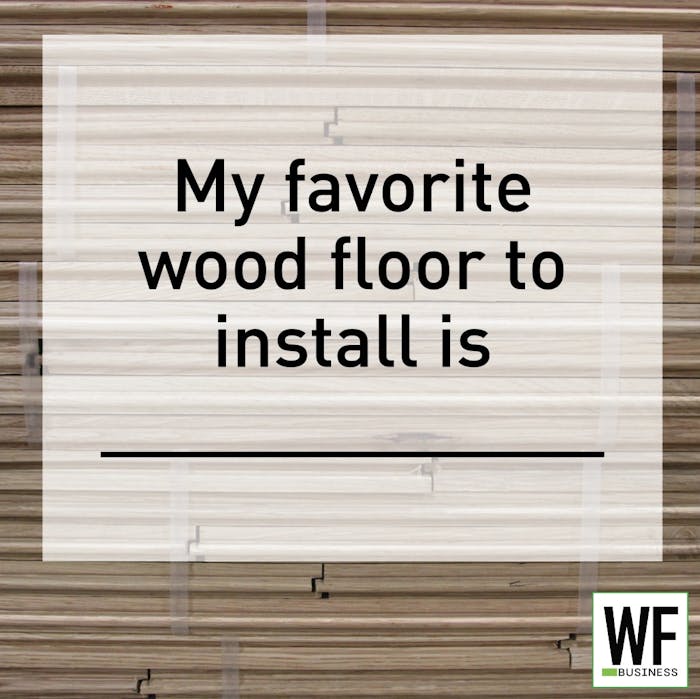 WFB asked wood floor pros on Facebook and Instagram what their favorite wood flooring to install is. Here's what they said:
plankd_flooring
Solid parquetry block.
hero_flooring_llc
🍁 🔥🔥🔥🔥🔥.
warwickwoodflooring
White and red oak flooring.
cottonwoodfinishesllc
Unfinished.
hrdwd4life
Wide plank hickory.
hardwoodman_
Reusing old growth maple gym flooring.
woodfloorworkshop
Sheoga Hardwood Flooring by a mile.
youngbrothershw
Anything that's not garbage.
nortonabrasives_nate
Livesawn white oak plank.
fremont_hardwoods
Mine!
soulbrotha09
¾-inch oak.
oldgrowthcustomfloors
1x4 old growth redwood we pulled out from a gym subfloor in Visalia, Calif., and installed on a deck in Saint Helena, Calif.
mobile_flooring_by_benchmark
Solid.
justinsane_v3.0
Reclaimed floors … and solid hickory.
ecooptionshardwood
Herringbone.
alisonchanes1962
1-inch white oak strip flooring.
_g_ahearn
Walnut.
nctrav2bryancustomfloors
Hickory.
amishwoodfloors
Amish & Hercules—easiest mills to install and great length average.
allaround_flooring
Pattern borders, stain European oak, client where the price does not matter.
magnusflooring
White oak rift and quartered.
scuba_steve911
Pretty much anything, as long as the homeowner doesn't get it themselves at some weird discount place and then complain there's not a board over 2 feet long.
teban888
4-inch white oak solid.
Michelle Lundberg Reichow
Parquet was Roy's expertise. The pieces had to be exactly manufactured. I remember helping him resize herringbone because of fractions of difference in width tolerances.
David Friedland
One that I can sand.
Steven Triplett Jr.
Quartersawn white, favorite to install. Most beautiful, ipé! (PITA to install, tho.)
Jack Toomey
4-inch quarter and rift!
Martha Candelario
Kährs.
Jim Clarey
One with the highest markup.
Mike Wong
White oak R&Q.
Gary Horvath
Any kind of reclaimed.
Jorge Perez
2¼-inch red oak common.
Wesley Elliott
Antique chestnut, oak and pine.
Alberto Hurtado
Any Kahrs floor.
Frank Bechard
3¼-inch select and better in its bare form (good lengths and with a minimum amount of deficiency).
Anthony Dvorak
Quartersawn white oak.
Wayne Walker
Tekton.
Paul Alexander
R&Q white oak.
Richard Conway
Done.
Oscar Vasquez
Any reclaimed … (Dade County pine).
Gregory Brown
Been loving that Polish-made engineered European white oak lately.
Nicholas C Maxson
One unit of measurement away from requiring glue.
Kristopher Jeter
Solid wide plank white oak.