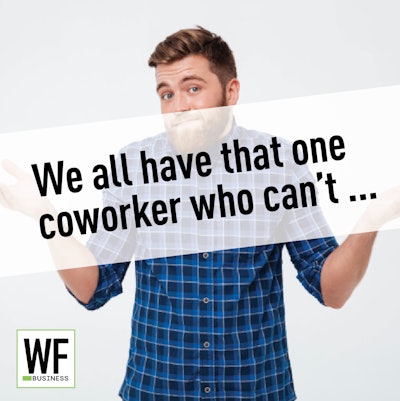 WFB asked wood floor pros on to finish this sentence: "We all have that one coworker who can't…" Here are responses shared by our readers on the WFB Facebook and Instagram pages:
Chuck Kutchera
Can't stop trying to borrow my basic flooring tools.
Kevin Knauff
Edge all day … or scrape efficiently.
Allen Rapaport
Get it done.
Bill Powell III
Show up on time.
David Friedland
Wear deodorant.
Gregory Dozorec
Leave his phone alone.
Clint Fudge
... get to lunchtime without having to sit on the toilet for 30 minutes.
Jarrod Wellmann
Find his keys 🔑.
michaelpat80
Work.
tetelestai_carpentry
Can't control the buffer!
scuba_steve911
Scrape corners right.