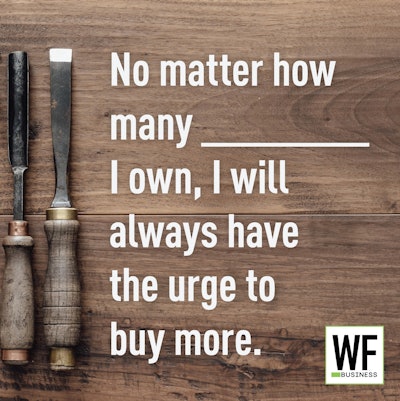 WFB asked followers on Facebook and Instagram to fill in the blank about something they always have the urge to buy … no matter how many they already have. Here's what they said:
Chuck Kutchera
I'm obsessed with folding rules. 😀
Shawn Myers
It's clamps. The correct answer is clamps.
Mark Herakovic
Tools. All tools. Even ones I don't need.
Joshua Crossman
Vacuums.
Johnny Rodriguez
Oh, why fishing lures, of course 🤷🏽‍♂️🤩.
Mitchell Canter
Guitars.
Mark Opperman
Routers (I think I have 20), vacuums, miter saws.
T.J. Haas
Routers.
Maxwell Flooring LLC
Scrapers 🙄🙄.
Shane Jones
Saws.
emorystansal
...anything I can't find easily/right away.
daniels_floors
Kittens.
john_booth502
Hand routers!
isandnewyork
Work Boots 🥾🥾.
rapaport_wood_floors
Festool.
robjohnson9663
Milwaukee 11-1 screwdrivers. It's a bad habit I cannot shake. I keep 'em, give them away as gifts, etc., etc. The best, easiest socket for a hose clamp you ever used. I'll stop now…
eternity_floors
Snickers pants.
mn_floors
Knives.
johnnyrodriguez1976
Cordless power tools ⚒️.
markmeidra_procoat
Tape measure 😓.
randy.harris
Hook blade scrapers.