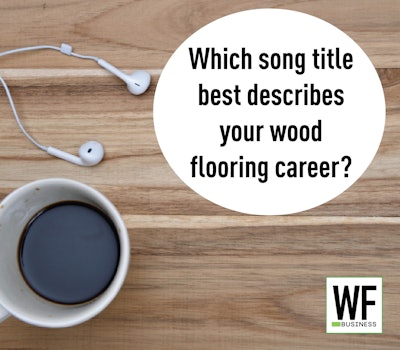 WFB asked followers on Facebook and Instagram to share a song that best describes their career in wood flooring. Here's how they answered:
clintfudge.floorsander
🎵🎶 I'm still sanding, yeah, yeah, yeah 🎶🎵 ~ Elton John
David Friedland
martyd_83
Car Scratch Fever 🎸
cashpyle_loba_wakol
Soul to squeeze.
jasper_parket
Simply the Best 🤩 Tina Turner.
legendary_woodworx
Got to pay your dues if you want to sing the blues & We are the Champions!
robjohnson9663
Bang the drum all day, Todd Rundgren.
ddtngcbb
Crass - Do they owe us a living.
buonos_flooring
🎵 I don't wanna work 🎵
osloparkettsliperias
Johnny Cash - Hurt.
adams_hardwood_floors_
Livin' on a Prayer.
empire_wood_floors
More a line from a song by Midnight Oil, Power and the Passion: "It's better to die on your feet than to live on your knees."
molitor_traditional_flooring
"Salt of the Earth"–The Rolling Stones (the entire Beggars Banquet, really).
ewfreeland0815
Stranglehold by @tednugentofficial.
abstract.floors
Toxic - Britney Spears.
plankd_flooring
I Gotsta Get Paid, ZZ Top.
onestopfloorsanding.co.uk
Out on the Floor Tonight by Dobie Grey.
johnnyrodriguez1976
Man of Constant Sorrows–Soggy Bottom Boys.
halalhardwoods
Amazing Grace 🙏🙌🏻.
silvestri.mark
It's A Long Way To The Top If You Want To Rock n Roll. AC⚡DC🤘.
boardwalkfloorservices
WOULD-Alice in Chains.
elite_ltd
No New Friends, Drake.
goldenwoodworks
Norwegian Wood.
moosecardinal
Won't Back Down, Tom Petty.
roni_woodcare
Anxiety - blackbear.
robertcivilettiwoodfloors
"The Song Remains The Same."
mountainoakshardwoodflooring
Pursuit of Happiness by Kid Cudi.
ironwoodfloors
Workin' Man Blues, Merle Haggard.
elite_ltd
Where's My Money, Royce da 5' 9".
weloveparquet
Sympathy for the Devil.
vellawoodflooring
Working Man by Rush.
goldboyzz
If your gunna be dumb ya gotta be tough.
sand_man757
The Temptations–Treat Her Like a Lady.
Chuck Kutchera
Life's Been Good, Joe Walsh.
Travis Morse
Rick Astley - Never Gonna Give You Up.
Steven Triplett Jr.
"Dust in the Wind."
Jorge Perez
Gettin It by Too Short! It should be on everyone's playlist to keep your mind in check.
T.J. Haas
"The world's greatest bowler is the world's worst anything else."—Panucci's Pizza
Daniel Springer
Eye of the Tiger.
Johnny Rodriguez
Orion–Metallica.
Kent Chavis
Grinding All My Life, Nipsey Hussle.
Chad Reagan
"My Neck, My Back."
Matt Garcia
Living on a Prayer, Bon Jovi.
Rob Prest
"Killing Me Softly" 😂.
Mike Wong
"Unchained."
Cory Erxleben
"Another One Bites the Dust."
Harbour Precision Floors
All By Myself 😁.
Dar Leen
Like a Rock.
Nathan Kelly
"Break Stuff," Limp Bizkit.
Justin Hiers
Johnny Paycheck - Take This Job And Shove It.
Luke Biello
Here's a quarter, call someone who cares.
Mark Opperman
"I Miss the Misery," Halestorm.
Micheal Seeley
"Brain dead and made of money. No future at all." ~Phish
Jason Duron
The Verve - Bitter Sweet Symphony.
Kyle Thompson
"Mo Money, Mo Problems."
Craig Charleston
Shane Scheimann
I'll Sleep When I'm Dead.