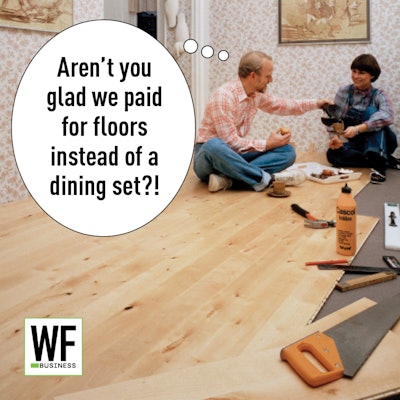 We asked you to submit your caption suggestions for this photo, and our online readers voted. Congratulations to winner Jay Quinene of Bremerton, Wash.-based Jayco Hardwood Floors. Aside from fame and notoriety, Quinene will receive a Wood Floor Business T-shirt. Other favorite captions included:
"Don't spill it, this coffee will eat right through that finish."
– Bill Powell III of Earlton, N.Y.-based B. Powell Flooring
"Sure am glad we set up breakfast right where the floor guy needs to start working when he gets here, aren't you, dear?"
– Chris Haight of Portland, Ore.-based Pure Floors Inc.
Watch WFB's Facebook and Instagram accounts for your next chance to enter.