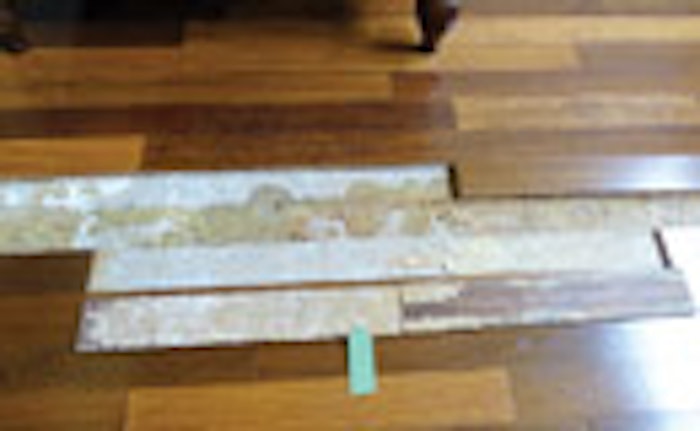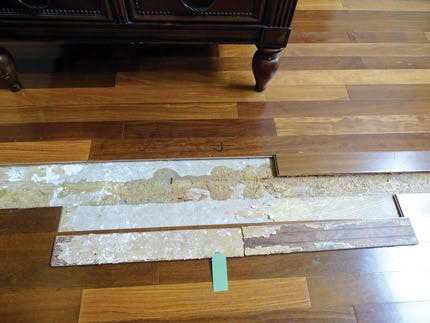 The Homeowners' Issue
The homeowners purchased a home in late December with glue-down hardwood flooring installed in the living room. By mid-June, a majority of the wood flooring was cupping. Come August, the floor had buckled down the entire length of the room, and flooring pieces were coming loose. The homeowners had their handyman remove a few planks to prevent personal injury. The handyman noticed, upon removal of a flooring board, two different adhesives on the underlying concrete. The handyman told the homeowners the floor looked like it had been previously repaired for the same issue, and the homeowners called an inspector.
Roy: The Inspector's Observations
I observed two different applications of flooring adhesive, which suggested but did not prove a repair had been made before the homeowners purchased the house. I conducted a calcium chloride test and recorded a moisture emission of 8.7 pounds. At the time of inspection, the baseline flooring MC of the unaffected areas was 7–8%, while the cupped and buckled area of the flooring had a MC of 10.2–13.5%. Through a further extensive inspection of the job and more testing, I determined this was likely a seasonal condition due to the landscaping of the backyard and heavy summer rains, which resulted in moisture intrusion from the exterior wall.
Blake: The Attorney's Analysis
The buyers could pursue the sellers, but only if they can prove the sellers knew about the problem and failed to disclose it. If the floor is still covered by statutory warranty or an express warranty from the contractor that would pass onto the current owner, the homeowner can pursue the contractor. If there is no warranty and the cause of the problem is seasonal water intrusion or failure to properly maintain the floor, there will likely be no recourse for the homeowner against the contractor, although that doesn't mean the homeowner would not attempt to sue anyway. The contractor may win, but legal proceedings are expensive. Even when testing at the time of installation doesn't reveal a moisture issue, using a moisture retarder to help prevent possible future problems is a good investment—it costs much less than getting dragged into court.
{rblink 2433}