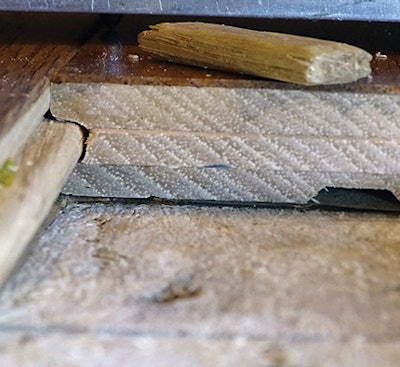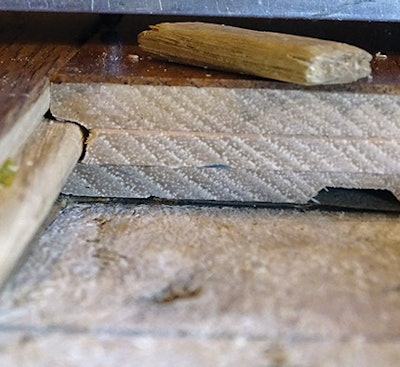 The Homeowner's Issue
A customer had solid prefinished wood flooring installed in a newly built home in the fall. During winter, the floor started squeaking, but only in certain areas. The retailer rechecked the nailing schedule and, finding it correct, advised the customer to wait a year to see if the floor settled. A year later, the squeaks persisted. The retailer and customer agreed to call a flooring inspector.
Roy: The Inspector's Observations
The homeowner had marked on the planks where the squeaks came from, and all the markings were on the seam. I suspected the noise was a fastener issue. Using magnets, I determined the fastener schedule met manufacturer requirements in the noisy and non-noisy sections. With permission, I then removed one plank. A feeler gauge showed a 0.025-inch gap between the flooring and the OSB subfloor. When I applied pressure to the flooring, the flooring went tight to the subfloor. I removed a fastener for identification. It was the right type and size for the job, but it came out easily, which meant the subfloor was not holding the fastener. I went to the basement to look at the subfloor. I saw that the builder installed two OSB products from two manufacturers—one was a high-grade OSB and the other, which was installed underneath the noisy areas, was a commodity-grade OSB. I concluded the commodity-grade OSB did not have enough fastener retention, causing the noisy floor.
Blake: The Attorney's Analysis
This is a tricky one. My understanding is that there are no published standards regarding the density of OSB to be used as subflooring under wood floors. Assuming that is the case, then the builder did nothing "wrong" by using commodity-grade OSB in certain areas.
In turn, the installer has no duty of which I am aware to test or verify the density of the OSB materials the builder installed. The facts here indicate the installer did everything by the book. Finally, the manufacturer's guidelines disclaimed responsibility for noise issues if fasteners were used.
So neither the builder nor the installer did anything technically incorrect, and the manufacturer's warranty will not cover the noise issues. Still, the floor should not make noise, and if the homeowner insists on a cure, I believe ultimately the builder would be responsible. When the homeowners purchased the house from the builder, they bargained for a floor that did not make excessive noise. Further, regardless of whether it was not prohibited by published standards, the builder installed OSB in some areas that was not dense enough to secure the mechanical fasteners. Collectively, these facts will make the builder liable. The builder likely cannot legally force the installer or the manufacturer to share in the costs to correct the problem.
Read these articles to learn more about noisy floors:
Why are These Wood Floors so Noisy?
What is Making This Wood Floor Snap, Crackle, Pop?