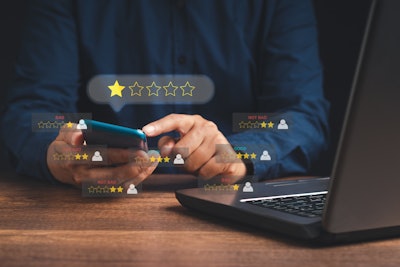 A client recently asked what could be done about a negative online review posted by a customer. The review said: "Don't hire them. Terrible communication and in my opinion their work was very substandard. I think at least one of their workers was completely untrained. I don't know if a license is required, but if so I recommend checking to see if they have one. IMO look for other options if you want quality flooring installed."
Handling unfairly negative online reviews is a common topic, and unfortunately there is little legal recourse. To pursue another party for defamation (called "libel" when the statement is made in writing), it must be proven that the statement is 1) "demonstrably false" and 2) was made as if it were fact and not merely an opinion. In many cases, a critical review will be considered an opinion, such as the above example, where the customer thought the work was substandard and the communication was poor.
Sometimes a competitor poses as a customer and posts negative reviews to purposely tarnish another company's reputation. If you have proof that someone is lying and you are certain who is making the false statement, you could have an attorney demand that they cease making false statements and remove the false post. If they fail to comply, you could sue the party for defamation. However, that process would be expensive, and proving your actual damages could be difficult.
It is also often hard to prove who posted a review. In my experience, review sites are uncooperative and refuse to provide any information about who posts reviews and or to investigate a post. Their stated position is that they cannot control what people post, and privacy rules prevent them from sharing any personal information.
Some businesses seek to preempt bad reviews by soliciting good ones. For example, one contractor sent the following to its customers after each project was completed: "Forward us a link to your positive Google review and receive a $75 Visa gift card. Click HERE to post your review!"
Note that this solicitation violates Google's online review policies, which prohibit compensating customers for reviews. Those policies also do not allow businesses to discourage negative reviews or to selectively solicit positive reviews from customers, even without compensation.
In the Internet Age, contractors will potentially encounter unfairly negative posts. The best route is to remain polite and avoid becoming argumentative and unmannerly when responding. It is difficult to win an argument with an unsatisfied customer, and taking an aggressive approach will likely make the situation worse. In my experience, it is best to "take the high road."