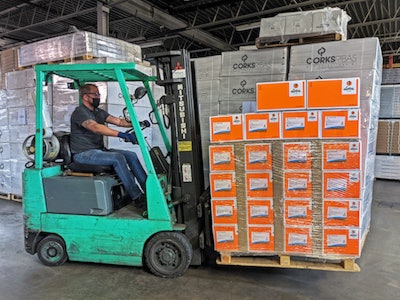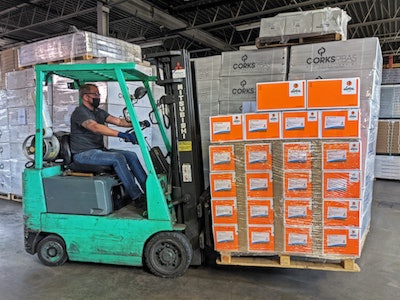 COVID-19 has been a long and tiring road. Looking back, here are five things I have learned while running my retail flooring business amid the world's worst economic crisis since 1929.
1. People like to be treated like a VIP.
When our city was put under partial capacity restrictions we moved to an appointment-only system for our showroom customers. What happened? Our close rate went up dramatically. Our showroom was busy but not overly busy. In the past, we could have days where multiple clients showed up at the same time unannounced, which made it difficult for our sales staff to give each client unique attention.
Now that Toronto is opening up, we have decided to stick with our appointment system. While we welcome walk-in customers, we encourage our clients to make an appointment. It also makes it easier to ask a walk-in customer to wait while you assist someone else—"We really appreciate you visiting us today, but this couple has made an appointment so if you give us just a few minutes we will be right with you."
Another benefit is that customers can be given homework ahead of the appointment. We ask them to bring their room dimensions, some pictures and even do a little web research to find products or room views they like. When they book their appointment we also ask them for a phone number and email address so if there are any issues we can contact them. Now we can follow up with their showroom experience and, if needed, close the sales loop.
2. Chit-chat costs money.
Our company does a lot of contractor business. Before COVID, contractors would come into our building and sometimes, because they feel like family, shoot the breeze. But it takes time to chit-chat with those clients. And sometimes that's good. But sometimes you just want your contractor customers to tell you what they need, take their payment, get them loaded and move on to the next client.
COVID forced us to move our clients to our online store or telephone ordering with curbside pick up. It is much more efficient. Maybe we lost a few impulse purchases, but overall our contractor customers were in and out faster and our sales improved. Now we are trying to do a hybrid of curbside and "old school." Call ahead. We will have your order prepped and ready to go. Our sales team is more time-conscious. Move them in, and move them out. Like the restaurant industry, it is about "turns": Turning tables or turning inventory both result in higher sales.
Today, our face time with our contractor clients is down but our sales are up. Our web sales are increasing every month. Even some of our brick-and-mortar clients are now ordering online and just picking up. It's like having an extra salesperson!
3. People want to support small businesses.
Small independent businesses have an opportunity perhaps never seen before. A free tagline, a free marketing strategy, a reason for people to pay more: "Buy local!" COVID created a very difficult economic time for many businesses. But deep down people have hearts. And if you can win a heart, you don't just win a customer, you win a partner. Our company has always been a family business. We have always put our clients ahead of everything. Even our suppliers take a back seat to our clients. This past year, I have taken great inspiration from some of the independent restaurants in my city of Toronto. Not the big chains, not the people who own five or six restaurants across the city, but from the Chinese restaurant around the corner, or the BBQ joint in that industrial plaza near the office. At these places, many times the whole family is working to make the business a success. And while some of them haven't made it, I think the majority have. Why? Because people make most of their decisions with their heart, and they want to support these businesses and buy local. It's an organic marketing strategy that to my knowledge had no real ground zero. It just happened. Make sure you jump aboard.
4. Your greatest assets are people.
I know this is something everyone knows. You have all heard it. But when was the last time you lived it? When was the last time you took a moment to say to an employee, "Thank you!" or took the time to buy them a gift card, a bottle of wine, or a 24-pack of beer? Despite one of the greatest economic challenges since the Great Depression, my company is strong. It is strong because my employees are happy, they feel appreciated and—wait for it—every member of my team earned the same or more in 2020 than they did in 2019. And yes, I am proud of that.
Like many areas of the world, our local, provincial and federal governments kicked in subsidies, grants and other economic incentives for small businesses during this pandemic. For many the temptation was there to use some of that money to ease the burden created by decreased sales, slimmer margins or in some cases a complete shutdown. I reinvested every penny I was given in my greatest asset: my employees. Don't underestimate your staff. They have good memories. Treat them well and they will treat you well. Trust me it works!
5. Marketing is like air.
How long can you hold your breath before you pass out? That's about how long you can go without marketing your business. Not long. Every business faces it: a market slow-down. A sales slump. A pandemic! The knee-jerk reaction to a sales crash is usually to slash spending, and nine out of 10 times the marketing budget gets chopped. Everyone knows it's a mistake, but it's so easy; it's a big line item on a balance sheet. My advice is: DON'T DO IT. When the economy is slow, that is the time to pounce. Radio, television, print, digital, all of a sudden they are willing to negotiate their rates. Did your competitor have that coveted morning drive slot with COOL FM? Take it. Own it. Never give it back. Get creative. Partner with non-competing businesses. The kitchen store across the street. The window guy that did such a great job on your house. These are your new best buddies. Marketing when the economy is down puts you first in line for when it recovers and keeps you going until it does.­­­