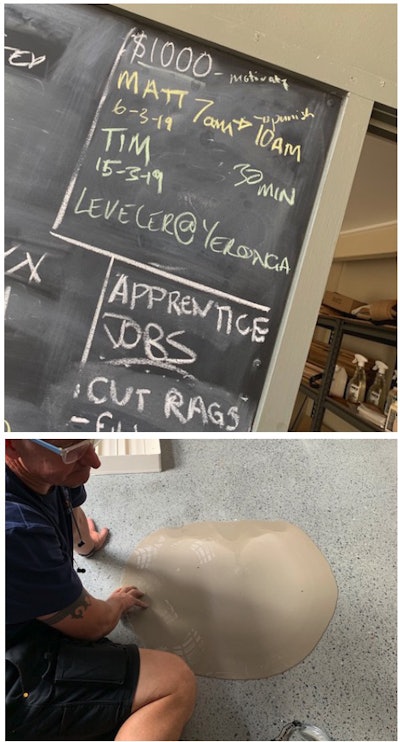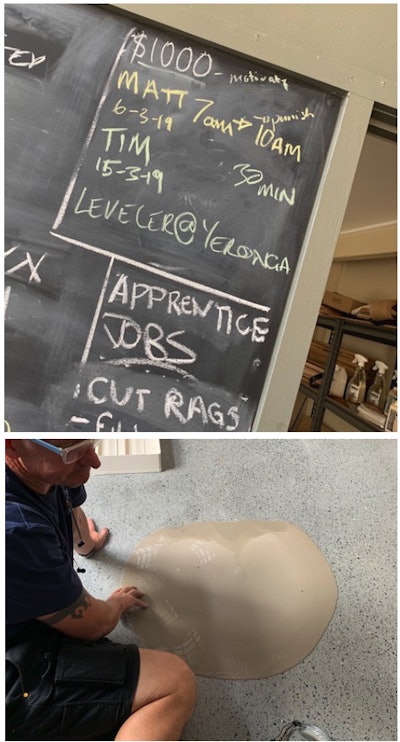 Here's a tip I've put into use to motivate employees to take care of tools and think about quality control on the job. This tip is originally from my friend Josh Lammi from LB Floors in Toowoomba in Queensland. What he does is put down $1,000 on the blackboard in the shed (what you Americans call your shop), and at the end of every month the $1,000 is split between all the guys as a bonus. The only catch is every time they lose a tool or break a tool, it gets bought out of the $1,000. Every time they leave something at the shed and have to go back and get it, those wages come out of the $1,000. Every time they put in a bad board and it has to be cut out, that comes out of the $1,000.
There are some months where they split the entire thousand, and there are some months where they only get to buy a packet of Tim Tams (chocolate biscuits that are popular here in Australia).
We started doing this in November, and the first two months they got the $1,000. We gave each guy one free bye that first month, but then after that it was sort of all on. The third month one of the guys dropped the ball, causing a couple of big chunks of the thousand to be rubbed off the black board. He copped a hard time from one of the other guys and then it was the other guy who then screwed up for the rest of the team the following month. What we want is for the guys to have each others' backs. If someone misses something, everyone has an eye out; everyone will try to make everyone else better.