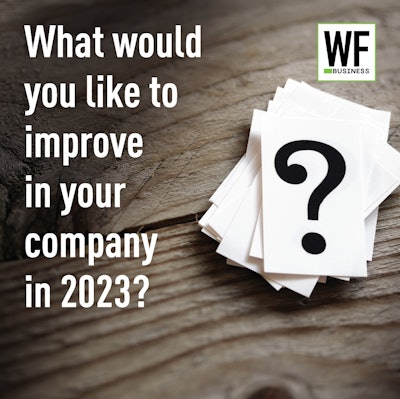 WFB asked followers on Facebook and Instagram what they'd like to improve in their company in 2023. Here's how they responded:
Josh Hansman
Volunteer my time to help with training and promoting trades in any format mainly trying to focus on local apprenticeships programs.
Troy Stanfield
Staff efficiency.
Ron Teljeur
Improved concrete prep, some of T.J. Haas' wood floor candy, start improving the templates and estimating spreadsheets we've used for years. Get the new shop fully operational...and maybe a day off here and there. And the NWFA show in Milwaukee.
Jack Toomey
Hiring help!
Nicholas C Maxson
More cash, less taxes.
Dave Mitchell Jr.
To start a second crew.
Tom Hanson
I always like to learn more. Besides that, only do jobs in my neighborhood.
Andrew Halabrin
The number of employees!! It has just been myself, and my wife as needed. Going on almost two years like this now, and I thought I had a new guy today who didn't show up. 😢
Harley Perrine
Find someone who wants to work that has a brain.
Christopher Morrison
More money less work! 😃
Mauro Morales
A shop and few more crews.
Travis Morse
More equipment, better equipment.
Steven Triplett Jr.
Website and media.
Jorge Perez
Hire more guys.
Kevin Knauff
More North California trainings!
Ian Cheadle
NWFA certifications.
Mrboards
Do more textured finishes.
Bill Bagley
Get better at training my guys to do my job.
Daniel Springer
Go to training.
Get some better tools.
Learn some marketing and advertising tactics.
Invest in some branding.
robinsonflooringdept
Equip our distributor partners with more product knowledge, sales techniques and modern marketing tools.
tina_darling_boone
Hire more experienced people.
plankd_flooring
Perhaps consolidate my business to ride through tough times ahead. Spend my time and money where it's best spent, not keeping staff on just for the sake of it.
frankdelligatti
Get my son off his cell phone while he's working!!!
kongeligegulv
Expand it and make it more known to people.
Clint Fudge
Longer lunches.
Obe Martell
Implement mandatory naps during the day.