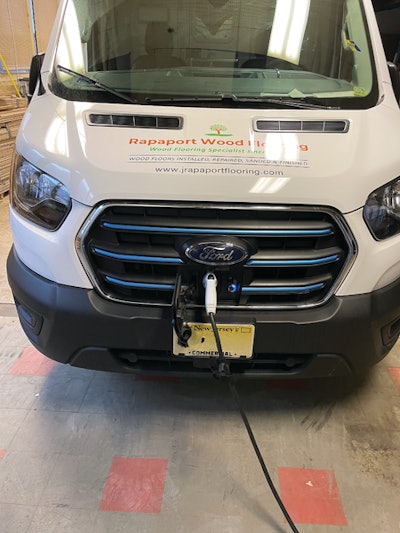 Our family business has been around for 117 years, and when my son, Maxx, joined the company seven years ago after working for the NFL, he implemented a lot of improvements so that we operated more like a business instead of a mom-and-pop operation. Our most recent big change, however, was my idea—buying an electric work van.
My idea sparked (so to speak) when I realized two things. First, our overhead was eating us up. I was talking to my wife, who pays our bills, and she said that our gasoline bill was through the roof. At the same time, I got a ticket for breaking New York City's idling law that says "no person should allow the engine of a motor vehicle to idle for longer than three minutes while parking, standing, or stopping." I'm diabetic, and one day I was driving one of our little vans in the city when my blood sugar went through the roof. I pulled over, took my measurements and gave myself a shot, then had to sit for a few minutes. Later, in the mail, I got a ticket for idling: In those few minutes I was sitting there, a meter maid saw me and wrote a ticket (they get a commission for every ticket they write). It took me seven months to fight that ticket, and in the process, the city came back and asked about two other tickets for the same thing—two tickets I had no knowledge of. That made my ticket a third offense, with a fine of $3,500. Our attorney got it reduced to $1,750, but I said to myself: "We need to figure out a way to be greener for our grandchildren and also not get any more of these dumba$$ tickets."
And so when Ford said they were going to make an electric version of their Transit van, I said I was going to buy one. My family thought I was nuts: "It's only gets 150 miles," "It can't do this," "It can't do that" … it can't do half a dozen different things. My answer to my son and my wife was, "OK, so we'll adjust. Not all of our work requires us to drive 200 miles a day."
I ordered the van exactly as I wanted it, but I had to wait about a year to get it, because at first they prioritized getting it to big companies like Amazon and the utility companies. Before we could get it, Ford came and inspected our building because they wanted to make sure we had the right power. We had to get a Ford charger, which was $800 or $900, and for that we needed to have 220-volt power with 208 or 230 amps. Ford also wanted to make sure the van would be stored inside, because when you try to charge them in the cold, it's much more difficult.
---
RELATED: How to Protect Your Wood Floor Vehicle Against a Break-In
---
My price for the electric Transit was $54,000, which was actually not much different from the price of a new gas-powered Transit. The state of New Jersey does not charge sales tax on an electric vehicle, and now the state of New Jersey came out with grants for electric vehicles that we applied for, and we are waiting to be approved and see how much they'll give us. Also, the other day I found out from my accountant that there's also a tax incentive for having an electric vehicle, so there's additional money we'll be able to take off our taxes.
Some people have negative ideas about electric vehicles, but our guys love it now. I think what happens is that when you drive it and it goes from zero to 60 in about five seconds without shifting gears, your mind changes. Because we have only 208 amps, not 230, it doesn't charge as quickly as a rapid charger, but it fully charges in six hours (we just plug it in overnight). We have always kept our shop at 55 degrees overnight, and we have a blanket we put over the battery area.
If the travel for the van is less than 150 miles in a day, we don't have to think about charging it during the day. When you apply the brakes, it actually puts a charge back into the battery, which helps with all the stop-and-go driving we do in the city. We have had situations where we've had to send the van out to the east end of Long Island, and the charge is virtually exhausted by the time it gets out there. But a screen in the truck tells you where you can get a charge, so you just drive there, put the credit card in, plug it in and sit there for 20 minutes to get an 80% charge. So yes, there's a cost factor involved with our driver sitting for 20 minutes and getting a cup of coffee or doing whatever he's doing. But it also costs us only $3.80 for the charge versus the price of a tank of gas (usually between $70 and $80)—and we aren't polluting the air.
We got the electric Transit in September, and since then we've saved $1,000 in fuel costs every month. At the same time, our electric bill has gone up only about $110 a month, so that's been a huge monthly savings. Also, we never have to worry about getting oil changes, changing spark plugs or the other maintenance you have with a gas-powered vehicle.
So far the technical support from Ford has been beyond what you would imagine. They check with us just to see how it's going, and I have a direct dial number for technical help that is available 24 hours a day. Overall, I think Ford has made a huge commitment to this.
When we need to replace other vans in our fleet, we will definitely be looking at buying another electric vehicle. Once other contractors understand how it works, the benefits and the cost-savings, I think it will be a game-changer.
---
RELATED: Truck & Van Accessories: Cool Ways Pros Have Tricked Out Their Rides
---