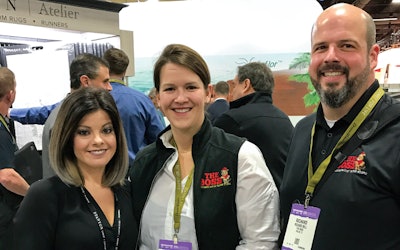 I'm a trade show junkie. They're a big way we network, stay ahead of trends and learn about our industry. I like the tangibility of a trade show—being able to touch products and see them. But going to trade shows is an investment of time and money, and so we always strive to get the most out of them when we're there. Here's how we do that.
Book lodging early
Most trade shows are at a hotel or have one adjacent. Usually they're a little bit more expensive, but the time you save not having to take an Uber or a cab is worth it. Always book early, because those hotels do sell out. Also, register for the show in advance; it's usually a pain to do it on-site.
Bring a good team with you
I think it's important that you take your team to trade shows, especially salespeople. That way, if I see a new product, I can get good feedback from my sales team right away.
Look professional
People need to know who you are and who you're representing. We never, ever go to a trade show where we aren't wearing matching embroidered shirts. Having a professional look for your team makes you stand out and helps with networking.
Travel with business cards
If you think you have enough business cards, take a few extra. I keep a little pocket notebook and a small stapler; when I receive someone's business card, I staple it to the notebook and write my notes underneath. That way I can remember what we talked about.
Have a price list handy
You need to bring an inventory list so you know your prices. If you're a stocking dealer, take your inventory list or some type of price list. At a lot of these shows, the vendors will have some promotion, and it's hard to remember everything. Pricing is so dynamic these days, but with your pricing list handy, you can quickly figure out what's a good deal.
Make appointments
If there are key vendors you need to visit with, make an appointment ahead of time. They're busy, you're busy, and you can't just expect to walk into a booth and have the right person ready to talk with you. It's a crapshoot.
Figure out how vendors go to market
When you're talking to a new vendor, figure out how they go to market. Do they go to a distributor in your area? My market in Dallas is saturated with distributors, but if you're in Topeka, Kan., your distributor might be in Chicago and there might be opportunities to buy direct. If the vendor is using a distributor, figure out who that distributor is and who your local rep is. Then get your local rep's contact info so you're not doing legwork again once you're back home.
Ask how products do in different markets
Ask vendors how the product is doing in different markets. They might say, "We're killing it in Oklahoma City, but we're not doing anything in Dallas with it." How come? Are they not going to market with it right? Or, they might say, "We're selling a ton of this in Dallas." Well, as a dealer in Dallas, I need to figure out what the story is.
Pay attention on the show floor
I come across so many folks who go to these shows just to see old friends or hang out. Me? I'm looking for the next big thing. At Surfaces, some of the biggest factories in the world have the most inconspicuous booths. Be alert and really look every booth over for new products.
Explore non-traditional trade shows
In this industry, we're familiar with NWFA, Surfaces and Coverings trade shows. But there are a whole bunch of associations and trade shows out there we can go to and benefit from. A great way to find them is by going onto your vendor's web pages, where they usually list associations or events. For the first time ever last year, I went to the National Deck Expo right here in Dallas and learned a lot.
Take pictures
Take pictures for social media. Let it be known that you're really in this industry, and that you take this seriously and go to industry events. That's how we compete with the box stores, because we're here on the front lines. We're going to these events, we're learning, we're talking to people from all over the country and the world. That's great fodder to put on your social media and makes you an authority.