For each of the winners of this year's WFB Truck & Van Contest, their work vehicle represented an opportunity. Whether it was an opportunity to raise the bar locally with a pristine design, be more efficient at job sites, connect with their community or simply get their young company off the ground, each of these pros seized the wheel and elevated their wood flooring businesses where the rubber met the road. As with previous years, the top categories include Best Exterior Graphics, Most Organized Interior, Most Unusual Work Vehicle and Biggest Disaster; but due to the quantity of fun and inspiring submissions we received, the categories kept on rolling. To see how pros are making the most of their work vehicles, keep scrolling.
Have an eye-catching wood flooring vehicle? Enter it in our 2024 Truck & Van Contest here.
Best Exterior Graphics
MSCS Inc.
Roswell, Ga.
Mike Somodean's goal for his Sprinter van's wrap was to make "professionalism" the first impression. What better way than using a picture of one of his own favorite wood flooring projects? "It definitely draws compliments, and it definitely draws calls and leads for projects," Somodean says of the elegant wrap, which features a French parquet floor he and his team built from scratch. "I've tried to make the best of the limited attention span that somebody dedicates when they see a van, keeping it nice and clean and neat but still including what I think is relevant to the way we do business."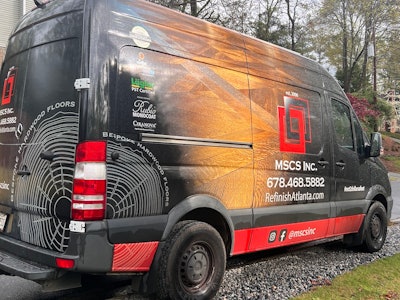 It's the third van wrap Somodean has designed for his company vehicles, working with the same wrap company each time. Somodean is hands-on when it comes to the designing process, supplying the photos, logos and layout. "We didn't want that one picture across the entire van, we just wanted that gradient," he says. He also supplied the tree ring graphic on the back doors of the van. "It's an alternative design to the squares that we use sometimes for our logo, and we have that on our shirts, as well," Somodean says.
Somodean chose black and red as his company's colors due to their striking contrast. Especially these days, it's important to try to stand out as efficiently as possible, he says.
"In my opinion, that attention span that we're trying to capture is really limited nowadays with all the distractions," Somodean says. "You're probably going to have two or three seconds that people are going to look at it, and you capture that by the striking design, a combination of colors, and then maybe they're going to linger a little bit and go into the essential information." That essential information includes the phone number, website, and social media handle on the van.
"Social media is a big part of our day-to-day life, and we use that as an archive; it does bring quite a bit of business," he says.
Overall, Somodean's main advice for designing a van wrap is: "Less is more." "I see a lot of people starting to list a whole suite of services that they offer; nobody's going to read that," he says.
And as sophisticated as the van wrap and the wood flooring work it highlights already is, Somodean wanted to raise the bar even more by incorporating the hashtag #not2dollarsafoot on the side of the van. "We're kind of trying to fight that and hoping to elevate the standards a little bit, challenging people to do the better work and charge appropriately for it," he says.
Most Unusual Work Vehicle
Creation Hardwood Flooring Specialists
Port Chester, N.Y.
Márcio Goncalves grew up in Brazil, where he remembers his father taking exceptional care of the family's pristine 1954 Jeep. "We always had a fascination with old cars," he says. So, after Goncalves launched his wood flooring business with his brother, Fabio, in Port Chester, N.Y., three years ago, they decided to invest in a vintage vehicle to help promote the business. When they came across this 1929 Ford Model A Woody Truck, they knew immediately it was the perfect fit.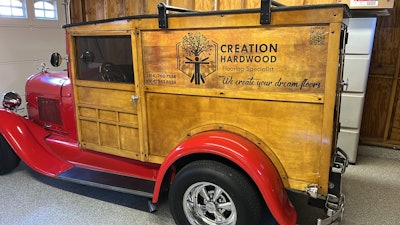 "We fell in love right away," Goncalves says. "Half of the truck is made of wood, and we work with wood floors—that makes the car perfect for advertising. Wherever we go with the truck, it catches people's eyes."
The bottom of the truck is original, while the top is pine plywood that likely replaced the original oak top the truck would have been equipped with, Goncalves says. Goncalves re-sanded the wood body and put a coat of varnish on it. He also added the company's name and logo, which was inspired by Leonardo da Vinci's Vitruvian Man drawing. "I put the Vitruvian Man on it and a Life Tree in the back, and then I put wood underneath the logo," Goncalves explains. "It begins in the tree, goes to the man and then to the floor."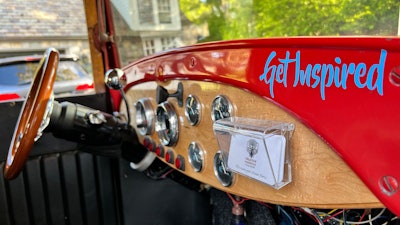 Most recently, Goncalves also replaced the motor in the truck, upgrading it from a 320 to a 350.
But as with any antique vehicle, it has its quirks. "It's an old car, so you have to kind of pray before you start it that it will start," Goncalves laughs.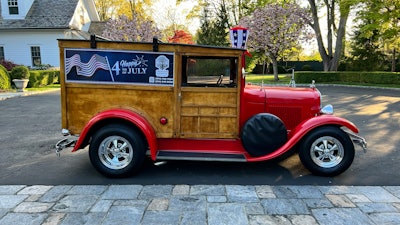 The vintage truck, dubbed "Woody," has quickly become a fixture in the Goncalves's community and is often decorated for holidays and events. "It's become a trademark for the company," Goncalves says. "The kids always look for it."
Along with being a great, eye-catching ad for the business, Goncalves says he's glad for the chance to share the joy of vintage cars that he grew up with.
"It's not about the truck, it's about the family getting together around it to work on it and have a good time," he says. "It's a nice thing to pass on."
Most Organized Interior
BPM Flooring
Bowling Green, Ky.
Slaven Demir doesn't consider himself a super-organized person in regular life—but when it comes to his work trailer, it's a different story. "I like to be on time and I like to get the job done on time, so it's just something that helps," he says of his ultra-organized trailer. "I think about jobs even before I come to them—I know what I'm going to do, and that's kind of what this trailer is: an extension of how I think."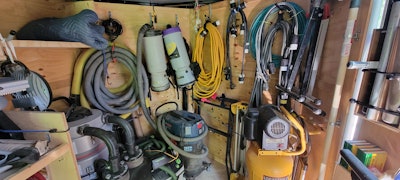 Demir had a 12-foot trailer before upgrading to a 14-footer and revamping his custom plywood shelving system to its latest form. He decided to separate his equipment into categories, putting his installation tools and supplies on the driver's side of the trailer and the sanding and finishing tools and supplies on the right, with vacuums and dust containment system at the front. "If the tool is there, the sandpaper is right up above it," Demir says. "So you don't have to go very far." He set out all of his tools and measured them before mounting the shelving in the van. He also made sure the spots are clearly labeled so things are put back in the correct place.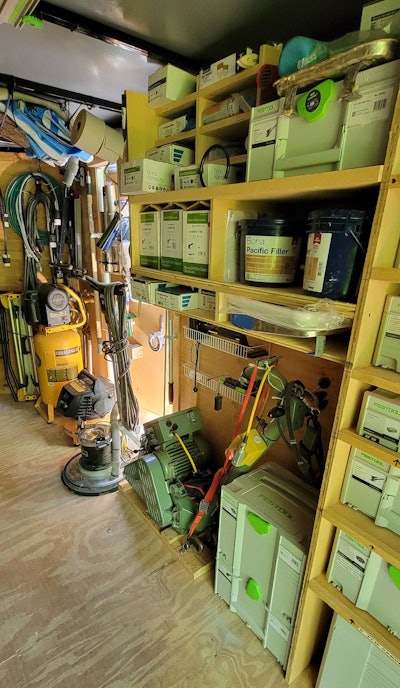 Demir's crew like to joke about Demir's obsession with cleanliness in the trailer, but they've also started to come around to the high standard of organization Demir advocates. "They've kind of gotten to know that they'll save themselves a little bit of time and frustration if everything has a place and everything is done a certain way," Demir says.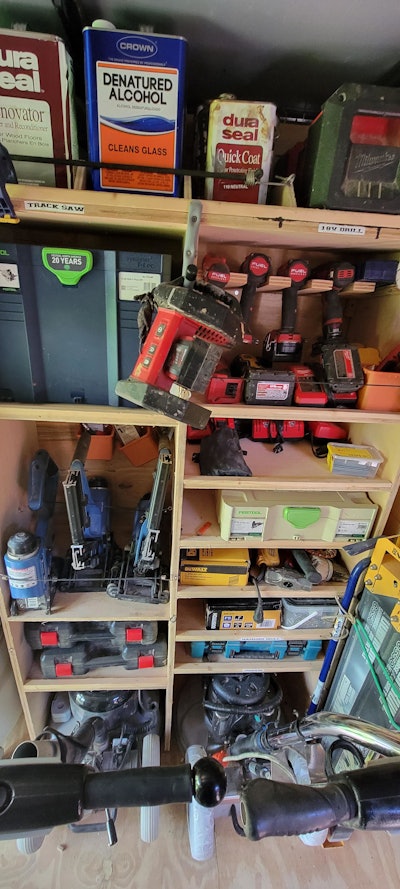 Along with everything having a designated place in the trailer, Demir's favorite part of the setup is having the rollers and T-bar sleeves stationed right by the opening of the trailer. "When we're getting something we use a lot, we don't even have to go in the trailer, and I kind of like that," he says.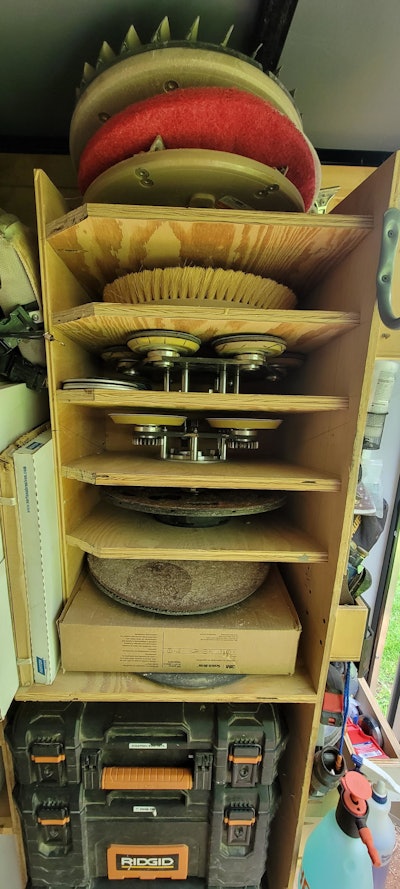 Other trades are often in "awe" of Demir's trailer interior, which is always evolving and improving, and clients also take note of the cleanliness. "If you're nice and neat and clean, they kind of know that you're going to be like that in their house," Demir says.
There's no right or wrong way to set up your van or trailer, Demir notes—tools in a pile can still get the job done. But there are benefits to giving an organized shelving system a go.
"It's just a lot less frustrating to not have to search for stuff," Demir says. "So it's worth a try to try to be organized. And if that's not you, that's OK, too."
Watch a video tour of Demir's trailer interior:
Biggest Disaster
Jazz Custom Wood Flooring LLC
Burlington, Wis.
The best wood flooring vehicles attract attention. Ryan Jazdzewski's first work van certainly did that—but it wasn't the right kind of attention. "It sounded like a steam engine collecting speed," he says of the gratingly loud 1999 Chevy Express. "You could hear it from blocks away."
He bought the van in 2016 from a carpet cleaning company for $1,200—and the tone was quickly set. "Halfway home from the sale, I had to call a tow truck to get me the rest of the way back," Jazdzewski says. "That's right, it didn't even make it home."
Towed twice in the first two weeks Jazdzewski owned it, the van had persistent electrical issues, and its tachometer was consistently above 4,000 RPMs when driven on the highway.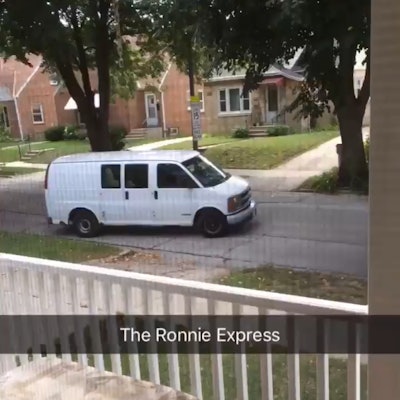 Jazdzewski remembers a flooring retailer pointing out some leakage under the van during a material pickup. Sure enough, the van had a hole in the top of the gas tank, which couldn't be filled all the way without leaking. On the plus side, without a full tank, at least it couldn't unleash its banshee-like screeching for too many miles at a time. "It had people looking at me funny," Jazdzewski laughs.
Flooring retailers weren't the only ones to notice issues with the epically disastrous vehicle. Jazdzewski recalls getting pulled over shortly after the fateful purchase of the van for not having renewed the license plates yet. "The cop came over and said, 'Your plates are expired … and also there is something severely wrong with your van,'" Jazdzewski laughs.
Asked about any "positive" qualities about the van, Jazdzewski is at a bit of a loss. "It ran," he finally laughs. "It got me my first year in the door. Other than that, there wasn't anything good about it."
Jazdzewski eagerly parted ways with the van about a year after buying it, selling the headache-on-wheels for $200. By that point it had a blown transmission and only the second gear worked.
Jazdzewski is now the proud owner of a new Sprinter van for his flourishing wood floor business, but he'll never forget where it all started—or the sound it made (a sound now memorialized in a video Jazdzewski's brother took that can be seen and heard in all its glory here). "A lot of memories packed into that one vehicle," Jazdzewski says.
While this year's four winners were impressive, the following entries were just too good not to have a moment in the spotlight, as well.


Best Truck/Trailer Combo
Frontier Flooring
Nanaimo, BC, Canada
Peas and carrots. Simon and Garfunkel. Frontier Flooring's truck and trailer. All of these are perfect combinations, but only one of them answers the question, "How does it feel to lay wood?" That would be Frontier Flooring's truck and trailer, which are adorned with matching wraps that go together seamlessly and state the company's phone number, logo, website and the statement, "Feels good to lay wood." "It's a sweet wrap that contributes quite a bit to my business," Frontier Flooring's Cory Vanasse says.
Best Truck For a 77-Year-Old Family Flooring Business
Blodgett's Floor Covering
Lafayette, Calif.
A solid, long-lasting flooring business deserves a vehicle to match. Larry Blodgett found a match made in work vehicle heaven with this vintage pickup truck, which dates back to the same time his family flooring business was founded. "Our company was founded by my grandfather in 1946," Blodgett says, "and about nine years ago I found our 1946 Dodge Pickup for our business, which I restored last year."
Best Nod to French Impressionists
Verardi & Co. LLC
Beverly, Mass.
A wood flooring vehicle can't go wrong by highlighting the world's most famous painting about wood flooring professionals, "Les raboteurs de parquet" (1875), by French impressionist Gustave Caillebotte, and Verardi & Co. LLC's box truck shows it off in all its gritty glory. "It's a piece of art," says Jeferson Verardi. And while the truck's a nod to the past, it also drives its message into the present as it promises, "Olde world craftsmanship, modern day techniques."
Best Piece of Flooring History on Wheels
Conklin Bros.
San Jose, Calif.
Conklin Bros. has been in business for an astounding 143 years, opening in 1880. This particular vehicle, a Ford 1927 Model F, has been a part of the flooring company for nearly 100 of those years, says owner Rick Oderio. A piece of pure flooring history, the vehicle, like the company, is still humming along today. "We use it now for parades and showroom décor," Oderio says of the car.
Best Wood Flooring Tesla Wrap
Craig's Custom Hardwood Flooring
Highland, Ind.
Although they've yet to make a semi-autonomous big machine, Craig's Custom Hardwood Flooring is taking the wood flooring vehicle to semi-autonomous territory, tricking out a 2022 Tesla Model Y for the company.

Most Likely To Glow in the Dark
Calabrese Flooring Co.
Northglenn, Colo.
Michael Wong's electrifying new trailer design is a nod to his fractal burning skills, with a logo that almost looks like it can glow in the dark. The lighting fixtures under the truck pulling it are also the perfect touch. Wong said that after 20 years of doing hardwood he "really wanted a nice cargo trailer and a solid, reliable truck to pull it." Mission accomplished. "It's not my daily driver, but it looks amazing when she's out!" he says.
Best Chrome Graphics
Graf Custom Hardwood
Portsmouth, Ohio
The crisp, chrome graphics on this big rig give it a futuristic look that, along with its impressive build, leave little doubt it's going to get where it's going.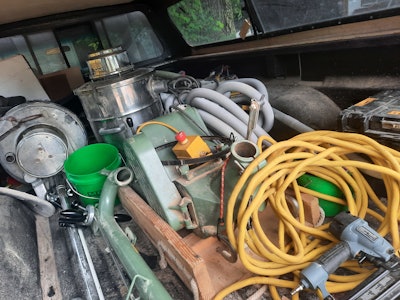 Best Seating For a Big Machine Motor
Daniel's Hardwood Flooring
Pinckney, Mich.
This old farm truck, aka "Trucky," had 13 owners by the time Daniel Springer bought it in 2019. While it had some quirks, it was clear someone at some point had put a lot of work into it. "It went fast, and it never felt like you had a full bed of tools in the back," Springer says. It was Springer's first "big" purchase when starting out in the industry and, as seen in the photos, offered convenient front seating for big machine motors (complete with seatbelt). After many years of service, Trucky finally got treated to a retirement with a view. "Trucky sits at Regal's scrapyard now, watching the cars pass by on the highway," Springer says.
Most Monstrous Weekend Cleaning Project
Plankd Flooring
Mount Barker, Australia
Troy Stanfield of Plankd Flooring traded up his Toyota HiAce SLWB van (exclusive to the Australian market) for a newer model last year, but business has been booming and he hasn't had a chance to organize it just yet. "My homemade shelving was never refitted in the new van from the previous one," Stanfield says. "The cargo barrier changed all my interior dimensions and I just never got around to modifying the shelving. Almost a year later now and a busy work schedule has created a monster." Stanfield plans to dedicate a long weekend to finally taming his monster. "I guess I know what I'm doing over the Easter break," he said in his entry.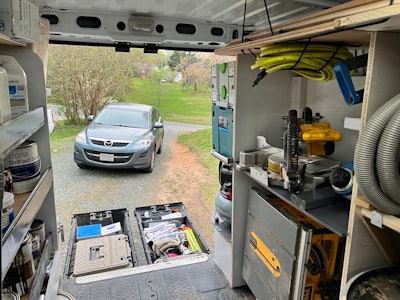 Most Innovative Use of Drawers
Unique Flooring Solutions
Asheboro, N.C.
When Matthew Kirkman purchased his work van six months ago, he knew immediately he wanted a Decked Vehicle Drawer System. "The drawers allow me to have all my hand tools and edger paper in an easy-to-access area that doesn't require me to step up into the van," he says. Adding a piece of plywood over top of the extended drawers also provides a convenient work area for mixing stain or finish. Now the only need to step up into the van during the work day is to admire his daughter's handiwork, which includes brackets she painted fluorescent pink. "She assures me that pink and purple unicorns are to be painted on the cabinet door next," Kirkman says.
Best Monster Truck
Cardona Flooring
Stamford, Conn.
Cesar Cardona has done some demolitions—the wood flooring kind, not the derby kind, despite the look of what he calls his company's "Ford monster truck." The intimidating vehicle appears capable of traversing any terrain any day of the week, including Sunday! Sunday! Sunday! "We get a lot of attention when we drive around on the street," Cardona says.