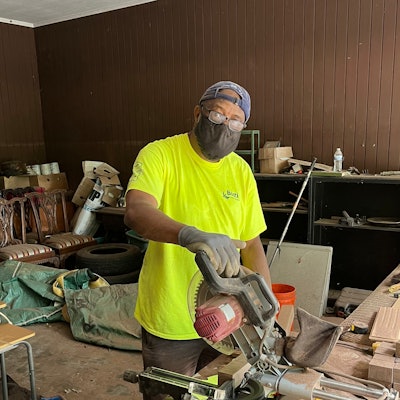 Working in the wood flooring industry for 44 years now, my business has become a household name in the Atlanta market. I got to this point by paying very close attention to details, communicating effectively and also by not being afraid to go out and achieve our goals. All of these reasons for my success were lessons I learned early in life from my family. I came from an entire family of Black entrepreneurs and business owners who taught us to fear nobody and no situation. Here are some of the other lessons I took away from them.
My dad, my grandfather and my uncles were all very proud men, and they were very good at what they did for a living. One of their businesses was a landscaping company, which has been in my family for 117 years and is still in operation. I grew up running behind my grandfather, and I would look at how he dealt with clients. He was so smooth that he had clients eating out of his hands. They loved to see him coming. He taught me that you have to know what type of client you're talking to and what expectations they have. His motto was: Whenever you can make people feel comfortable with you, they forget your color—they're looking at your talent. You have to know your craft and be able to answer questions when asked. It's all about how you present yourself and how well you can interact with all sorts of people.
I started my first company when I was 12; we were raised on a farm in South Carolina, and I would take the meat after we killed the hogs in the wintertime and sell sausage to the janitors at school. When I became 16, I started a second company selling landscaping products and materials I harvested from our farm. Naturally, with my parents being skilled business owners, it took a bit of negotiation and presentation to get my business off the ground. I bargained with my dad to rent his truck to me, and he said, "You're allowed to put $100 worth of materials on the truck, but here's the catch: You have to pay me $25 for the use of the truck, you have to pay your mom $25 for the administrative services." Whether I sold anything or not, I still had to pay. So, no matter what, I made sure I put on that truck what I could sell, worked hard and learned a lot about what it took to run a business.
Log in to view the full article