I find it very interesting. I find it funny. I find it sad. What is it?
It is the fact that most of us are not happy with what we have. That's my untrained cheap psychoanalysis of us people. It seems not one homeowner is happy with their existing floors. If it's yellow, they don't like yellow. If it's dark, they don't like dark. I am sure you heard this before: "I have red oak floors, but I don't like them. Can you make them look less yellow?" Or this: "Can you make my oak floors look like this picture I saw on Houzz?"
In our case it was, "We don't like our American cherry stairs anymore." My client planned on painting the entire cherry stair woodwork white, and for us to scrape and color the treads gray. The stairs were all solid American cherry built by a master carpenter: a precision installation from the skirts, to the miter cuts, the returns and the rail work. I know all this because I was there installing the walnut floors three years ago. My clients called me for two reasons:
1. Make the stair treads look gray, and don't forget to scrape them.
2. Re-scrape the walnut floors I put in downstairs. Instead of tung oil, they wanted Rubio Monocoat Pure. I will discuss this in a separate blog post.
"Of course we can do that," I said as I felt a sharp pain in my back thinking about re-scraping this 2,000 square feet of character black walnut.
"Of course we can do that," I said as I felt a sharp pain in my back thinking about re-scraping this 2,000 square feet of character black walnut. So how do you make American cherry look gray? Samples. That is the key word. I bought a solid piece of cherry that matched the grain and color of the existing stairs. I then blended black and white stains and worked on samples. With my color knowledge, experience, and measuring cups and teaspoons, I created a few recipes to show my client. The first batch of samples was "too gray" for them. The "too gray" samples matched the photo I was originally given by the client. Sometimes what looks great on a screen or in a picture doesn't look good in reality. I them made another sample to make less gray. I reduced the amount of white color in my recipe to achieve a less cloudy more ebony/gray/weathered tone. That seemed to work. The client approved the color by signing the sample. Following the recipe I had written down, I made a batch of stain to use on the treads. I finished the treads with three coats of matte water-base finish, allowing each coat, including the stain to dry overnight. Well, this was simple, right? Unfortunately, not for most contractors. Here are some photos of the project: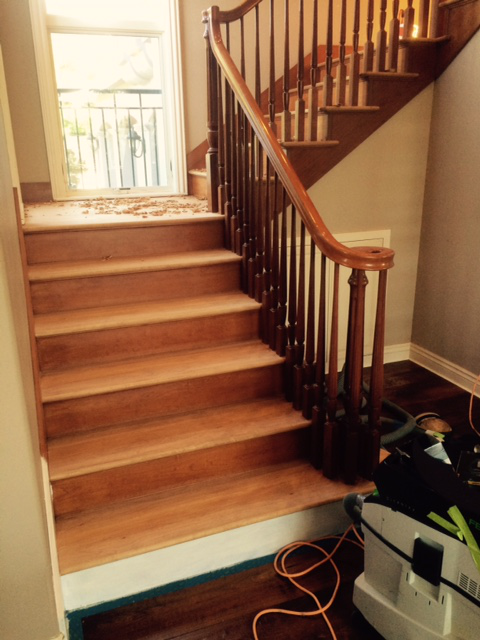 Scraping the cherry stair treads.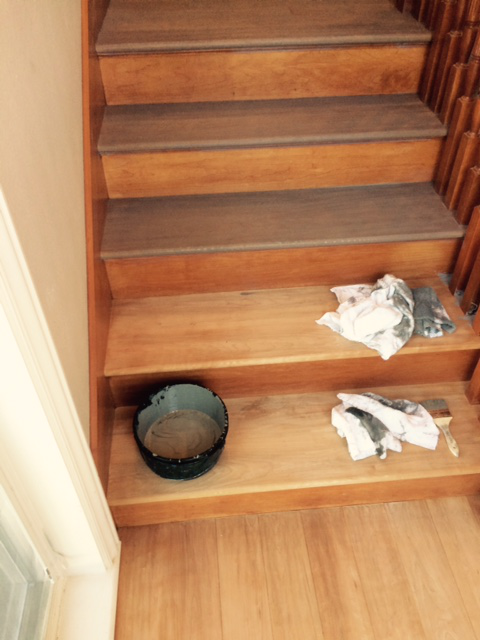 Applying the first coat of stain.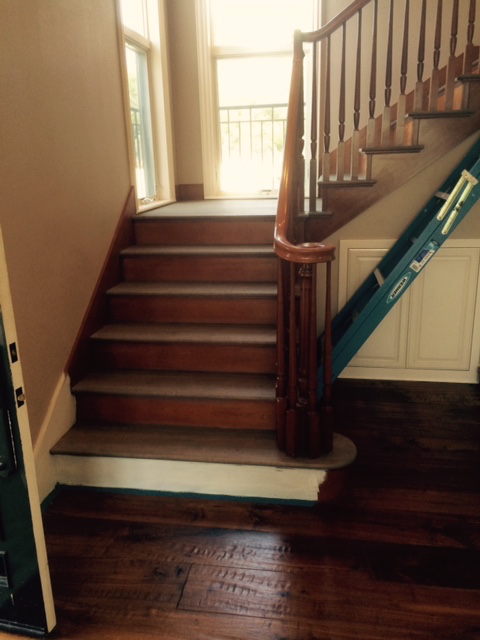 The customer painted one riser white to see the contrast.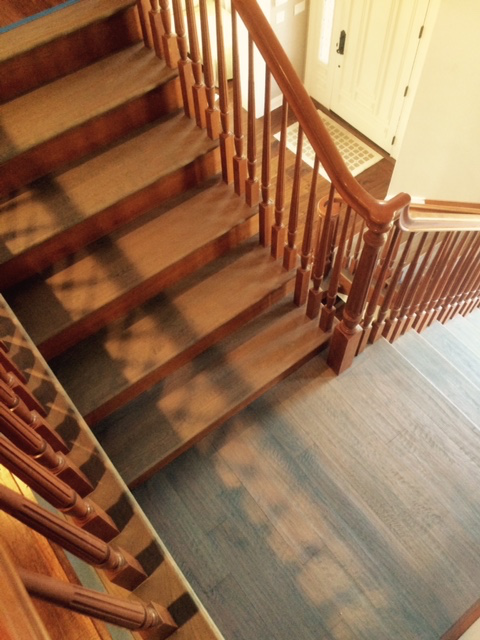 The final product.
I just got a call from a client who had called eight contractors in her immediate area to stain her oak floors gray. None of them could do the job. She finally tracked me down, but she was way outside my service area. I am in awe that in this day and age, so many guys out there still live in the past and can't provide up-to-date solutions for the growing demand of consumers out there.
A lot of contractors don't bother to keep up with seminars, technical schools and the latest trends in our market. The explanation I get from those contractors is usually that they don't have time or money to invest in training. That means that only very few contractors in each state can handle the "custom" colors. Here is an example: Let's say John Doe spent roughly $1,000 in total on training last year. During the training he learned how to work with wax/oil blends, achieve custom colors, work with water-base finishes and a lot more … coming back from training, he now didn't have to turn down those phone calls asking for gray stains. How could one school change a contractor's life?
• You could make more money by taking on more jobs.
• You could charge your clients more money for your specialty skills.
• You would do a variety of jobs requiring different techniques instead of doing clear poly every day.
• You become the "go-to" guy in your area who can do it all.
• When you become that guy, consumers listen to you and take you seriously.
Thanks for reading, and have a good week.