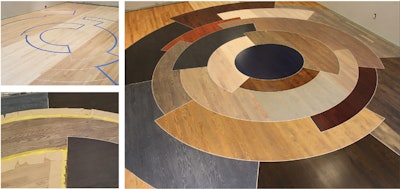 Clients keep asking Ovi Ragalie of Tualatin, Ore.-based Treadline Construction to tear out their old wood floors and install something "cooler." It drives Ragalie a little crazy.
"I kept telling people 'no,'" he says. "We could do some cerusing, we could do color, we could do textures …Why would you destroy these floors?" Faced with skeptics, he resolved to manifest the versatility of a wood floor in his showroom, and the result was this circular masterwork.
He began by installing three sections dedicated to his area's primary wood floor species, with maple in the middle flanked by white oak and red oak. "I wanted to show stain overlapping one species over another, how different those can be," Ragalie says.
He then set up his own jig and used a router to cut the pattern in the 16-by-26-foot floor, starting at the center and working his way out. Then Ragalie and his crew, along with Loba representatives, installed over 220 feet of aluminum inlay, aiming for a look that was both modern and classic, with geometric shapes and a "Deco" vibe. "I don't even know how we came up to it," Ragalie says of the design. "… It was what felt right, what looked right while I was doing it."
The floor was sanded and cerused, but the most arduous task was the oiling and staining, for which they used Loba 2K ImpactOil and water-based General Finishes stains. "There was a whole bunch of masking," Ragalie says. "I'd say each one of those colors was either masked or unmasked three or four times." The numerous aluminum inlays didn't help. "Every time we'd [stain], we'd come in with our Q-tips and start cleaning up the aluminum again wherever it bled," he says. They attacked the tedious project between jobs, so it took over two months.
"It was everything to do with the fact that people are taking real-life, good floors … and yanking them out and putting them in the dumpster," Ragalie says. Once they're done goggling, skeptics may concede: Ragalie's proven his point.
---
RELATED: How We Did This Job: An Obsession With Color Fixed This Floor
---