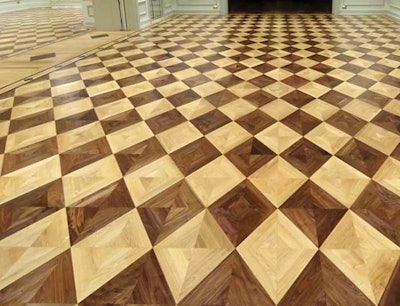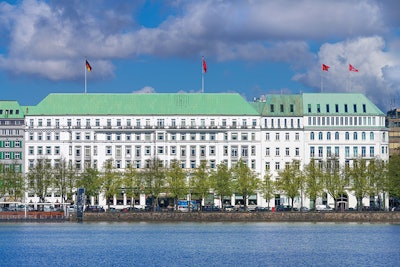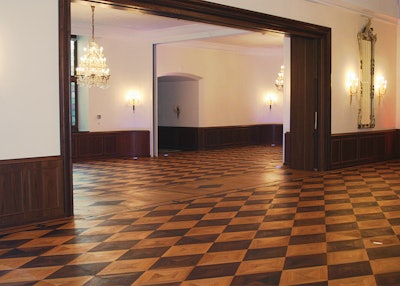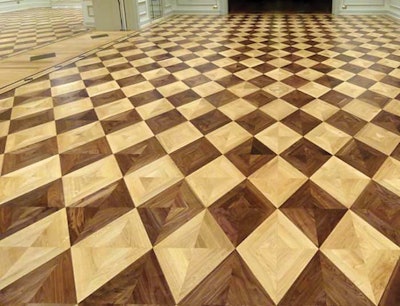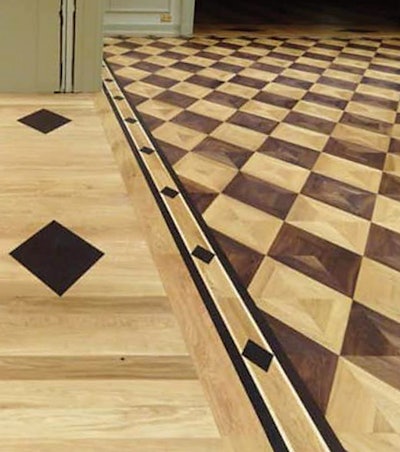 A drive through Hamburg, Germany, is a journey through the city's rich history, with buildings dating back to the 1700s. For wood flooring pro Frank Pielot of Hamburg-based Pielot-Parkett, it's also a tour of past installation jobs.
One of the stops on that tour is the Fairmont Hotel Vier Jahreszeiten, which boasts one of the more unusual projects Pielot has done in his 24-year career. "This is very special, and I haven't seen it anywhere else," he says of the floor, which he installed seven years ago. It was designed for the 125-year-old hotel by an American, Pielot notes, and includes a checkerboard-like pattern made of white oak and walnut—an unusual combo for the area. "The different colors are not normal in Germany; always, it's one color," he says.
Pielot began the job by installing an OSB subfloor. He then cut the white oak and walnut pieces for the rhombus shapes that would make up the roughly 3,800-square-foot floor. He used maple, oak and wenge for the decorative borders. Working around electricians on the busy site, Pielot and a crew of five employees and three apprentices glued down the flooring. ("In Germany, no nails," Pielot says. "Germany is always glue.") Then they sanded four times and applied oil finish, with the entire process taking three weeks.
---
RELATED: Duplicating a Bomb-Damaged 19th Century Parquet
---
Since completing the unique project, Pielot says his company has grown, and he finds himself doing fewer installs and more paperwork. "To get the floors on the ground is always more fine than paperwork," he laughs. But he's never away from the job site for too long, and he revisits the high-traffic Fairmont Hotel floor every two or three years for refinishing. "I love all my floors when I see them," he says. "When I'm driving through Hamburg, I know I have worked there."
Suppliers:
Abrasive, Adhesive, Finish, Sander: Bona