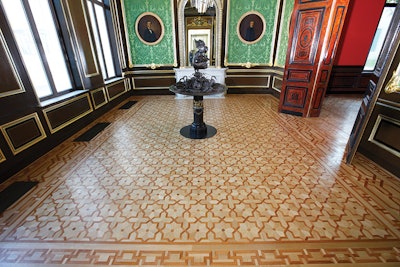 The English translation of the Dutch word "nauwkeurig" is "accuracy." But ironically, it doesn't quite capture the essence of the Dutch term—which means an intense, painstaking precision, explains Karen Verriest, co-owner of Atelier Passe Partout in Mechelen, Belgium.
That intense precision—nauwkeurig—is what Verriest says was required of Atelier Passe Partout Owner Filip Redant to recreate the famed circa-1830 parquet floors of the M–Museum in Leuven, Belgium.
"It was an opportunity to show what I was able to do," says Redant, who won a juried contest to duplicate the historic parquet in the museum, once a government palace.
The original 1,400-square-foot oak and red mahogany floor couldn't be saved, having suffered considerable wear after centuries of use, not to mention structural damage from a bomb during World War II.
Redant began by tracing the original parquet patterns by hand. The cutting process was also done by hand with a table saw, as CNC use was forbidden for the project. After three months of sawing, he ended up with around 60,000 pieces.
Redant then returned to the museum's new concrete substrate and installed a solid oak subfloor, over which he began installing the parquet, piece by piece.
"The most difficult thing was to have the design fitting," Redant says, noting the walls were crooked and the concrete had large holes from a newly installed heating system. "Many of the pieces had to be adapted on the spot."
When he was done installing, Redant sanded four times, buffed, then coated the floor with Bona Craft Oil and beeswax. He had a four-month deadline to install the complex floor but completed it in three.
Redant, who restored violins before he entered the wood flooring trade 30 years ago, says his willingness to accept every job during those decades allowed him a hands-on education in old and historic hardwood flooring.
"It's a very big advantage," he says of the experience. But when it comes to applying the knowledge, Redant has another advantage that sets him apart: nauwkeurig.
(It turns out even the subfloor installation process for this project was fascinating. Read more from Redant about creating wood floor substrates the Belgian way here.)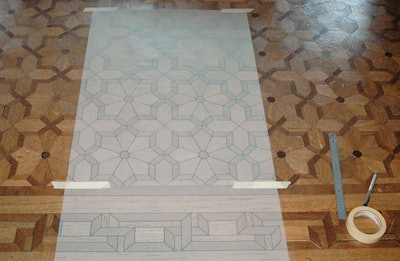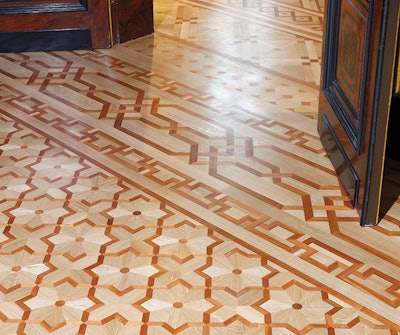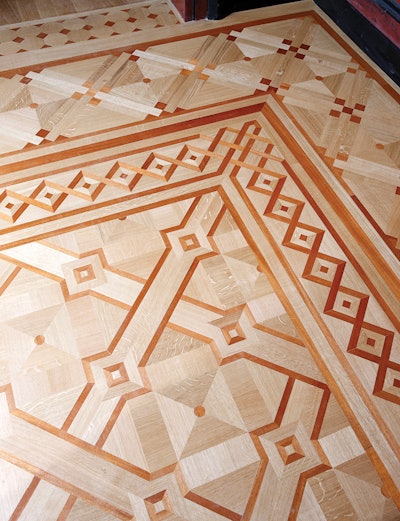 ---
---
RELATED: In Memoriam: Belgian Wood Floor Master Filip Redant
---