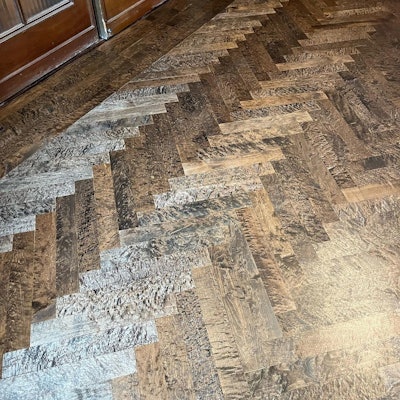 When Chris McKenna's dad emigrated from Ireland and founded Woodcraft Floors Inc. almost 40 years ago, one of the NYC-based company's earliest contracts was refinishing apartments in the Bronx.
"For years and years and years we did these little rental apartments," says McKenna, who was taken to job sites from the time he could walk. The area's apartment floors at the time were overwhelmingly maple, and the property owners wanted them stained dark. So, when McKenna got the call to fix a stain job gone wrong on this rare maple herringbone at 251 West 92nd Street, his qualifications were years in the making. "I was born for it," McKenna laughs.
When McKenna arrived on site to review the previous attempt to stain the floors, which the owner said were original to the 115-year-old building, there were swirling signs of a struggle.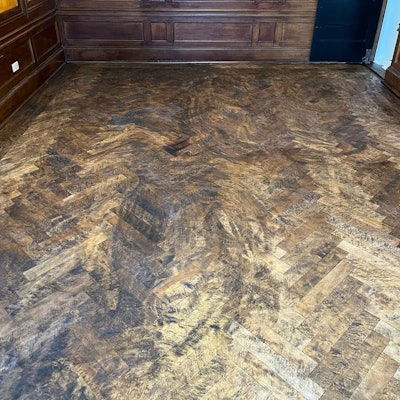 "The guy rubbed on, and it looked like he didn't know to rub off," McKenna says. "You could see every sanding mark, every wiping mark … There was nowhere to hide."
McKenna re-sanded the approximately 750-square-foot room using his Galaxy, then he buffed the floor with a 120-grit screen. "Then I did any small details with the hand-sander that were needed along the edges," he says.
Next, as he does with every floor he stains—but especially maple—he water-popped the floor. He then applied DuraSeal Dark Walnut stain. "I'm all old school, rag-on and rag-off stain," McKenna says. "As I'm the person applying or wiping off, I feel I have responsibility and control over the evenness and the ability to spread the material evenly—it is more strenuous, tedious work on hands and knees, but you're closer to your work and can see every square inch."
After letting the stain dry overnight, McKenna applied three coats of Bona Traffic using a T-bar. Due to the lighting and layout of the flooring, its colors change depending on whether you're standing on the north or south side of the room. "It was just this really deep, varied color," McKenna says. "These floors are living."
The client was happy with the final results, but McKenna notes that fixing someone else's wood flooring work can often be a double-edged sword. "People have been burned and are suspicious and wary of you and everything you're saying," he says. "But when you can deliver and restore a little bit of reputation and trust, even in Manhattan, it's a great feeling."
Fortunately for this project, McKenna' professional destiny was to save more than just this stained maple herringbone floor—he also saved a client's faith in wood floor pros.
Suppliers:
Abrasives: Norton Abrasives | Big machine: Galaxy | Finish: Bona US | Stain: DuraSeal