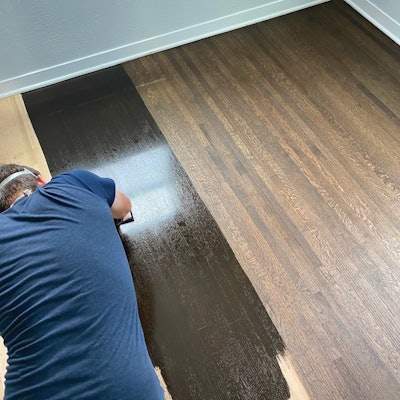 The demand for custom color in today's wood flooring industry leads to many questions: Is there a "best" solution? What about risks? Here are the most common options for custom color on a residential wood floor.
Natural oil finishes: These products offer a stand-alone color and finish system in one. Options include with and without wax, an oxidative drying 1K, 2K and LED-cured. Vivid and stable coloration penetrates deep into the wood and protects from within and up to the surface without a film. These products offer the best protection from UV effects. Stacking colors with techniques like cerusing is also possible. Some natural oils are overcoatable with film finish, and options with zero VOC are available. Floors are generally completed in one or two coats and sometimes more quickly than traditional stain and film buildups. Dry times range from 12–36 hours depending on color, climate and ventilation. Natural oil finishes are easily refreshed and replenished without sanding. The wood floor needs to be water-popped for proper absorption. Special care and maintenance is needed for these finishes.
Solvent-based stains: These are the traditional stains used for decades in the industry. Typically, they are the least expensive option for color. The noteworthy advantages are quick drying, lower cost, good availability, ease of use, and compatibility with many finishes. They are color-stable and typically dry in 2–16 hours depending on job-site conditions. Disadvantages include high VOCs, strong smell, low penetration, and the need to (usually) be over-coated. Environmental restrictions may affect the availability/use of these products. Alcohol-based stains fall into this category but are extremely high in VOCs and not as common.
Water-based stains: This category includes pre treatments, dyes, and stains. Quick dry times, unique effects, quick overcoating, and low VOC content are the primary advantages. The wood is water-popped and colored in one step. The downside is higher cost, low market availability and specialized training needed to confidently implement these systems among average-skill-level employees. One must be careful not to expose the wood to excess moisture in one day.
Reactive stains: Reactives are a unique option some pros are utilizing, especially in combination with natural oil finishes. They work with chemical reactions between the product and wood. Reactives like iron acetate (which gives wood an aged appearance) can even be homemade. Unfortunately, reactives are not known for long-term color stability. They can be expensive and must be locked in by overcoating with other products. The effect is usually higher on the surface of the wood (although fuming is possible all the way through).
---
RELATED: Custom Color From Coast to Coast
---