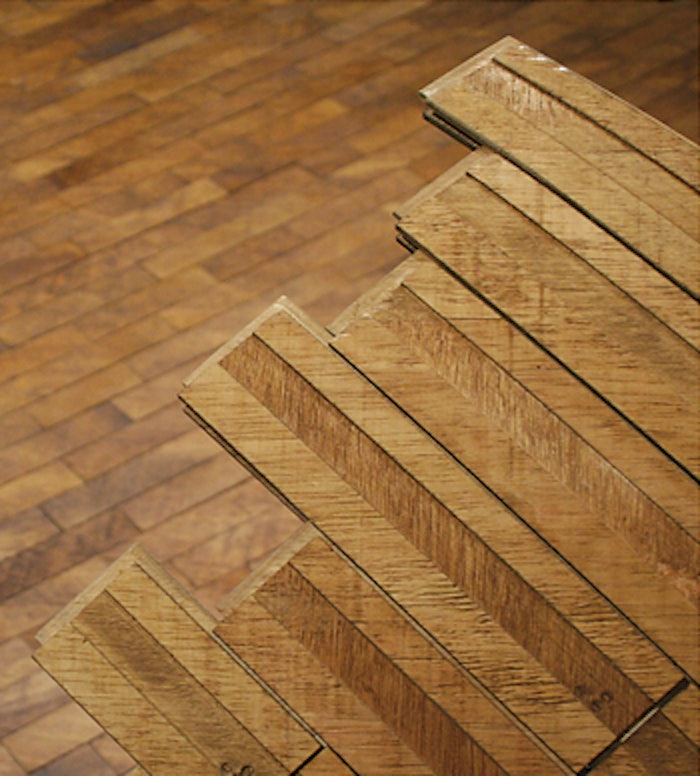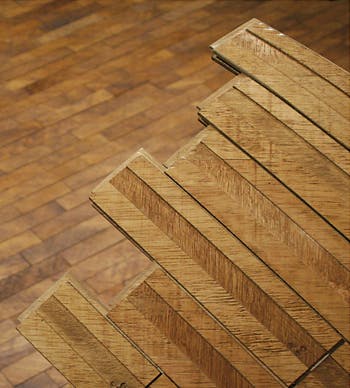 "Curl" comprises three layers of plywood bender board glued together and bent using a custom form.
Proof that a wood floor can certainly be a work of art, Brent Sommerhauser created "Curl" and displayed it at Seattle's Greg Kucera Gallery. The floorboards used in the 8½-by-11-foot installation are not actually floorboards at all but a kind of three-ply engineered wood plank Sommerhauser made himself. All three layers are plywood bender board, and the top layer was stained and sealed. To create the bent planks, Sommerhauser first glued together the bottom two layers; then he placed them in a self-constructed form that has the same curve as "Curl," clamping the pieces in place. The glue dried and the two layers held the curve of the form. Next he added the face veneer in the same fashion, gluing it to the already-curved bottom two layers and clamping all three layers in place. The middle layer is offset, giving each plank a tongue and groove, which holds the entire installation together. Making the planks, Sommerhauser admits, required "a lot of trial and error." In the future, Sommerhauser wants to create a version of "Curl" that is actually installed as true flooring, "with the curled portion quite far from the entry, so that a viewer could walk a ways through the site" before realizing they've been walking on the sculpture.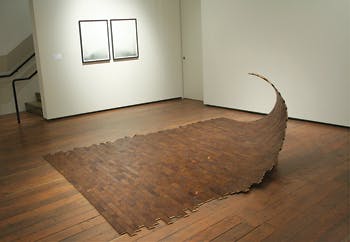 Additional photos from this wood flooring artwork: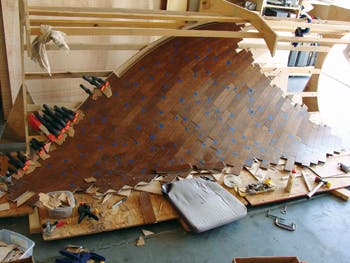 A snapshot of Brent Sommerhauser's work area for his "Curl" installation, which was displayed at Seattle's Greg Kucera Gallery in 2009.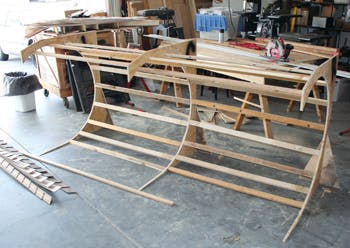 Brent Sommerhauser used this custom-made wood form to bend pieces of wood flooring he made himself for his art installation "Curl."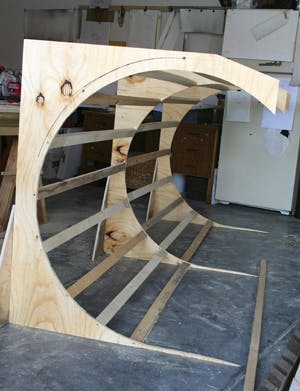 CA side view of the custom-made form Brent Sommerhauser used to make his work of art "Curl."
Each plank of custom-made engineered flooring was clamped into position after the three plies were glued together. When the glue dried, the planks were permanently bent. (Photos courtesy of Brent Sommerhauser)