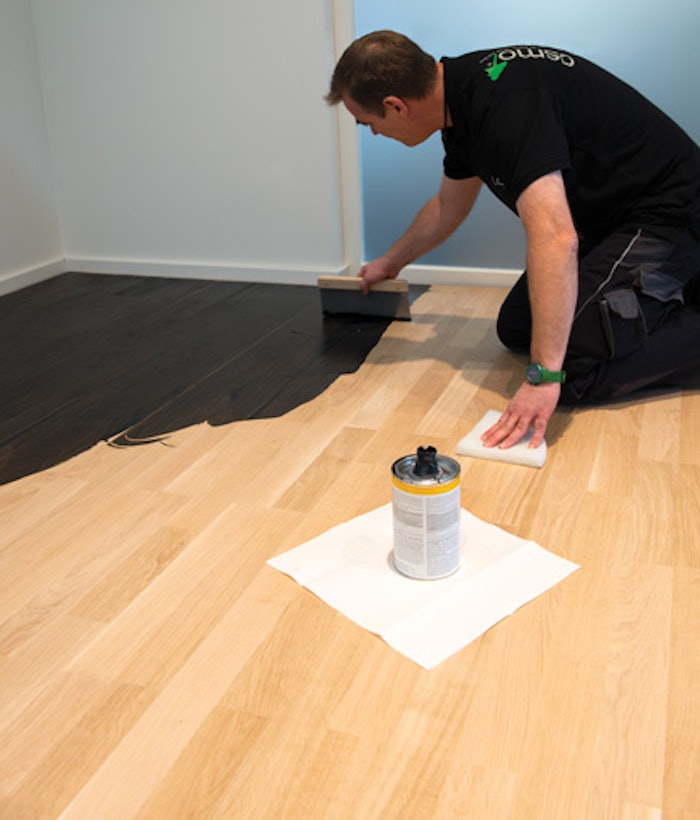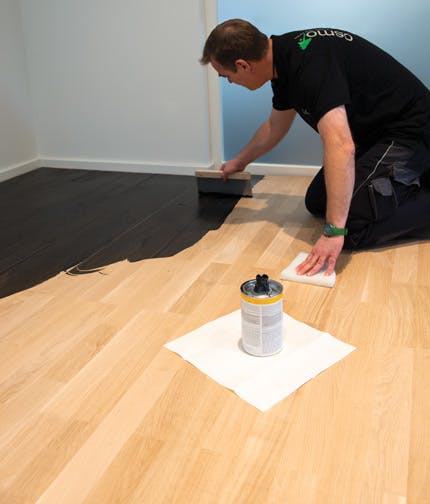 Applying colored hardwax oil is very simple.
Hardwood flooring creates atmosphere. It fits into any interior—whether classic or modern, cozy or sophisticated. A special effect is created by finishing hardwood floors with colored oil and wax-based wood finishes. These products change and enhance the natural wood tone to suit the customer's wishes. Older flooring shines like new after being coated with a colored finish. Light, transparent-colored wood finishes add class, allowing the wood grain to shine through and create a vibrant surface. Here are some other facts about colored hardwax oils:
They protect the wood. Optimal wood protection is clearly another priority. Oil and wax-based finishes, such as colored hardwax oil, protect wood from the inside out, forming a microporous surface. They are wear-resistant, dirt- and water-repellent, long-lasting and extremely hard-wearing. The dry surface is saliva- and perspiration-resistant, thus suitable for children's toys. Moreover, this natural wood finish is solvent-free and offers good coverage. Always check with the manufacturer of your specific product, but typical coverage is 1 liter (33.8 fl. oz.) covering 600 square feet (55.75 m²).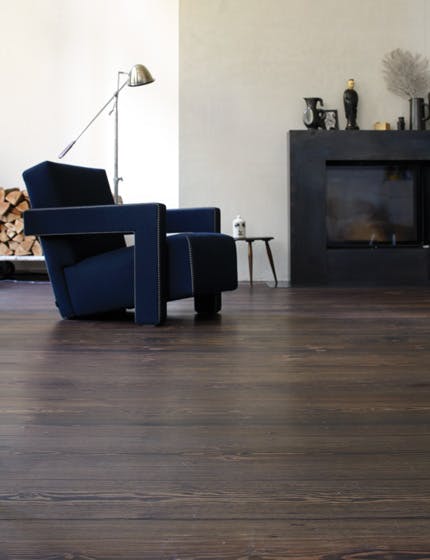 The hardwood floor is accessible after only two coats applied within two days.
Application is simple. The hardwood floor can be walked on after only two coats applied within two days. For the first coat, spread around 6-10 ml (0.2-0.3 fl. oz.) of colored hardwax oil per 10 square feet (1 m²) with a scraper on the raw, sanded floor surface. It is important that the wood finish is spread along the wood grain very thinly. Then the applied material is worked into the flooring with a single disc machine. Any excess material in bevels should be removed with a paintbrush. Small marks in the coating can be removed within 30 minutes after coating. The first coat has to dry for approximately 8-10 hours with good ventilation.
The second coat is clear hardwax oil. It protects the pigmented hardwax oil against abrasion and makes the surface even more resistant to water and dirt. The second coat should also be applied very thin along the wood grain and left to dry for about 8–10 hours under good ventilation. Afterwards the floor can be walked on and furniture put back in place. However, the hardwax oil surface needs about two weeks to fully cure, so rugs should be laid out after this time period.
There are many color options. Colored hardwax oils offer a wide range of color tones, including trendy gray, warm browns and transparent white. Plus, the color tones can be mixed with each other.
The entire floor doesn't have to be sanded before renovation. Renovating hardwood floors treated with either colored or clear hardwax oil is quite easy. Traffic areas and small scratches can be renovated without sanding the complete floor. The damaged area is simply marked off, sanded and treated as described above.
Cleaning is easy. Cleaning the surface is as fast and easy as it is for a surface-type finish. Non-aggressive household cleaners can be used. The surface can, for example, be cleaned effortlessly with a spray mop system.
This article was paid for by Warendorf, Germany-based Osmo, where Dirk Horstmann is international advisor for wood finishes and application technology. For more information, visit www.osmona.com and www.osmo.ca.