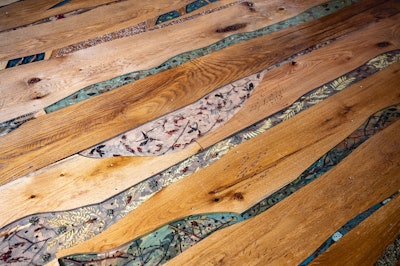 For John DiPonzio of Blackstone, Mass.-based Design Wood Floors, there tends to be an overlap in writing music and creating striking, one-of-a-kind wood floors. And with this ambitious "Cottage in the Woods" floor—featuring red oak planks intermixed with pools of resin filled with organic materials—DiPonzio found that commonality once again.
"I'm a jazz musician, so what happened is more like a jazz chart, which is when you have chord symbols and then you improvise," DiPonzio says of the floor layout, which he created with his partner, Suzanne Lockwood, for their New England home.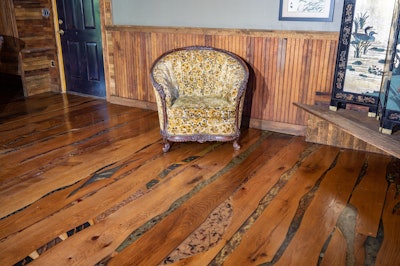 The planks used for the rustic-themed floor spanned 10-, 12- and 14-foot lengths, with widths ranging from 8 to 12 inches. DiPonzio drew shapes on each plank and cut them with a jigsaw. Lockwood arranged the large boards on the subfloor—no easy task in the relatively small room. "It was challenging just turning the boards in mid-air, trying to get them lined up properly," DiPonzio says.
Once arranged, the boards were glued and screwed to the subfloor. Then it was time to create the 100-odd organic compositions within the ¾-inch-thick floor. "It's a lot of different organic materials from different friends' yards," DiPonzio says. The materials were affixed to the subfloor before the epoxy was poured. The entire floor used about 40 gallons of resin.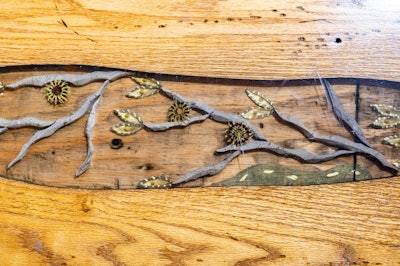 The wood flooring itself was distressed using rakes and chains, and the sanding began with 40-grit and ended with 150-grit using a palm sander. "You kind of have to take it one board at a time, otherwise the resin areas really show the sanding marks," DiPonzio says. The planks were treated with a potassium dichloride reactive stain for an amber color, then given two coats of gloss finish and one coat of semi-gloss. The project took a year and a half to complete, and although DiPonzio likes to blend his passions, his process also involved a necessary separation of them: "When I'm working with wood or on a floor, music is so distracting to me," he says. "I am drawn to things, I go through emotional pitfalls—I need to stay away from music when I'm working!"
SUPPLIERS: Finish: Bona Woodline (gloss), Loba Supra (satin) | Palm sander: Festool | Resin: System Three Mirror Coat