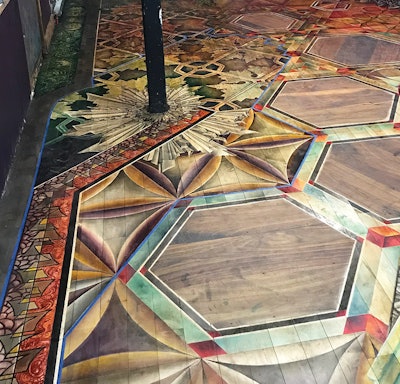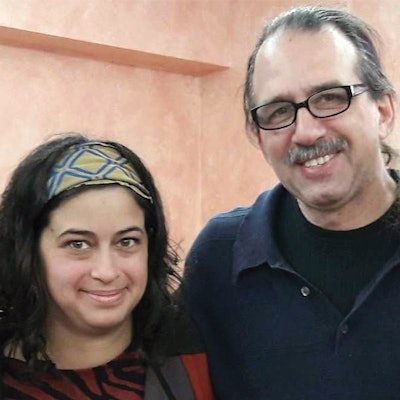 The illuminated manuscripts crafted by Medieval monks are a bygone art, but artist Erica DiPonzio has pulled them out of the past and into an elaborate wood floor. The radical design of this floor was inspired by the Book of Kells, a 9th century illuminated manuscript of the four Gospels. Having grown up working with her father, John DiPonzio of Blackstone, Mass.-based Design Wood Floors, Erica had done a number of aniline dye projects for clients before setting out to do one on her own—free from deadlines or color constraints.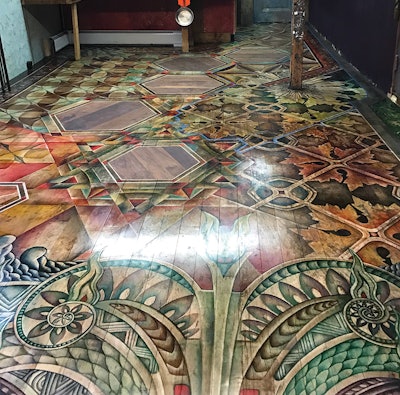 "It was always a dream of mine to experiment with something hyper-detailed and see how far I could go with it," she says. She decided to push that boundary with the help of her father. The pair nailed down 500 square feet of clear maple in John's Rhode Island warehouse and sanded it to 220-grit. Then Erica started the design by making two grids and overlapping them. When the larger geometric shapes were painted in, she connected them with improvisational designs, using "eyelash-size" acrylic brushes and keeping images from the Book of Kells close by. The main theme of the floor is how the logical "right-brain" geometric shapes coexist with the more creative "left-brain" patterns of the design, Erica says.
---
RELATED: Using Aniline Dyes Provides Unlimited Wood Floor Colors
---
The floor was a labor of love, worked on periodically over a few years. When the painting was done, John used a track saw to cut in the floor's four hexagonal walnut inlays. "Because the rest of the floor was so complicated, we decided to showcase just simple wood" in the inlays, Erica says. They then completed the floor with four coats of moisture-cured finish. The warehouse where the project is doubles as an art and music studio for the DiPonzio family, who also play jazz and make ocarinas. Illuminated manuscripts may be in limited supply these days, but their masterful art continues to inspire boundless creativity.
Suppliers:
Aniline Dyes: WD Lockwood | Finish: Garco | Track saw: Festool | Walnut flooring: Saroyan Hardwoods