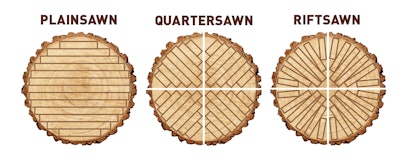 Do your customers know about flooring grades? By educating them on grades before the flooring is installed, you'll be able to avoid the possibility that your customers may dislike the final outcome. The same is true relative to wood cuts ... they are just as important!
Understanding grading
This is true but often misunderstood: Grades do not refer to the quality of flooring. Rather, most focus on aesthetics.
Some manufacturers, most often those producing unfinished domestic flooring, use standard flooring grade designations from industry associations such as NOFMA or MFMA. For example, for oak flooring, NOFMA designates these grades: Clear is the highest grade, with the least color variation and character. Select has more color variation and minimal character such as small knots. No. 1 Common has prominent color variation and prominent character marks, and No. 2 Common has the most color variation and open knot holes, open worm holes, and other character.
---
RELATED: Red Oak Vs. White Oak: Can You Tell the Difference
---
Most often today, flooring manufacturers create their own proprietary grades that are unique to their particular product lines. In this case, the manufacturer defines the qualities for each grade, sometimes including board length, as well.
Flooring cuts
There are basically four types of lumber produced in the U.S. to be made into hardwood flooring; they are defined by how each log is positioned and cut at the mill.
Plainsawn has annular rings ranging from 30 degrees or less to the face of the board. It's the least expensive, and most commodity hardwood flooring materials are produced using it.
Quartersawn has straight grain patterns, where annular growth rings intersect the board's face at angles of 60 to 90 degrees. Each log is cut into four quarters at a radial angle, resulting in interesting flecking.
Riftsawn is the least common and most expensive. Annual rings range between 30-60 degrees; with 45 degrees the most sought-after. Milling perpendicular to the growth rings produces a unique linear grain pattern containing no flecking. This method produces the most waste, increasing cost. Riftsawn lumber is dimensionally stable. It is often produced to complement quartersawn lumber, thus the fourth category: rift and quartered (R&Q).
Rift and quarter cuts are more dimensionally stable than plain sawn with 40% less seasonal swelling and shrinkage in wood flooring. Along with improved stability, these cuts offer higher-ranked hardness ratings than standard cuts. Rift and quarter produces a tight, straight grain running parallel to the board.
The choice is always up to the customer ... but a well-educated customer is a happy customer.