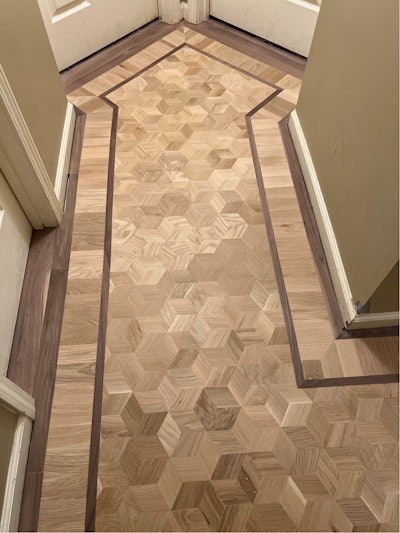 During a typical evening at the Davidson house sitting on the couch watching TV, my wife, Renan, and I were discussing our need to install hardwood in our hallway. My suggestion was to install a standard plank floor and be done with it. To my surprise, my wife looked at me and said, "You know you're a flooring guy, right?" I was a little shocked and excited that she would challenge me, but I was also eager to remind her that I was indeed a "flooring guy."
Now that I was in "I'll show her" mode, I was faced with a challenge. The hallway is an L shape with one double door and four standard bedroom doors that comes to a point at one end, all in a 110-square-foot area. My first thought was a straight-lay with diamond pattern that would somehow be able to turn the corner. After putting my idea to paper, it seemed a bit much for such a small space. So, I did what any husband faced with a challenge would do: asked my buddies for help. This was a bad idea—they were all over the place and throwing out extremely pricey suggestions using materials I couldn't even source. Thankfully, social media—in particular Lenny Hall's Facebook group, American Parqueteur—gave me the "eureka" idea I was looking for.
After seeing a rhombus pattern that wood floor pro Mikie White was working on, I said, "That's it." The rhombus pattern would move along the L shape nicely and give a 3D effect at every angle and doorway. Having never attempted this pattern, I turned to social media once again and was able to figure out exactly how to make the pattern. And after looking at a soldier border that Dave Marzalek was working on, I was ready to make this floor happen: a rhombus pattern field with a soldier border, all 2¼ select white oak with a walnut accent strip sandwiching the border.
Log in to view the full article