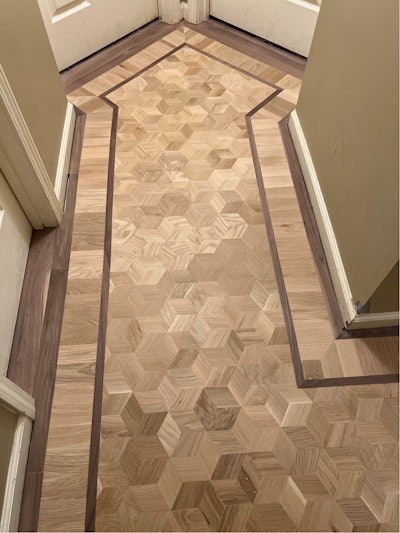 The Dare
During a typical evening at the Davidson house sitting on the couch watching TV, my wife, Renan, and I were discussing our need to install hardwood in our hallway. My suggestion was to install a standard plank floor and be done with it. To my surprise, my wife looked at me and said, "You know you're a flooring guy, right?" I was a little shocked and excited that she would challenge me, but I was also eager to remind her that I was indeed a "flooring guy."
The Challenge
Now that I was in "I'll show her" mode, I was faced with a challenge. The hallway is an L shape with one double door and four standard bedroom doors that comes to a point at one end, all in a 110-square-foot area. My first thought was a straight-lay with diamond pattern that would somehow be able to turn the corner. After putting my idea to paper, it seemed a bit much for such a small space. So, I did what any husband faced with a challenge would do: asked my buddies for help. This was a bad idea—they were all over the place and throwing out extremely pricey suggestions using materials I couldn't even source. Thankfully, social media—in particular Lenny Hall's Facebook group, American Parqueteur—gave me the "eureka" idea I was looking for.
The Plan
After seeing a rhombus pattern that wood floor pro Mikie White was working on, I said, "That's it." The rhombus pattern would move along the L shape nicely and give a 3D effect at every angle and doorway. Having never attempted this pattern, I turned to social media once again and was able to figure out exactly how to make the pattern. And after looking at a soldier border that Dave Marzalek was working on, I was ready to make this floor happen: a rhombus pattern field with a soldier border, all 2¼ select white oak with a walnut accent strip sandwiching the border.
The Execution
I allotted a few days to complete the project. I pulled in my two sons, Brett and Austin, who work with me, to knock this out, not realizing the amount of work that was actually involved. Day one: prep. Getting rid of the carpet, building a sled to cut the pattern pieces, and laying out the design. Day two: cutting the pieces and starting the installation. This is when realized I might have underestimated the time it takes to cut a 2¼ rhombus pattern. After eight hours of sled work, we were ¾ of the way done just cutting the material needed to complete the project. Day three: clear the schedule for the rest of the week. Start installing the pattern. We splined and glued the rhombus and used MS 260 to glue everything down. Day 4: use a track saw to cut the pattern and install the walnut accent strips as well as the soldier border. Day 5: sand everything down using a Hummel with 80 grit on the fine setting, followed by the Epoch with 60 and 80 Red Heat on the HydraSand, and finished with 100 Mesh. We coated it with Loba Invisible.
The Conclusion
After underestimating the project, I was left feeling a little overwhelmed and deflated, but the results were more than I could have ever imagined. We were all tired and mentally exhausted, but to see my wife's reaction and the look of accomplishment in my boys' eyes, I realized it was all worth it. Every time I turn on the lights and look down, I can't help but smile.
SUPPLIERS:
Abrasive: Norton | Big machine: Lägler | Finish: Loba | Multi-head sander: American Sanders