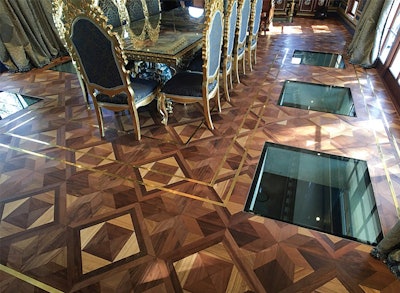 If your car collection included a Bentley, Rolls-Royce, Ferrari and Lamborghini, you would probably want to look at them as often as possible. This wood floor, installed in the study of a millionaire near Brisbane, Australia, was designed with that in mind. Placed in the 861-square-foot parquet floor are 11 windows that peer into his supercar garage below.
Hired for the job were expert Aussie flooring companies Scribed Flooring and Hilston Wood Flooring. They're known for doing unusual floors, and this floor fit the bill. For one, the only "specs" they were given was a computer graphic of the pattern and the room. It showed the colors but no measurements or species. Greg Ceglarski, owner of Scribed Flooring, said the image was from ArtNow International. It was up to Ceglarski to fill in the blanks. He chose American walnut, blackbutt and brushbox to match the colors, then spent hours determining what dimensions would best fit the job's irregularly shaped room.
The floor has around 7,000 pieces and took Ceglarski and Jim Hilston two months to manufacture and glue down. The crew finished the floor with WOCA Diamond Oil before installing the final feature—concentric rectangular inlays of 1-inch-wide, ¼-inch-deep brass.
The floor was finally completed in March 2016 and won the Australian Timber Flooring Association award in July. "When [ATFA] announced it was the winner, they said it won by twice as many votes as the runner up," Ceglarski says.