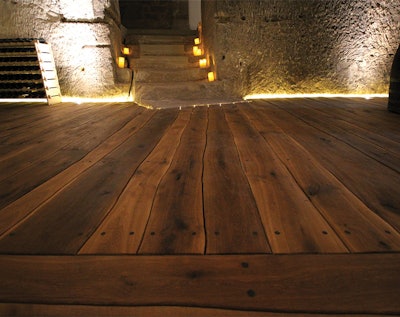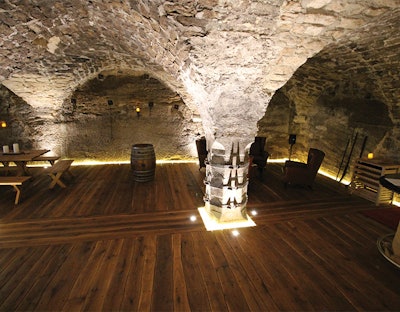 It's said that the wise man builds his house upon the rock—but rocks aren't the most convenient substrate for the wood floor pro. This 14th-century castle in Hessen, Germany, was built on a foundation of ancient rocks, and Juri Buss of Volkmarsen, Germany-based Juri Buss Parkett had to figure out how to install a live-edge oak floor over them.
The solution was a wooden substructure. "It had to be designed in such a way that the planks are not damaged," says Eugen Wangler, international sales manager at Loba-Wakol, who advised Buss on the project. The substructure was leveled and bolted directly over the rock subfloor in the approximately 1,000-square-foot castle basement.
With the substructure in place, it was time to ready the approximately 1-inch-thick planks. The raw lumber was first laid out in a large area to pair the naturally shaped boards together. Boards that didn't fit naturally were shaped with a band saw. The intent was that the live edge planks provide historical ambience, complementing the stone. Once the planks were milled, they were screwed onto the wooden substructure. The installation took about a month for Buss's six-person team to complete.
---
RELATED: A Tribute to Nature in 'Every Living Crack' of Swamp Oak Floor
---
"My favorite working step was the laying of the floorboards because it is only at this stage that you can see whether the hours of laborious production in the workshop have paid off and the floorboards fit together as intended," Buss says.
The flooring was scraped and then sanded with an edger and random orbital sander from 24-grit to 100-grit and coated with brown waterborne stain followed by oil finish. "The floorboards had dark spots by nature, and we wanted to make sure the character would be maintained," Wangler says.
Lights were placed beneath the floorboards, adding drama to the final product. Wisdom was required to complete the unique flooring, but the German wood floor pros had another advantage, as well: leidenschaft—or, in English: passion.
SUPPLIERS:
Abrasives, Saws: Festool | Finish, stain: Loba-Wakol | Sanding machines: Festool, Lägler