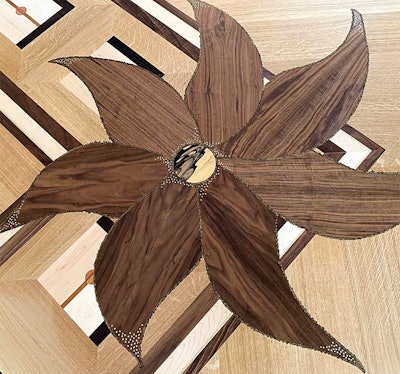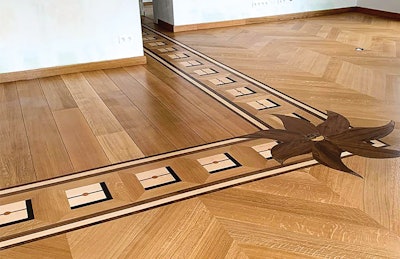 You know you've reached a certain status of wood floor master when the most challenging part of an intricate project like this one is the parking situation.
"It's difficult when your van—your workshop—is not nearby," laments Filip Redant, the master woodworker at Mechelen, Belgium-based Atelier Passe Partout. The parking was frequently hogged by other trades working in the apartment complex, where what started out as a simple herringbone flourished into a chevron with a decorative strip running through the floor. The owners upgraded their order upon seeing Redant's marquetry in his shop and sketches he'd done for the job. One of the owners was drawn to the idea of "bringing nature into the apartment," and "the flower at the angle was the ultimate way of bringing nature inside," Redant says.
Redant used European oak for the plank and chevron flooring, which he glued and nailed over an oak substrate. The decorative strip features European oak, maple, wenge, mahogany, rosewood, American walnut and brass. The flower was crafted from American walnut, white ebony and brass. All the intricate pieces were cut with a scroll saw, routers and a jig saw. When it came time to shape the flower—which up to that point had only been a rough sketch—Redant let his creativity take over.
"I made this flower on the site, following the inspiration of the moment, taking into account the wood I had available," he says. "Adding the brass spots, for instance, was an idea that only came after the flower was ready. I was lucky the owners trusted me and allowed me to do things without prior approval." The brass "spots" were nailed in. Redant also drilled holes in 9-mm-thick brass strips that became part of the border. "When sanding, the brass becomes warm, expands and would jump out if not nailed," he explains.
With the flower shaped and planted in place, Redant sanded using a random orbital sander and hand-scraped the corners. He then concocted a mixture of epoxy and brass shards—another on-the-spot invention—to outline the petals before applying oil finish.
Redant proved you can bring nature inside an apartment with the right amount of skill and creativity. Now if only someone could create more parking spaces on the street below.
SUPPLIERS
Adhesive: Bostik | Dust collection, Edger: Bona | Finish: Rigo Verffabriek | Routers: Dremel, Festool | Saws: Hegner, Festool
---
RELATED: Duplicating a Bomb-Damaged 19th Century Parquet
---