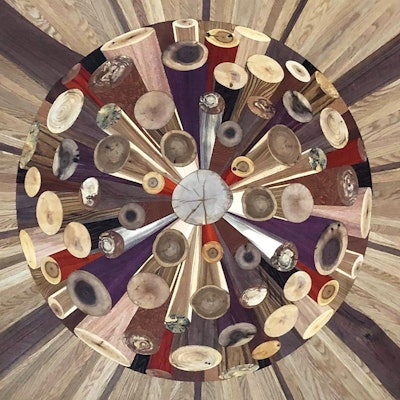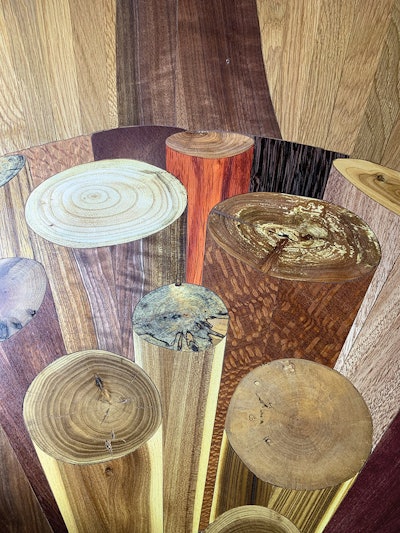 For an artist with a skillset like Tom Ourada's, limitations on projects can be a blessing. "That's the best part for me, if I have a limited something," says Ourada, owner of Nine Mile Falls, Wash.-based Ourada Designs. "The possibilities are endless, and when I have endless possibilities, my brain just overwhelms. But if I can put limits on things, it's like, 'OK, this is what I have to work with? Let's make it work.'"
That's exactly what Ourada did with this 12-species, 200-square-foot masterstroke of live-edge boards, a white oak sunburst and log rounds made of wood from his shop and cut in his backyard with a chainsaw. The personal project was a collaboration with Keith Long of Greeley, Colo.-based Thunderheart Flooring LLC and Aaron Schaalma of Stevens Point, Wis.-based Signature Custom Flooring.
Ourada was first inspired by a massive 3D sculpture of log rounds by artist Lee Jae-hyo, and he began cutting and assembling the log rounds. When Long learned of Ourada's concept, he offered a house he was renovating as the canvas.
Ourada cut smaller pieces using a band saw and larger pieces, including live-edge black walnut, with a jig saw. The floor also includes padauk, purpleheart, maple, white oak, locust, apple, lacewood, Russian olive, mahogany and wenge. The centerpiece, completed in Ourada's shop, was the first piece to be glued down, followed by the borders. Then they installed strips of white oak cut by Long for the sunburst. Ourada and Schaalma scribed in the four black walnut boards jutting out from the center. Ourada hand-planed the floor before the floor was sanded and coated with water-based finish.
Ourada says he aims to learn something new in every project—for this one, it was working in a team. "We all worked really well together; everybody knew what they could do and couldn't do, and everyone was always wanting to learn something new," he says.
True to his artistic nature, Ourada says he can't help but see things he'd do differently if he'd had more time. But there's a flip side to those "imperfections," too. "Those are the things that make life interesting," he says. "If everything was planned, it'd be freaking boring."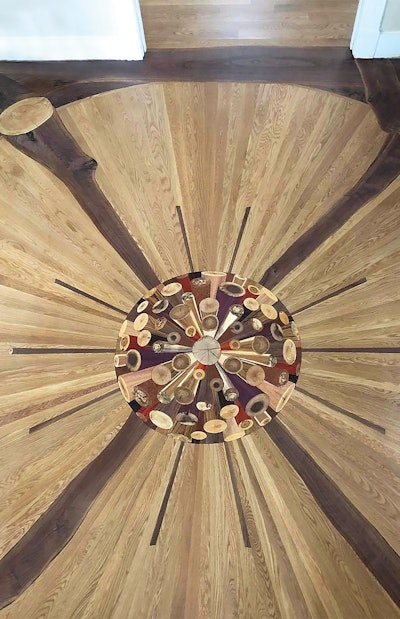 SUPPLIERS:
Big machine: Lägler North America | Finish: DuraSeal
---
RELATED: Wood Floor of the Week: Tom Ourada's Own Elaborate Hallway
---