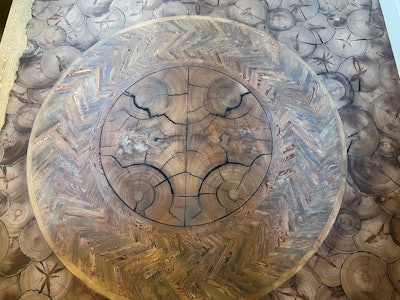 The wood used in this one-of-a-kind end grain medallion and log round floor waited 100 years under the Suwannee River for its chance in the limelight. Then, in 2010, Matt Marwick of Summerfield, Fla.-based Precision Floorcrafters summoned it from the depths of the Floridian river and used it to craft this masterstroke of a wood floor, which unsurprisingly took home a 2011 Floor of the Year distinction.
Almost 15 years later, Marwick had the opportunity to refinish the distinguished foyer floor, which incorporated end grain bald cypress, heart pine herringbone, end grain heart pine and a mitered border of curly pine. "The house had a new owner, and they were just wanting to freshen up the floor," Marwick says. "It was nice to see how well the floor had held up and how flat it still was after all those years … When the new owners looked at the house, they said all of the floors in the house were really a selling point for them."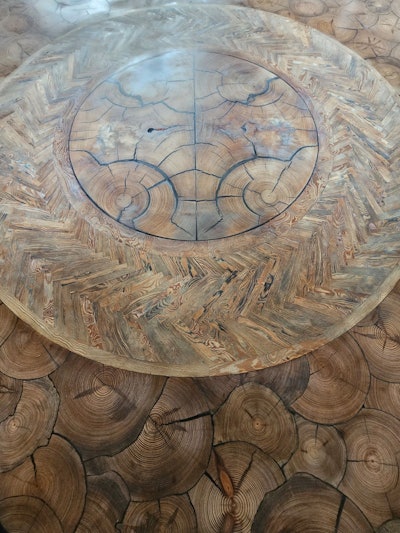 Marwick began by sanding the 4,000 feet of flooring in the home, much of it rift-and-quartered red oak, with a planetary sander. "Initially, the main house was done with tung oil, and the new owners were wanting to get rid of the amber colors and just have a different flavor than the original," Marwick says. "They wanted to be a little more modern, I guess, in their style." Marwick used a mixture of brown, coffee brown and true black stain on the main floor, followed by three coats of water-based finish.
For the foyer, which featured the award-winning 120-square-foot medallion and log round portion of the floor, Marwick sanded and applied a water-based sealer with a whitener, followed by water-based topcoats.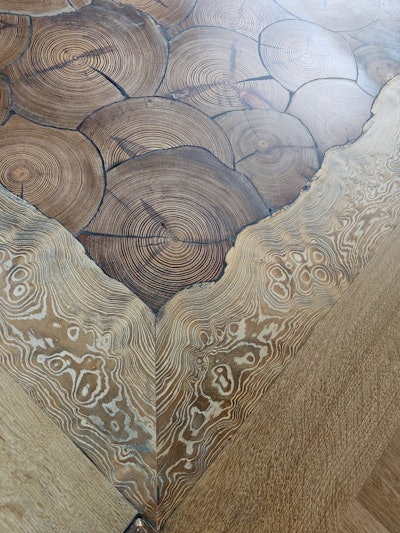 "It was a fun job," Marwick says of the original installation. "We really tried hard to get as many of the interesting, fun jobs as we could." Years after completing the winning floor design, Marwick's advice for other pros who want to tackle similarly complex projects is simple: Be confident.
"Just never really shy away from taking those jobs—try to pursue them as much as you can," he says. "If you have ideas, try to not be shy in sharing that with the homeowner and see if they realize there are other options beside the straight-laid floor. A lot of homeowners don't realize they can have anything they want."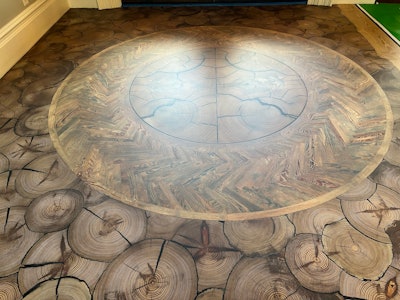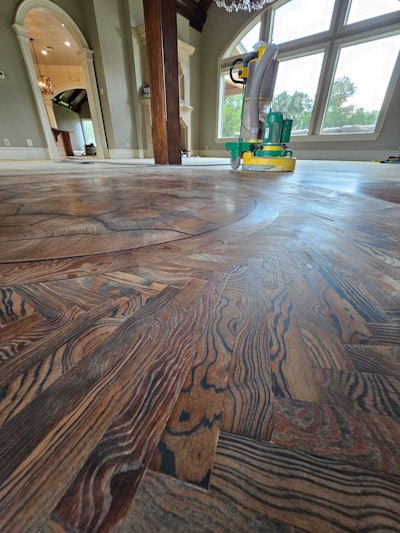 Suppliers:
Abrasives: Norton Red Heat | Finish: WearMax, Loba | Sanding machines: WerkMaster, Lägler | Stain: DuraSeal