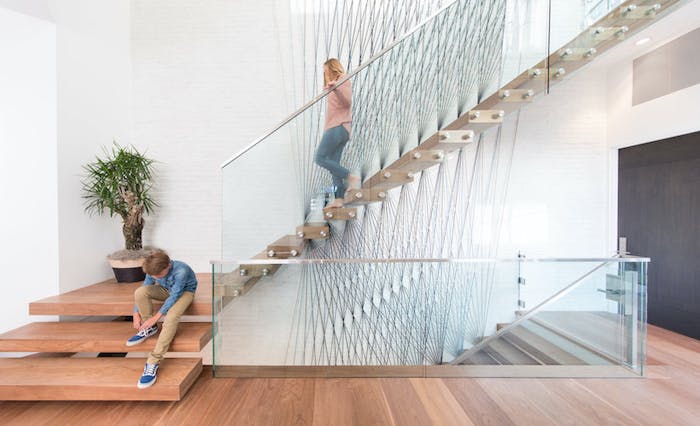 Floating staircases were just on the cusp of popularity in California when Huntington Beach, Calif.-based Gaetano Hardwood Floors got the call to install two in this upscale beach house. It was 2015, and having done few similar staircases at the time, the first thing the company had to float was an idea of how the structure would work.
"It was very important for us to achieve a certain look, and the structure also needed to be strong to limit the amount of deflection in the stairs when walked on," says Richard Larson, Gaetano's contractor and production manager for the project. The Gaetano team consulted with welders and the building's structural crew to design the four-sided walnut floating stair treads (featured recently on the cover of the 2020 WFB Resource Book).
The roughly 6,000-square-foot project also featured select-grade 10-inch-wide walnut flooring on three levels. Like the treads, the long-length flooring was sanded and given two coats of finish at Gaetano's shop before being nailed and glued down in the home.
---
RELATED: How I Do These Jobs: Creating Floating Stairs
---
The company saved the floating treads for last in the installation, fitting them around metal stringers jutting from the walls. "The stair design let so much light go through, I think that's what's so appealing," Larson says. With the treads installed, the stairs and flooring were given a final coat of satin finish. Even in the midst of the huge two-year project, the Gaetano team felt they were stepping into something unique, and the captivating final results perhaps spurred the inevitable in the area: Now everybody wants a floating staircase.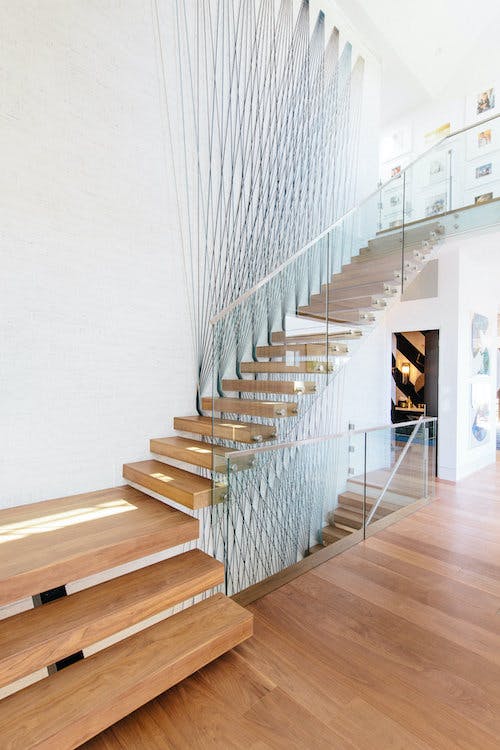 Suppliers:
Builder: Patterson Custom Homes | Finish: Loba | Flooring: Gaetano Hardwood Floors | Adhesive: Bostik
---
RELATED: Wood Floor of the Week: Woodwright Tackles Texas-Sized White Oak Install in LEED Gold Project
---