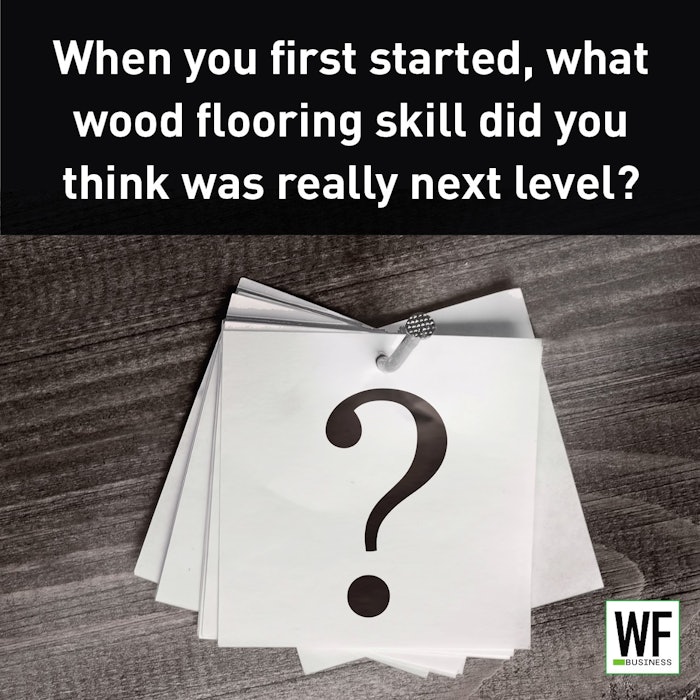 WFB asked followers on Facebook and Instagram to name what wood flooring skill they considered "next level" when they first started in the trade. Here's what they said:
Chuck Kutchera
Being able to hand nail 200 feet in a day.
Greg Warren
Applying moisture cure on a warm rainy day with no environmental controls.
Ron Teljeur
Watching my uncle and dad install top-nail strip without any power tools, just a backsaw, hammer and manual Cavanaugh nailer … and so fast.
Anthony Magaro
By far it was the skill and precision use of bandsaws in crafting unique, one-of-a-kind inlays, which are now mass-produced with lasers.
Wesley Elliott
Switching from hand-scraping perimeters to orbital sanders for stain job prep … Thank God!
Danny Stenhouse
Laying parquet.
Steve Smith
Coating water-based finish
Lorie Davidson
Inlays and borders.
Joe Smith
Anything multi-directional.
Jeremy L Hallman
Watching my ex-boss run a floor nailer; he was so fast it sounded like a machine gun going off in short bursts.
Mark Crooks
Running highlight border.
youngbrothershw
Getting the scraper sharp!
habitatfloors
Cutting in flush mount vents.
isandnewyork
… Telling someone else to empty the bag.
hardwoodman_
Learning to run the business.
epichardwoodfloors
Any planetary or satellite was like, wow. Water-base was another product that really made a difference.
shorewoodflooring
Knowing the species of wood that you're gonna work with and knowing the sequence of sanding! No cut corners here. 
oldschool_hyde
I second learning to sharpen the scraper.
soulbrotha09
Hand-nailing the last two rows with 2-inch cleats.
woodproflooring_
Stairs.
plankd_flooring
Fitting overlay stairs.
artisticfloors
Communicating with clients.
ds_hardwood_flooring
Rubio Monocoat.
bona_bryanrathbun
Apprenticed in Germany. Watching the Meister run base and making absolutely precision cuts with a 30-year-old hand miter box. Inside/outside corner, didn't matter. His cuts were perfect. No guide, he did it all by feel and eyeballing it.
cottonwoodfinishesllc
Marketing.
classicwoodfloorscarpentry
Running the "big machine!" When the lead guys left for lunch or something, I would jump on and grind away. In fact, I got stuck on something and ended up having to replace 4 boards. We ran a 12-inch.
johnnyrodriguez6791
"Water poppin'."
darin_dupree
I started in '93 and, being a newbie, I'd say it was mixing up filler with the stinky stuff wood dough and stains. Even only having a small sheet of stain samples back then and an old-school boss who told customers what they were getting, hah!
merk.exe
Finish tint.
charliefraser2
No edger marks.
cbuckland1307
Not getting pinned by the buffer!
0oskar6980
Controlling the edger.
micah_loberg_and_lobawakol
Orbital edges.
npuflooring
Staircases; seamless individual plank repairs.
waunakeedawson
Dark stain and stairs.
robjohnson9663
Loading the paper on a 12-inch drum sander without it rattling or blowing up. All eyes on the new kid.
coastwisehardwoodflooring
Getting out of my own head and realizing I could ask for as much or more than my competitors.
mdw22_forlife
Being quick at the manual nailer; then air-powered came along.
tubbyscustoms
When my dad bought an air trim nailer, also when he bought a used table saw. We had been using a skilsaw upside down in a bucket with the trigger wired on.
hunterdolanch
Controlling the buffer and it not controlling you—so many new guys pinned into the wall. 
markmeidra
Staining with a buffer.
cwhardwoodflooring
Stairs. I always thought stairs were my worst nightmare until I got suckered into doing them. I did a few sets and my confidence went way high. Learned a lot along the way. A few bad treads but I have done a lot of stairs now, and I actually enjoy it.
parada86
Selling!