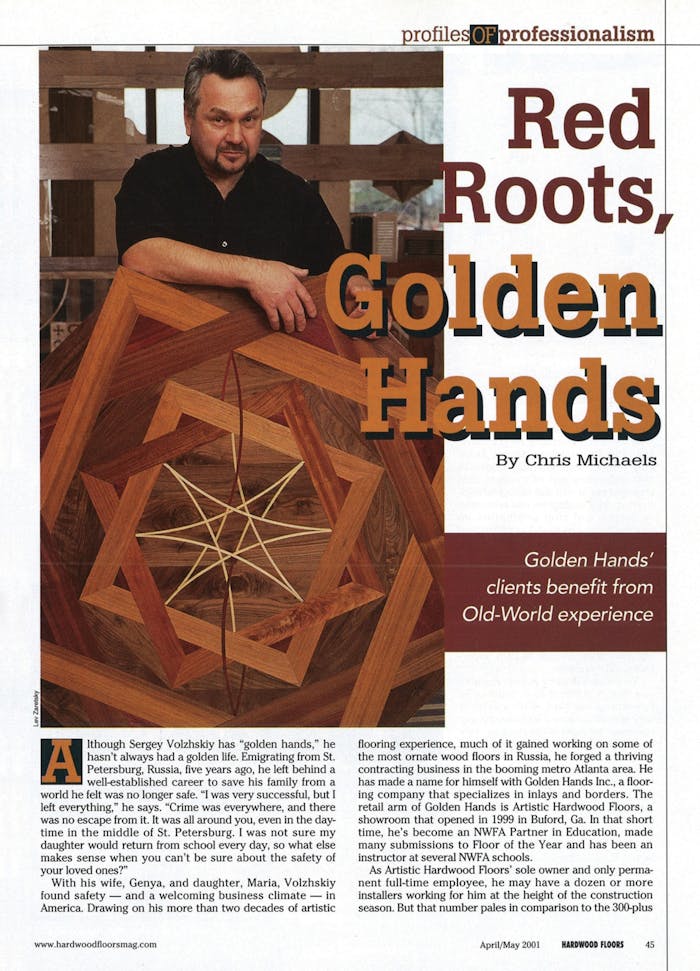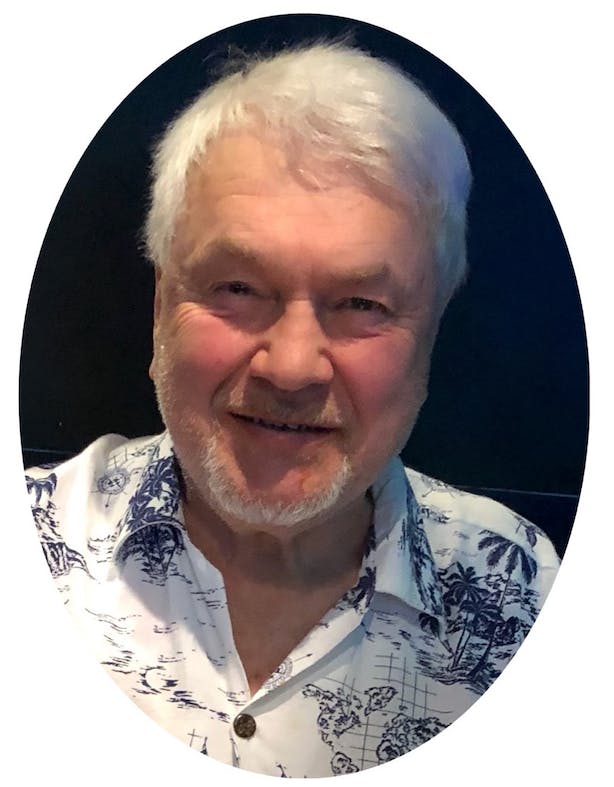 Sergey Volzhskiy, a master craftsman of wood flooring, left his native Russia with his family in 1995 to start a new life in the U.S.Sergey Volzhskiy, a master craftsman of wood flooring who left his native Russia with his family in 1995 to start a new life, died on April 5, 2022, at 72, from complications of cancer Volzhskiy's remarkable story of leaving Russia, where he had earned master's degrees in civil and biological engineering and worked for the largest remodeling company in St. Petersburg, to start a new life and his own wood flooring company in Buford, Ga., was profiled in the April/May 2001 issue of Hardwood Floors (now Wood Floor Business).
Volzhskiy's good friend Jim Garth of Decorative Flooring sent this remembrance to WFB:
In 1996 a received a phone call at Decorative Flooring Manufacturing asking where I was located and if we made inlays. His language was broken English with a heavy European dialect, so you had to listen closely. Within a few hours, a bear-sized man with a grin larger than life was standing in the shop asking for me. He was curious about the inlays but more about the American way of wood flooring and wanted to learn more. I sponsored him to go to the NWFA classes, where he soaked in the techniques and procedures with ease—so much that he later became an instructor for the NWFA road schools. The students would cling to him after demonstrations just to hear about his amazing life.
Years ago during an NWFA school in Charlotte, NC, where the NWFA had asked us to help instruct, on the first night Sergey invited me to dinner. During our meal I was complaining about one of my son's recent behavior when I noticed Sergey becoming emotional.  I immediately stopped to ask what was wrong, and this is what he told me: "My first child was a boy and was stolen immediately after birth in the Russian hospital. I searched everywhere but never found him. I wish I could complain about his behavior." I felt horrible, as he never had shared this with me, but suddenly I realized how important it was for him to protect the rest of his family and give them the best opportunity for freedom.
Sergey left Russia in 1995 to escape from communism and the restraints it placed upon his family.  He found freedom and a chance for a new life for his family here in the U.S. His gregarious nature combined with a bellowing laugh that went to your bones would draw you in for a closer look. You had to be alert with Sergey and his jokes, because he could convince you that he owned an island in the Pacific where it snowed daily.  There is an old expression, "he never met a stranger," and it certainly applied to him. If I were in trouble or needed help, Sergey would be the first in line.
Sergey respected the American way and was serious about becoming a citizen, so after 10 years of having his application submitted, he became one. I recall the day when he called to tell me and how proud he was. After a while, he was so concerned that Americans did not realize how horrible Russia is and its the vast difference from the U.S. that he volunteered to go to local schools to lecture children about how terrible communism is and how it destroys families.  He embraced the American lifestyle, traveled everywhere, raised bees on the side, fished his heart out and was my friend. I shall never forget my friend and those words he so often expressed to me, "From Russia with love." 
As his daughter, Masha Volshskaya, recently described, his life experiences read like a James Fenimore Cooper novel. He was a powerhouse and a unique presence, and he never stopped seeking adventure, as demonstrated by his 70th birthday to Alaska during which he faced off a bear.  He is survived by his wife Evgeniya; his daughter and husband , Maria Volzhskaya and Adam Smith; and two grandchildren, Henry Sergey and Francesca Miriam.
Volzhskiy's online obituary can be found here.