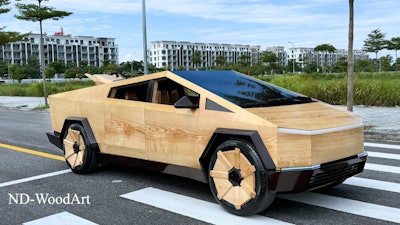 ND-WoodArt / X
Tesla's futuristic Cybertrucks have a tentative release date of Nov. 30, but a woodworker in Vietnam appears to have beat them to the punch with a working wooden replica of the vehicle.
A viral video released by ND-Woodworking Art shows the woodworker constructing the vehicle from scratch, using wood for its interior and exterior with wooden panels, seats and wheel trims, Business Insider reported. The project took 100 days to complete, according to ND-WoodArt, which says it's a father and son team who enjoy crafting wooden cars.
They dedicated the completed and fully-functional wooden Cybertruck to Elon Musk, who responded on X, his social media platform formerly known as Twitter, that he appreciated the project.