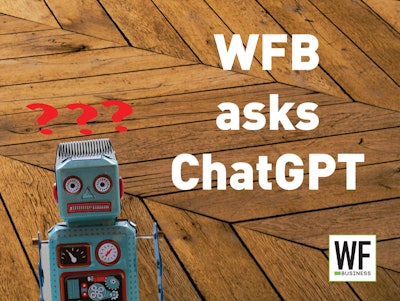 WFB asked AI-powered ChatGPT a question about wood flooring. Below is its verbatim response. How did it do? Let us know in the comments.
My wood floor looks worn. Can it just have a light sanding?
If your wood floor looks worn, a light sanding may be able to restore its appearance. A light sanding involves removing the top layer of finish and a small amount of the wood surface, typically around 1/32 to 1/16 of an inch.
A light sanding can remove surface scratches, scuffs, and other minor imperfections, giving your floor a fresh new look. However, it's important to note that a light sanding is not suitable for floors with deep scratches, gouges, or other major damage. In those cases, a more extensive sanding and refinishing may be necessary.
Before sanding your floor, it's important to assess its condition and determine if a light sanding is appropriate. If you're unsure, it's best to consult with a professional flooring contractor who can assess the condition of your floor and recommend the best course of action.
It's also important to note that sanding your floor can create a lot of dust, so it's important to take proper safety precautions, such as wearing a respirator and using a dust containment system.