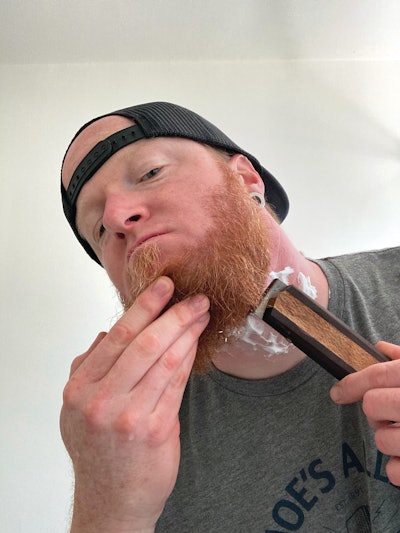 There is absolutely one tool every floor mechanic must own and try to become as proficient as possible with: the hand scraper! The tool that started it all.
Do you need to scrape?
In recent years of new edger techniques, newer and nicer orbital sanders and corner attachments for edgers and orbitals, there's been a lot of talk about this question: How much do we really need to scrape these days?
Sure, on a small percentage of jobs you can get away without scraping, so long as there are no baseboards installed at the time and the gaps in the corners have enough room for the orbital or edge attachment to get every last bit of material. Otherwise, leaving that last little bit of material to get covered up by the base or shoe will hold the molding up and create a gap along the floor line.
On the other side of the coin, there's the pride in craftsmanship and the work that goes into delivering the finished product. I remember far more the scraping and hand-sanding work that I've done versus using my orbital. There's something about scraping by hand that really connects you to the floor.
Here's what I do
On my jobs, after all the edging and inspection for leftover visible scratches, it's then time to scrape and hand-sand. Many people always look at this task with dread, but with the proper tools, it can be done very quickly and easily. All you need is a sharp scraper, a sharp file and sanding block with the right abrasive, and you're off to the races!
Much like when sanding the floor with the big machine, edger and planetary sanders, grit sequence, mineral selection and pressure play a major role when scraping and hand-sanding. It's very important to match abrasive grits for hand-sanding with your final buffing/blending pass. Keep in mind that if you bear down or overwork an abrasive in an area, it will burnish the surface, causing issues and creating an uneven appearance, much like what can happen if you aren't careful with an orbital sander or buffer.
Scraping takes finesse
Just like running a sander, sharpening takes finesse; you need to feel and listen to the scraper. You can tell when the blade needs sharpening by how it sounds. Once you get that high-pitched scraping sound, you know the blade is dull—it's rubbing across the surface of the wood floor, not cutting.
How often will you be sharpening your scraper? That all depends on the job. You could be dealing with really old finish, really old hardened material or, even worse, paint! On some jobs you may need to resharpen the blade only once or twice, and others it could be every other corner; it just depends on the material you're scraping.
Scraper options
Scrapers come in many different lengths and blade sizes. The longer handled scrapers help for a more ergonomic feel and stronger pull on the blade, while the small-handle scrapers come in handy (no pun intended) in small, hard-to-reach spaces. Most scrapers have a wood handle and can be purchased through companies like Hardwood Industry Products, Jungle Jim Tools, Donkey Pull Tools, Stanley, and GreenWood Custom Scrapers, or you can buy them from pros who like to make their own (Kyle Neuroh of Neuroh Hardwood and Lenny Hall of Endurance Floors are two I'm aware of). Or, you can also make your own.
Some manufacturers, like Ol Bastard and Norton Abrasives, have scrapers that come with a sharpening jig for a consistent edge every time. These are perfect for people starting out and getting to learn how to use a scraper and the sharpening process. They come with several blade sizes, as well.
Hand-scraper blades are generally made of a softer steel that's easily sharpened. Some scrapers accept a carbide blade that needs to be sharpened with an electric grinding stone. For blades, I personally prefer the Red Devil paint scraper blades for corner scrapers and repair scraping. For ornate/textured scraping, Hardwood Industry Products has a nice selection of curved and flat blades. For hook blades used for textured floor scraping, HIP makes a hook blade sharpener that's very much needed if you're doing lots of hand-scraped and distressed jobs. But for your standard corner and repair scrapers, a quality mill/bastard file is all you need.
Keeping it sharp
Sharpening is definitely subjective, but one thing we can all agree on is that it should be done away from the work area. It's important to keep the metal shavings off of the work area to avoid contamination issues—metal shavings combined with waterborne finish can create rust spots. I like to secure my scraper against my leg or on a solid surface like my tailgate or the top of a tool box with the blade facing out and away from me. I then align the file to the angle of the blade and, with light pressure, I run the file down the blade, letting the file do the work. I make sure not to apply too much pressure in the beginning and ending of the sharpening stroke.
There are many techniques and tricks to sharpening a scraper and going about scraping a floor. We all have our ways, and if it works for you, then keep at it. But I will say it never hurts to watch or ask about someone else's technique to learn more, because we can all learn from each other.