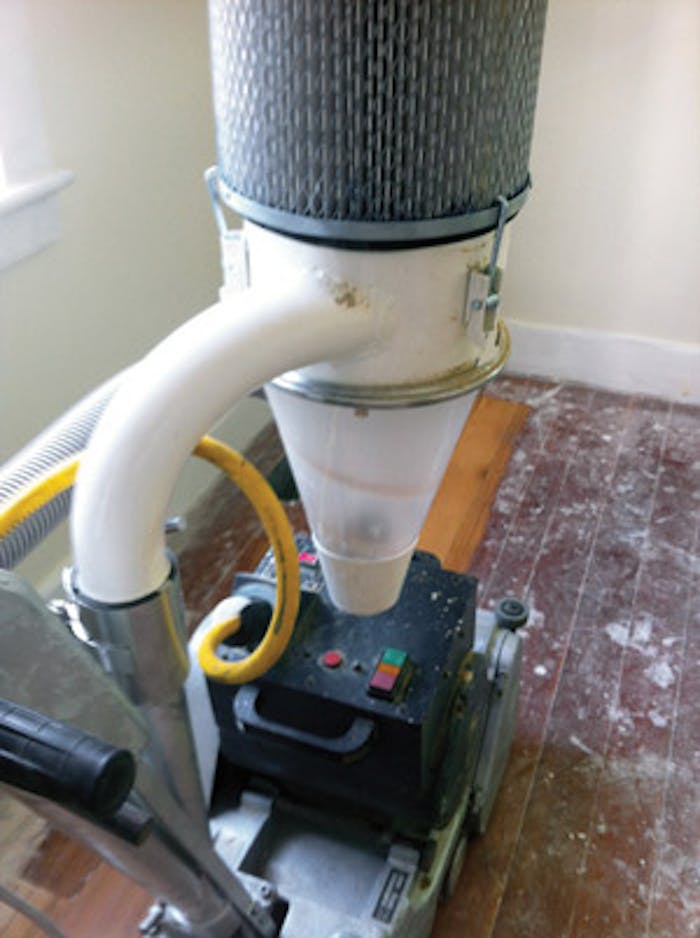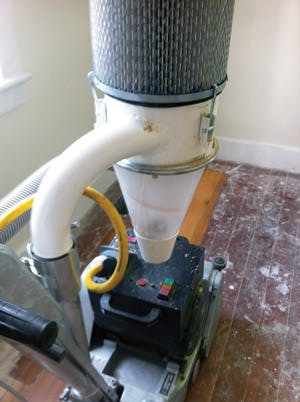 I grew up in rural New Kent County on a farm, which my grandfather bought in the Tidewater region of Virginia back in the 1940s. On this farm in 1970, my father began building a Georgian colonial brick house with beaded shiplap siding made of poplar and many other historic elements, including longleaf pine-Pinus palustris, or what's commonly known as heart pine. And borne from this endeavor and quest to build a house was the ET Moore Jr. Company in 1968. They reclaimed heart pine largely from textile mills and other old buildings, and one of their challenges when reclaiming the heart pine was lead paint. A concerning percentage of the structural members of the buildings' interior were painted with lead, but the material had to be handled in a manner both efficient and profitable, otherwise the material was wasted.
Years later, after working in the sawmill over the summers during school and college, I decided to start Antique Floors, which dovetails with what is now known as ET Moore Manufacturing, "Heartpine specialists." We operate as a flooring contractor but focus on custom reclaimed flooring, historic restorations and more-challenging projects, including those with lead-painted floors. For years we milled wood with lead and took certain precautions but were largely unaware of the potential dangers associated with it. In 2008, when the EPA specified the RRP rules concerning lead, I realized that we should at least find out what we needed to do to operate within the law.
I went to the EPA's lead certification class to become a "lead renovator" and became more aware of lead and its long-term effects. Like most of us, I always had an image of a kid sitting on the floor eating paint chips that fell from the windowsill above. After reviewing the information, it was clear that our current practices were not sufficient. So, instead of being reactive, we decided to be proactive and began investing in the right systems that would at least make us legal. Here is a simplified list of what needs to be done to remain within the law:
1. If you're the renovator, you must be present.
2. Clean as you work.
3. Contain your space with tape and plastic sheeting.
4. Vacuum and clean all the walls, windows, and trim.
5. Use HEPA filters in every vacuum and attach them to every power sander.
6. Wear an approved dust respirator (most are approved).
7. Protect your skin.
To follow the rules, the only additions we needed were vacuums, the proper hoses and cuffs, and ample power cords. There are many vacuum systems to choose from, but many of which are not within the law due to lack of filtration, air flow and water lift (in inches).
Of course, the challenge of sanding lead is not this simple. Many of the houses with lead-painted floors here in Tidewater Virginia were built in the 19th, 18th, and even 17th centuries, and they can bring a very particular challenge as far as the actual sanding process. Some of these houses have 5/4-inch floors that are planed, gouged, and undercut and are very uneven, so we have found you must start sanding at 12- or 16-grit and change the paper rapidly. Paper that coarse is not typically stocked in a hook-and-loop product in great volume, so it requires the individual running the edger to manually change the paper. That individual can fall into the habit of waiting to change the paper until the point that the paper has outlived its usefulness, when the dust begins to burn. One can only imagine the effects of lead after it's in a heated state, and we have noticed that the smell cuts right through many of the "approved" respirators.
The grain of 16-grit abrasive, aka "rock paper," is much more spread out on the paper than a higher grit, thus preventing the paint from sticking to the paper. What this also means is that the sanding dust is not as contained by the vacuum suction; instead, it is projected across the floor and into the air. Airborne lead dust is a problem, and it is the reason that we support the EPA RRP rules.
It doesn't come as any surprise that lead is harmful. There are many other things that were found harmful only after the human guinea pigs unknowingly "volunteered" for research. Asbestos, coal, arsenic and mercury are all bad for the human body, but that was only discovered after people were exposed.
It's well established that lead exposure in children (which most often happens from lead paint or dust exposure in older homes) does serious damage to physical and mental development, and plenty more is being discovered about its terrible effects. Consider this: The University of Cincinnati Center for the Study of Prevalent Neurotoxicants in Children concluded that "Prenatal and postnatal lead exposure is associated with higher rates of total arrests and arrests for offenses involving violence. This is the first prospective investigation to link early lead exposure with criminal arrests among young adults." And the findings were not only from those who were exposed to lead at an early age; it suggests the effects can be rendered true at any stage in life.
Several agencies (national and international) have studied the effects of lead in the environment to determine if they can cause cancer. Specifically, stomach cancer has been linked to lead exposure through ingestion. As described by research supported by the American Cancer Society, "Most of the studies found an increased risk of stomach cancer with higher lead exposure."
Fortunately, it is easy to avoid the physical risks for you and your customers. Although you hear plenty of complaining about the RRP rules, it's relatively easy to comply with the law. Yes, there are time-consuming things that you need to do according to the EPA, such as using lead indicator tape at the entrances, wearing nametags, having certified employees, hiring inspectors, etc. We all know the EPA doesn't sand floors and doesn't know the floor refinish professional's line of work. But the EPA is just doing what it can to help improve the health of the people they serve.
In my opinion, we should keep in mind that the list of hoops to jump through (although we do have to jump through them) is not the point. What is important is that we follow the seven rules listed on page 22 so we can ensure that our professionals, our customers and anyone else around our job site understands that we take these jobs, our health and the risk associated with lead seriously.
Yes, you have to charge more for lead jobs to cover the additional effort and materials necessary. My best advice when sanding lead is to educate the customer on the dangers of lead and explain why the EPA rules are important. Being able to sand lead jobs is a marketable tool and can be easily done if you follow a few simple steps. If the potential client does not want to pay for the additional expense, then, as the old saying goes, "The best jobs I've done were the ones I've turned down." Your workers' health and your health mean more than the money involved. It's more about doing the right thing for your fellow man than it is about maximizing profit. If more businesspeople adhered to that philosophy, we'd live in a better world.
More photos: