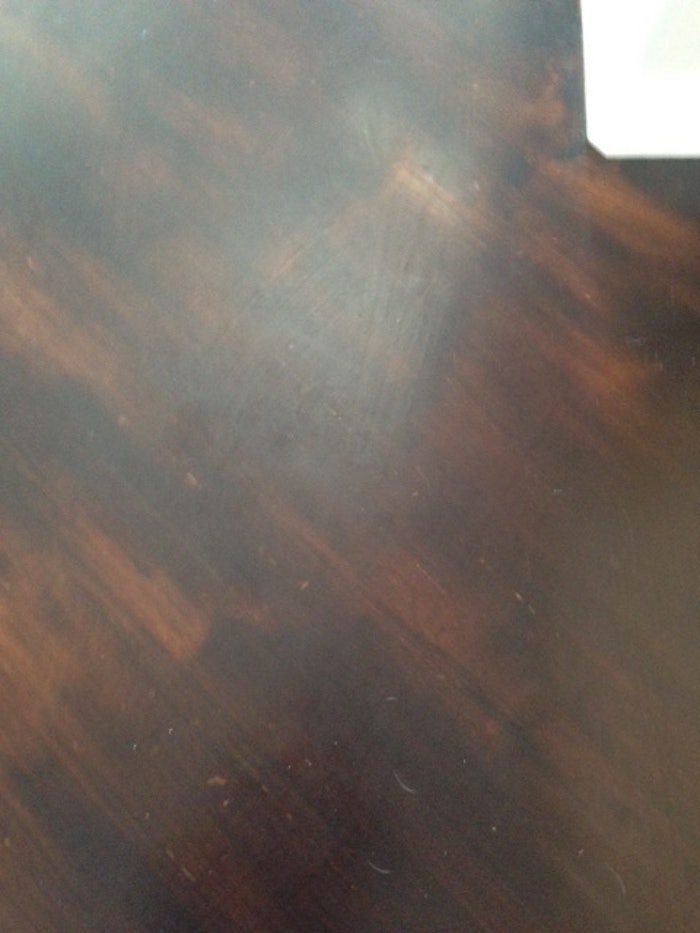 I recently visited a home worth more than $1 million in Heritage Hills, a gated community in Lone Tree, Colo., just south of Denver. Before they moved in, the out-of-state homeowners hired a general contractor referred by their real estate agent to refinish their existing 2 1/4-inch hickory floors a dark brown color. Once they arrived in Colorado, they noticed that the color and sheen was splotchy and inconsistent. They had another contractor provide them with a quote for refinishing their handrail and some cabinetry and, when they asked him if he knew anyone who could fix their hardwood floors, he referred them to us.
This is what I saw when I walked in the front door. According to the homeowners, their general contractor had hired painters to install additional flooring in their family room and sand, color, and finish everything: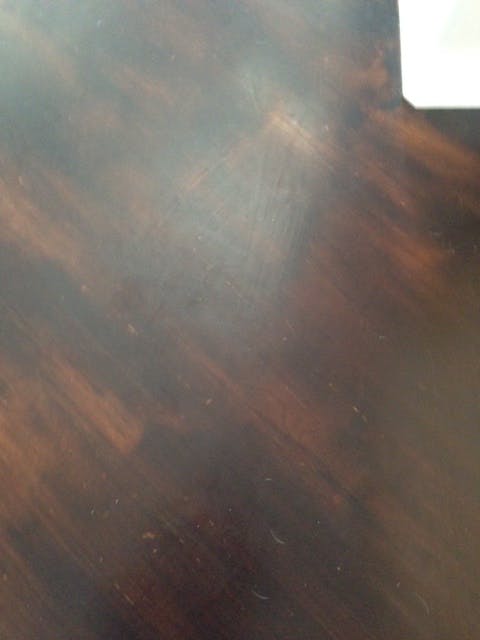 Additionally, the finish was showing white scratches and was peeling in places: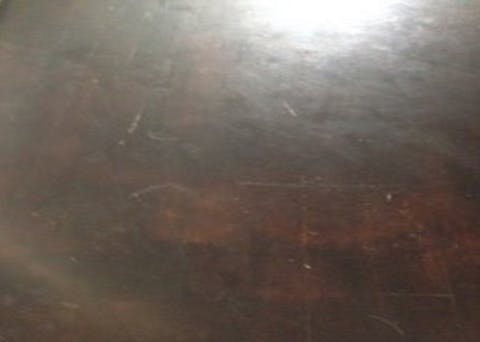 There were small areas of the floor that hadn't even been colored, and cracks and gaps showing the natural color of the hardwood in several places. The homeowner showed me a container of Polyshade in the garage and said the previous contractor had applied it.
This type of work was no simple repair; it had to be completely sanded, colored, and finished again.
Once their furniture was removed for the project, we noticed something else—the newly installed floors looked as though they had just been buffed, not sanded, and the grain pattern in the new wood flooring looked different from the existing wood floors. It's hard to see in this photo, but this was what the floor looked like: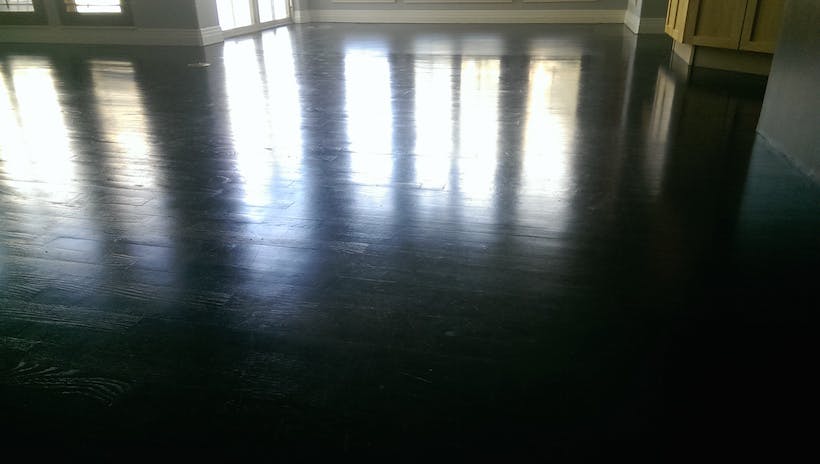 The original contractors had installed 2 1/4″ red oak short boards instead of #1 grade hickory.
At that point, we stopped the majority of our work to discuss the project with the homeowners and provide them with an estimate to tear out the different species so that everything was consistent. We created a change order, added the scope of work to the original contract, and received a 50 percent down payment for the addition to the work to be completed.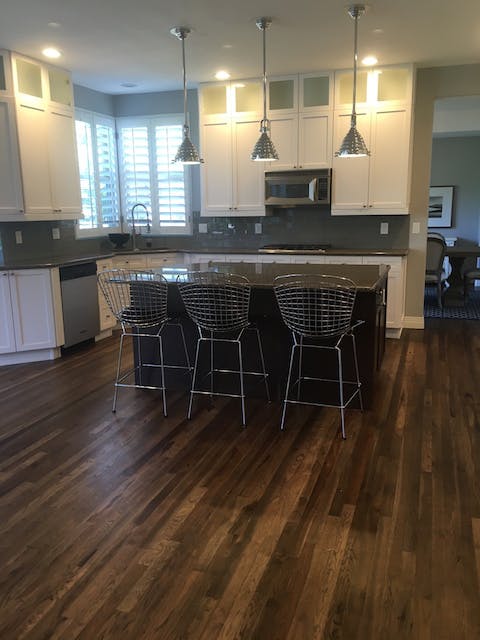 After tearing out and hauling away the existing short red oak boards, Joe and Kevin installed new 2 ¼-inch hickory (following our standard acclimation process: finding acceptable equilibrium moisture content between flooring and subfloor). Following the installation and sanding processes, the entire floor was dyed a medium brown color and sealed with two coats of Lenmar Rapid Seal, then final coated with Glitsa Max Matte.
Although we wish this had never happened to these two friendly, kind homeowners, this is a visual testimony to the importance of hiring an NWFA-educated, professional wood floor contractor. Six months after Joe and Kevin completed work, I returned to take photos. Even with five kids under the age of 13 and an active Labrador retriever, their hickory floors still look new.
This is why we do what we do: making wood flooring beautiful dramatically changes our customers' entire home environment!